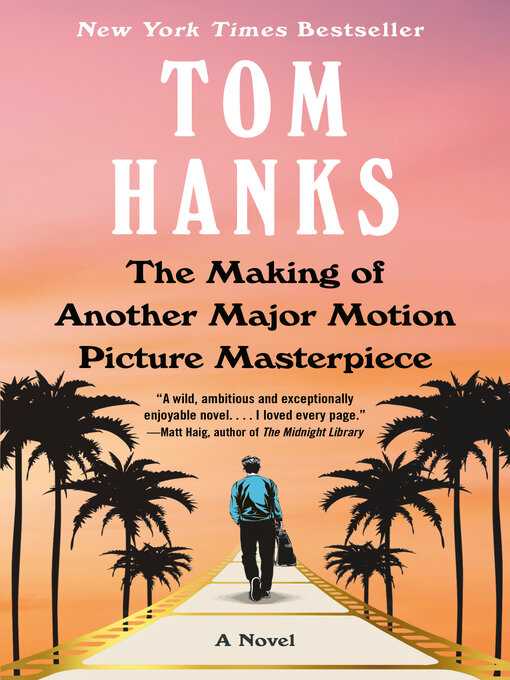 The Making of Another Major Motion Picture Masterpiece
Format:

Kindle Book

2023

Adobe EPUB ebook

OverDrive Read

Availability:

Unavailable

0 of 14 copies
117 people on waitlist
Summary
NEW YORK TIMES BEST SELLER • From the legendary actor and best-selling author: a novel about the making of a star-studded, multimillion-dollar superhero action film...and the humble comic books that inspired it. Funny, touching, and wonderfully thought-provoking, while also capturing the changes in America and American culture since World War II."Wild, ambitious and exceptionally enjoyable." —Matt Haig, best-selling author The Midnight Library, The Humans and Reasons to Stay AlivePart One of this story takes place in 1947. A troubled soldier, returning from the war, meets his talented five-year-old nephew, leaves an indelible impression, and then disappears for twenty-three years.Cut to 1970: The nephew, now drawing underground comic books in Oakland, California, reconnects with his uncle and, remembering the comic book he saw when he was five, draws a new version with his uncle as a World War II fighting hero. Cut to the present day: A commercially successful director discovers the 1970 comic book and decides to turn it into a contemporary superhero movie.Cue the cast: We meet the film's extremely difficult male star, his wonderful leading lady, the eccentric writer/director, the producer, the gofer production assistant, and everyone else on both sides of the camera.Bonus material: Interspersed throughout are three comic books that are featured in the story—all created by Tom Hanks himself—including the comic book that becomes the official tie-in to this novel's "major motion picture masterpiece."

Published Reviews
Booklist Review:
"We all knew he could act, but the publication of Hanks' Uncommon Type, his excellent 2017 short-story collection, proved he could write, too. Now he's followed that with a full-length novel, and it is superb. As the title suggests, it's the story of the making of a movie--a big-budget superhero movie. But it's so much more than that. Above all, it's a heartfelt tribute to movies and the people who make them. We follow not just the director of this movie, but the creator of the comic book on which it's based (the novel includes a replica of that fictional comic book, drawn by graphic-novel illustrator R. Sikoryak), the director's brilliant production assistant, and an assortment of other characters. Joe Shaw, the book's narrator, is thoroughly compelling, a guy who loves movies and wants us to love them, too. The writing is spot-on, bringing to the novel all the passion Hanks feels about his profession: "Making movies is complicated, maddening, highly technical at times, ephemeral and gossamer at others, slow as molasses on a Wednesday but with a gun-to-the-head deadline on a Friday." The whole book is like that: lovingly crafted, a wildly entertaining story beautifully told. If you love movies, you'll love this book.HIGH-DEMAND BACKSTORY: Hanks' first novel is a delight that will draw not only the actor's fans, but also movie buffs everywhere."
From Booklist, Copyright (c) American Library Association. Used with permission.
Publisher's Weekly Review:
"Actor Hanks explores the making of a superhero film epic in his entertaining debut novel (after the collection Uncommon Type). In 1947, Bob Falls finds it difficult to adapt back to civilian life after returning from the battlefields of WWII. In 1970, his artist nephew, Robby Andersen, creates a comic book series titled The Legend of Firefall inspired by his uncle's experiences wielding a flamethrower in the Pacific theater. In the present, writer-director-producer Bill Johnson decides to use Andersen's comic as the basis for a superhero film. Cast as Firefall is O.K. Bailey, an actor whose ego knows no bounds, while the female lead, Wren Lake, is as savvy as she is beautiful and talented. The shoot gets underway in Robby's hometown of Lone Butte, Calif., where the production is complicated by marital disharmony between a rising star actor and his neglected wife, the unexpected death of a beloved character actor, and a stalker who threatens Wren's life. Pages from Firefall, illustrated by R. Sikoryak, appear throughout and are a hoot (in one panel, Firefall's sergeant gives the order "light 'em up" while lighting Firefall's cigarette). Neither slashing satire nor moody melodrama, this sincerely Hanksian paean to the people behind the scenes of a movie production comes to life with great characters. It's a winner. (May)"
(c) Copyright PWxyz, LLC. All rights reserved
Additional Information