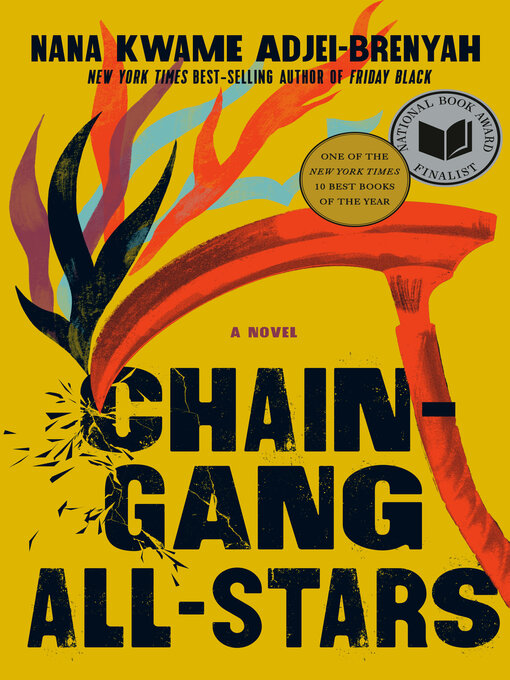 Chain Gang All Stars
Format:

Kindle Book

2023

Adobe EPUB ebook

OverDrive Read

Availability:

Unavailable

0 of 9 copies
56 people on waitlist
Summary
NATIONAL BESTSELLER • A READ WITH JENNA BOOK CLUB PICK • Two top women gladiators fight for their freedom within a depraved private prison system not so far-removed from America's own in this explosive, hotly-anticipated debut novel from the New York Times bestselling author of Friday Black"Like Orwell's 1984 and Atwood's The Handmaid's Tale, Adjei-Brenyah's book presents a dystopian vision so…illuminating that it should permanently shift our understanding of who we are and what we're capable of doing." —The Washington Post "This book will change you!...A masterpiece." —Jenna Bush Hager, The Today Show's #ReadWithJennaShe felt their eyes, all those executioners… Loretta Thurwar and Hamara "Hurricane Staxxx" Stacker are the stars of Chain-Gang All-Stars, the cornerstone of CAPE, or Criminal Action Penal Entertainment, a highly-popular, highly-controversial, profit-raising program in America's increasingly dominant private prison industry. It's the return of the gladiators and prisoners are competing for the ultimate prize: their freedom.In CAPE, prisoners travel as Links in Chain-Gangs, competing in death-matches for packed arenas with righteous protestors at the gates. Thurwar and Staxxx, both teammates and lovers, are the fan favorites. And if all goes well, Thurwar will be free in just a few matches, a fact she carries as heavily as her lethal hammer. As she prepares to leave her fellow Links, she considers how she might help preserve their humanity, in defiance of these so-called games, but CAPE's corporate owners will stop at nothing to protect their status quo and the obstacles they lay in Thurwar's path have devastating consequences. Moving from the Links in the field to the protestors to the CAPE employees and beyond, Chain-Gang All-Stars is a kaleidoscopic, excoriating look at the American prison system's unholy alliance of systemic racism, unchecked capitalism, and mass incarceration, and a clear-eyed reckoning with what freedom in this country really means from a "new and necessary American voice" (Tommy Orange, The New York Times Book Review).

Published Reviews
Booklist Review:
"Adjei-Brenyah's stellar, stupendous story collection, Friday Black (2018), could have been mere prelude to the relentlessly vicious horror of his first novel. In a not-so-unfamiliar alternate America, prisoners convicted of violent crimes are coerced and tortured into joining CAPE--Criminal Action Penal Entertainment--for an almost impossible chance at freedom. Participants become Links in strategically created Chain-Gangs; survival means slaughtering their way through death matches, earning Blood Points. While the controlling corporations rake in the blood money, the public, even young children, cannot get enough. Two of the most beloved Chain-Gang All-Stars are Loretta Thurwar and Hurricane Staxx, both so close to, yet still so far from, getting out. What might seem to be a dystopian nightmare is even more terrifying because Adjei-Brenyah brilliantly broadcasts such irrefutable truths as the U.S. having the world's highest rate of incarceration, with disproportionate numbers of Black and POC prisoners. His chilling footnotes shrewdly interrupt his fiction with real names and stark statistics, exposing racism, inequity, corruption, suicide, and abuse. Prison privatization is already a high-profit industry, as is celebrated, legalized fighting (boxing, MMA, wrestling). Adjei-Brenyah's reality-adjacent tale could ultimately, terrifyingly, prove prescient. Given the rampant, explicit brutality, all should heed a character's warning, "I'll tell you and I can't untell you, you understand?"HIGH-DEMAND BACKSTORY: The resounding success of Adjei-Brenyah's first book has his second avidly touted as a most anticipated title of the year."
From Booklist, Copyright (c) American Library Association. Used with permission.
Publisher's Weekly Review:
"Bestseller Adjei-Brenyah sets his breathtaking and pulse-pounding debut novel (after the short story collection Friday Black) in a dystopian alternate U.S. where people incarcerated in an expansive private prison system have the option to fight for their freedom in gladiator-style death matches. Fighters who partake in the Chain-Gang All-Stars operation can rise to fame and notoriety, a crucial profit-driving component for those who control CAPE, or Criminal Action Penal Entertainment. Among these superstars are fighters Loretta Thurwar and Hamara "Hurricane Staxxx" Stacker, who have made names for themselves as undefeated champions and "Links," or teammates in a Chain-Gang. As Thurwar takes a step closer to freedom one match at a time, however, she begins to worry about leaving Hamara and her other Links behind. Through this brutal, fight-scene-studded story, the author delivers insightful critiques of the prison-industrial complex, capitalism, and the ways in which Hollywood and celebrity culture exploit Black talent. Both the political allegory and the edge-of-your-seat action work beautifully. Readers will be wowed. Agent: Meredith Kaffel Simonoff, Gernert Co. (May)"
(c) Copyright PWxyz, LLC. All rights reserved
Additional Information