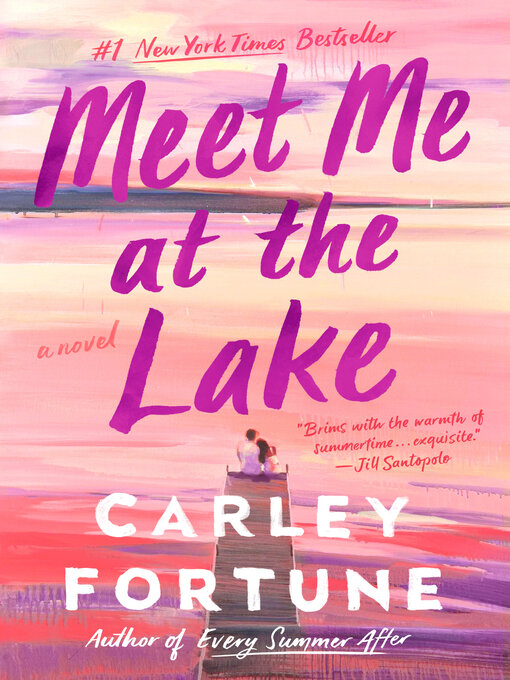 Meet Me at the Lake
Format:

Kindle Book

2023

Adobe EPUB ebook

OverDrive Read

Availability:

Unavailable

0 of 45 copies
393 people on waitlist
Summary
THE INSTANT #1 NEW YORK TIMES BESTSELLER!A Most Anticipated Book by Today ∙ Oprah Daily ∙ Katie Couric Media ∙ BuzzFeed ∙ SheReads ∙ Zibby Mag ∙ PopSugar ∙ BookRiot ∙ Culturess ∙ Her Campus ∙ The Everygirl ∙ and more!A random connection sends two strangers on a daylong adventure where they make a promise one keeps and the other breaks, with life-changing effects, in this breathtaking new novel from the New York Times bestselling author of Every Summer After.Fern Brookbanks has wasted far too much of her adult life thinking about Will Baxter. She spent just twenty-four hours in her early twenties with the aggravatingly attractive, idealistic artist, a chance encounter that spiraled into a daylong adventure in the city. The timing was wrong, but their connection was undeniable: they shared every secret, every dream, and made a pact to meet one year later. Fern showed up. Will didn't.At thirty-two, Fern's life doesn't look at all how she once imagined it would. Instead of living in the city, Fern's back home, running her mother's lakeside resort—something she vowed never to do. The place is in disarray, her ex-boyfriend's the manager, and Fern doesn't know where to begin.She needs a plan—a lifeline. To her surprise, it comes in the form of Will, who arrives nine years too late, with a suitcase in tow and an offer to help on his lips. Will may be the only person who understands what Fern's going through. But how could she possibly trust this expensive-suit wearing mirage who seems nothing like the young man she met all those years ago. Will is hiding something, and Fern's not sure she wants to know what it is. But ten years ago, Will Baxter rescued Fern. Can she do the same for him?

Published Reviews
Booklist Review:
"Fern Brookbanks met Will Baxter one day in Toronto; they only spent a whirlwind 24 hours together, but Fern has spent her life wondering about Will. The two made a pact to meet one year later, but when Will is a no-show, Fern is heartbroken. Nine years later, 32-year-old Fern is lost. Instead of living in the city, she returned to her family-owned resort after her mother's unexpected death. The resort isn't doing well and just as Fern is trying to figure out what she is going to do, Will shows up and confuses her even more. Will and Fern's mother struck a deal; he offered his consultant services to help revamp her resort, but he didn't learn of her death until he arrived. Fern and Will begin to work together, and as the summer passes, their romance grows. They deeply care for one another, but Will is keeping Fern at arm's length because of his family. This sweet and steamy novel will have Lucy Score readers rooting for these two lovers."
From Booklist, Copyright (c) American Library Association. Used with permission.
Publisher's Weekly Review:
"Fortune (Every Summer After) shines in this beautiful tale of love, loss, and forgiveness. Fern Brookbanks, 32, reluctantly returns to Muskoka, Canada, from Toronto, to run the family business--Brookbanks Resort, a "Dirty Dancing-style" lakeside retreat--following her mother's death. The business is in disarray, but unbeknownst to Fern, her mother hired a business consultant before her death: Will Baxter, the mystery man with whom Fern spent one magical day 10 years before the start of the book--and who broke her heart when he stood her up on their planned reunion one year later. Fern is thrown for a loop by Will's reappearance and much changed behavior, but their chemistry is as strong as ever. They tentatively rekindle their relationship, until an emergency has Will questioning his priorities--including his relationship with Fern. Fortune toggles between Fern and Will's whirlwind, 24-hour romance and their present day rekindling to showcase her characters' changing hearts. The emotions are big, messy, and realistic as the protagonists' path to forgiveness has some unexpected twists. A solid supporting cast--especially Fern's ex-boyfriend, Jamie; her best friend, Whitney; and her mother's longtime companion, Peter--underpin the narrative. This searing story of hard-won second chances is not to be missed. Agent: Taylor Haggerty, Root Literary. (May)"
(c) Copyright PWxyz, LLC. All rights reserved
Additional Information