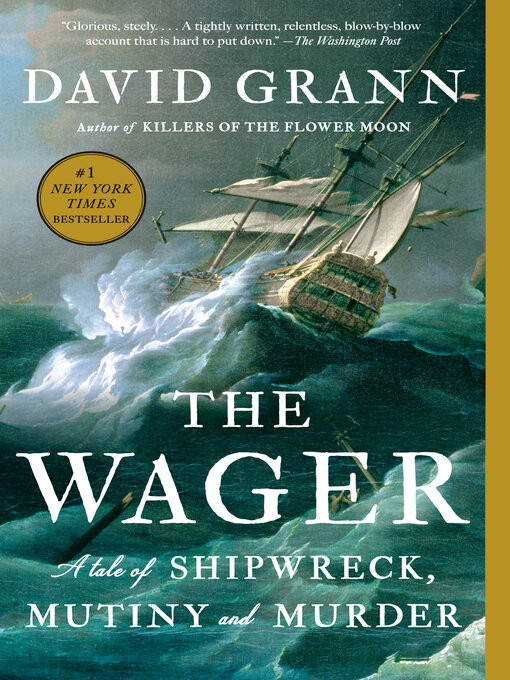 The Wager
Format:

Kindle Book

2023

Adobe EPUB ebook

OverDrive Read

Availability:

Unavailable

0 of 21 copies
181 people on waitlist
Summary
#1 NEW YORK TIMES BESTSELLER • From the author of Killers of the Flower Moon, a page-turning story of shipwreck, survival, and savagery, culminating in a court martial that reveals a shocking truth. The powerful narrative reveals the deeper meaning of the events on The Wager, showing that it was not only the captain and crew who ended up on trial, but the very idea of empire."Riveting...Reads like a thriller, tackling a multilayered history—and imperialism—with gusto." —Time "A tour de force of narrative nonfiction." —The Wall Street JournalOn January 28, 1742, a ramshackle vessel of patched-together wood and cloth washed up on the coast of Brazil. Inside were thirty emaciated men, barely alive, and they had an extraordinary tale to tell. They were survivors of His Majesty's Ship the Wager, a British vessel that had left England in 1740 on a secret mission during an imperial war with Spain. While the Wager had been chasing a Spanish treasure-filled galleon known as "the prize of all the oceans," it had wrecked on a desolate island off the coast of Patagonia. The men, after being marooned for months and facing starvation, built the flimsy craft and sailed for more than a hundred days, traversing nearly 3,000 miles of storm-wracked seas. They were greeted as heroes.But then ... six months later, another, even more decrepit craft landed on the coast of Chile. This boat contained just three castaways, and they told a very different story. The thirty sailors who landed in Brazil were not heroes – they were mutineers. The first group responded with countercharges of their own, of a tyrannical and murderous senior officer and his henchmen. It became clear that while stranded on the island the crew had fallen into anarchy, with warring factions fighting for dominion over the barren wilderness. As accusations of treachery and murder flew, the Admiralty convened a court martial to determine who was telling the truth. The stakes were life-and-death—for whomever the court found guilty could hang.The Wager is a grand tale of human behavior at the extremes told by one of our greatest nonfiction writers. Grann's recreation of the hidden world on a British warship rivals the work of Patrick O'Brian, his portrayal of the castaways' desperate straits stands up to the classics of survival writing such as The Endurance, and his account of the court martial has the savvy of a Scott Turow thriller. As always with Grann's work, the incredible twists of the narrative hold the reader spellbound.

Published Reviews
Booklist Review:
"A new account of the Wager Mutiny, in which a shipwrecked and starving British naval crew abandoned their captain on a desolate Patagonian island, emphasizes the extreme hardships routinely faced by eighteenth-century seafarers as well as the historical resonance of the dramatic 1741 event. On a secret mission to liberate Spanish galleons of their gold, the 28-gun HMS Wager was separated from the rest of its squadron rounding Cape Horn in a massive storm. Beset by typhus, scurvy, and navigational problems, the ship struck rocks, stranding its beleaguered crew on a remote island in Chilean Patagonia. In the months that followed, harsh conditions and meager provisions would test storied British naval discipline. Captain David Cheap, who had spent a lifetime at sea but was new in his rank, ruthlessly managed the group's larder. A dispute with gunner John Bulkley over a risky plan to sail a makeshift craft back home through the Strait of Magellan turned violent. A few bedraggled sailors would find their way back to civilization, prompting high-stakes courts-martial and sensational accounts in the British press. Grann (Killers of the Flower Moon, 2017) vividly narrates a nearly forgotten incident with an eye for each character's personal stakes while also reminding readers of the imperialist context prompting the misadventure.HIGH-DEMAND BACKSTORY: Best-selling Grann is a top nonfiction author, and the drama of this tale along with an in-the-works major film adaptation, reportedly to be directed by Martin Scorsese and starring Leonardo DiCaprio, will inspire even more interest."
From Booklist, Copyright (c) American Library Association. Used with permission.
Publisher's Weekly Review:
"Bestseller Grann (Killers of the Flower Moon) delivers a concise and riveting account of the HMS Wager, a British man-of-war that ran aground on a barren island off the Chilean coast of Patagonia in 1741. Part of a squadron sent to capture a treasure-laden Spanish galleon during the War of Jenkins' Ear, the Wager became separated from the other ships while rounding Cape Horn and wrecked several weeks later. The starving crew soon disintegrated into rival factions, including one led by gunner John Bulkeley, who became increasingly critical of Capt. David Cheap. Five months after they'd been marooned, Bulkeley and 80 other crew members commandeered the Wager's longboat and two other small vessels and set sail for Brazil, abandoning Cheap and his few remaining loyalists to their fate. Fewer than half of Bulkeley's group survived their nearly 3,000-mile journey through the Strait of Magellan and up the coast of Argentina, but he was treated as a hero, until Cheap miraculously appeared back in England and accused him of mutiny. Though the showdown between Cheap and Bulkeley is somewhat anticlimactic, Grann packs the narrative with fascinating details about life at sea--from scurvy-induced delirium to the mechanics of loading and firing a cannon--and makes excellent use of primary sources, including a firsthand account by 16-year-old midshipman John Byron, grandfather of the poet Lord Byron. Armchair adventurers will be enthralled. (Apr.)"
(c) Copyright PWxyz, LLC. All rights reserved
Additional Information