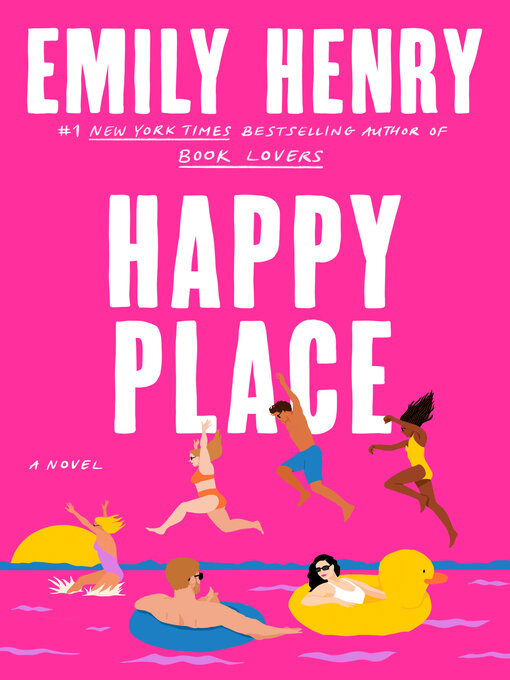 Happy Place
Format:

Kindle Book

2023

Adobe EPUB ebook

OverDrive Read

Availability:

Unavailable

0 of 142 copies
1219 people on waitlist
Summary
INSTANT #1 NEW YORK TIMES BESTSELLER!"The beach-read master hooks us again."—People Named a Most Anticipated Book of 2023 by BuzzFeed ∙ Paste Magazine ∙ Elle ∙ Southern Living ∙ SheReads ∙ Culturess ∙ Medium ∙ Her Campus ∙ Readers Digest ∙ Zibby Mag and more!A couple who broke up months ago pretend to still be together for their annual weeklong vacation with their best friends in this glittering and wise new novel from #1 New York Times bestselling author Emily Henry.   Harriet and Wyn have been the perfect couple since they met in college—they go together like salt and pepper, honey and tea, lobster and rolls. Except, now—for reasons they're still not discussing—they don't.   They broke up five months ago. And still haven't told their best friends.   Which is how they find themselves sharing a bedroom at the Maine cottage that has been their friend group's yearly getaway for the last decade. Their annual respite from the world, where for one vibrant, blissful week they leave behind their daily lives; have copious amounts of cheese, wine, and seafood; and soak up the salty coastal air with the people who understand them most.   Only this year, Harriet and Wyn are lying through their teeth while trying not to notice how desperately they still want each other. Because the cottage is for sale and this is the last week they'll all have together in this place. They can't stand to break their friends' hearts, and so they'll play their parts. Harriet will be the driven surgical resident who never starts a fight, and Wyn will be the laid-back charmer who never lets the cracks show. It's a flawless plan (if you look at it from a great distance and through a pair of sunscreen-smeared sunglasses). After years of being in love, how hard can it be to fake it for one week…in front of those who know you best?

Published Reviews
Booklist Review:
"Six months ago, when Harriet Kilpatrick and Wyn Connor broke up after being together for 10 years, they came up with a plan. From now on, only one of them would attend any future events hosted by their tight-knit circle of friends. So Harriet is more than bit surprised when she arrives in Knot's Harbor, Maine, for a vacation with her old college friends and finds Wyn there. But before Harriet can send him packing, he informs her that two of their friends, Sabrina and Parth, plan on getting married that week. Rather than ruin everything for them, Harriet and Wyn agree to pretend to still be together. What they both soon discover is that, while circumstances may necessitate a change to their plan, one thing that hasn't changed is their love for each other. Once again, Henry (Book Lovers, 2022) dazzles and delights by brilliantly deploying her considerable skills in comic timing and crafting characters with relatable, realistically messy lives. Effortlessly toggling between the present-day fauxmance playing out between her protagonists and the origins of their love a decade earlier, Happy Place is a romance that delivers on both style and substance.HIGH-DEMAND BACKSTORY: Henry's novels are sparkling bestsellers, and her newest will be an immense draw for her fans and every reader looking for a stellar romance."
From Booklist, Copyright (c) American Library Association. Used with permission.
Publisher's Weekly Review:
"Exes must pretend they're still together in this delightful Summery rom-com from bestseller Henry (Book Lovers). Burned out surgical resident Harriet Kilpatrick is eager for a relaxing weeklong getaway with her tight-knit friend group at the remote Maine beach cottage they've frequented. Then she arrives and discovers that Wyn Connor will also be there for the week. Wyn and Harriet were the perfect couple in college, and then the perfect fiancés, but they broke up six months ago and have yet to tell their friends. With the cottage up for sale, Harriet is determined not to ruin the gang's last summer getaway, meaning she and Wyn must pretend to be happily in love. It's awkward at first--compounded by the fact that, of course, there's only one bed for the two of them--but soon they fall back into a familiar dynamic and old flames reignite. The chemistry between Wyn and Harriet is addictive, and both display some refreshing vulnerability. The lovable friend group, unusual but welcome in a Henry novel, help push the narrative forward and provide plenty of wit. This has the makings of a rom-com classic. Agent: Taylor Haggerty, Root Literary. (Apr.)"
(c) Copyright PWxyz, LLC. All rights reserved
Additional Information