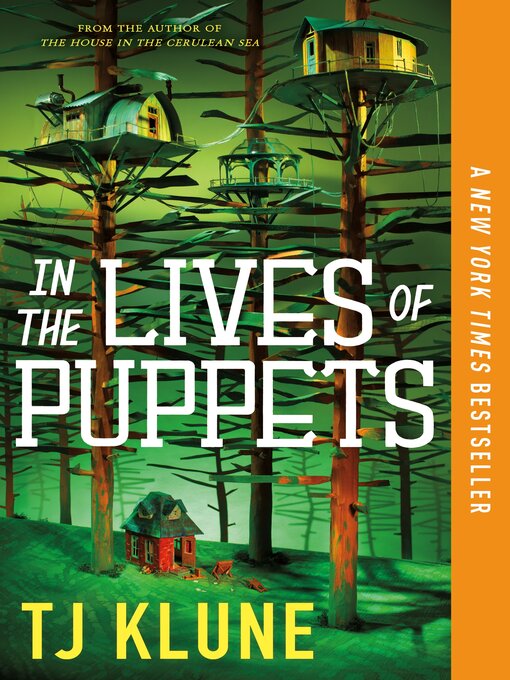 In the Lives of Puppets
Format:

Kindle Book

2023

Adobe EPUB ebook

OverDrive Read

Availability:

Unavailable

0 of 11 copies
75 people on waitlist
Summary
A NEW YORK TIMES, SUNDAY TIMES AND INDIE BESTSELLER!New York Times bestselling author TJ Klune invites you deep into the heart of a peculiar forest and on the extraordinary journey of a family assembled from spare parts.Most Anticipated from BookPage Goodreads The Nerd Daily Paste Magazine LitReactor OverDrive LGBTQ Reads Tor.com LibraryReads more"An enchanting tale of Pinocchio in the end times." —P. Djèlí ClarkIn a strange little home built into the branches of a grove of trees, live three robots—fatherly inventor android Giovanni Lawson, a pleasantly sadistic nurse machine, and a small vacuum desperate for love and attention. Victor Lawson, a human, lives there too. They're a family, hidden and safe.The day Vic salvages and repairs an unfamiliar android labelled "HAP," he learns of a shared dark past between Hap and Gio–a past spent hunting humans.When Hap unwittingly alerts robots from Gio's former life to their whereabouts, the family is no longer hidden and safe. Gio is captured and taken back to his old laboratory in the City of Electric Dreams. So together, the rest of Vic's assembled family must journey across an unforgiving and otherworldly country to rescue Gio from decommission, or worse, reprogramming.Along the way to save Gio, amid conflicted feelings of betrayal and affection for Hap, Vic must decide for himself: Can he accept love with strings attached?Inspired by Carlo Collodi's The Adventures of Pinocchio, and like Swiss Family Robinson meets Wall-E, In the Lives of Puppets is a masterful stand-alone fantasy adventure from the beloved author who brought you The House in the Cerulean Sea and Under the Whispering Door.★ "An epic quest of rescue and discovery [with] the author's trademark charm, heart, and bittersweetness." —Library Journal, starred reviewPraise for TJ Klune's previous work: "Like being wrapped up in a big gay blanket." —V.E. SCHWAB "Very close to perfect." —SEANAN McGUIRE "Utterly absorbing." —GAIL CARRIGER "It will renew your faith in humanity." —TERRY BROOKS "It healed me." —CASSANDRA KHAW "Compassionate." —RYKA AOKIAt the Publisher's request, this title is being sold without Digital Rights Management Software (DRM) applied.

Published Reviews
Booklist Review:
"In a tale that riffs on the beats of Pinocchio with a futuristic bent, Klune (The House in the Cerulean Sea, 2020) tells the story of a boy named Victor, who finds a broken android and sets off a series of events leading to terrible truth about the world he lives in, a dangerous journey, and characters both charming and threatening. Victor is human, but his family--his father, Giovanni, an inventor; an old medical robot, Nurse Ratched; and a vacuum named Rambo--are robots. Gio's terrible secrets are well hidden, until Victor accidentally sets off an alarm in the process of unearthing a mostly complete android called Hap. In one fell swoop, everything Victor thought he knew is turned upside down, and Gio is taken prisoner by strange, faceless beings in a flying whale. The journey to the City of Electric Dreams, where Gio's original lab is, will be difficult, and Victor will have to contend with how new knowledge of the past may change his relationship with his family. Like Klune's prior work, themes of found family and the hard work of hope prevail."
From Booklist, Copyright (c) American Library Association. Used with permission.
Publisher's Weekly Review:
"Bestseller Klune (Under the Whispering Door) draws from Pinocchio to create a gripping and heartfelt queer dystopian tale set in a world where humanity has been eliminated by robots. Victor Lawson, 21, was raised by his robot father, Giovanni, in a secluded forest in far-future Oregon. Together with two friends--antisocial Nurse Ratched (short for "Nurse Registered Automaton to Care, Heal, Educate, and Drill") and neurotic vacuum Rambo--Victor discovers an angry, powerful android in the nearby scrapyard. Hap, as the trio comes to call him, quickly imprints on Victor, who repairs the android's body with wood and powers him with a carved heart containing a drop of Victor's own blood. When Giovanni is seized by the law and taken to the City of Electric Dreams, a recorded message from Giovanni reveals that Victor is the last surviving human--and that Hap is a model HARP (Human Annihilation Response Protocol) created by Giovanni to hunt and kill humans before he learned regret. Hap, who doesn't remember this violent past, promises not to hurt Victor as they concoct a plan to rescue Giovanni. Klune makes the central question of what it means to be human feel direct, urgent, and fresh. Both very funny and deeply touching, this evocative retelling will delight Klune's fans and newcomers alike. (Apr.)"
(c) Copyright PWxyz, LLC. All rights reserved
Additional Information