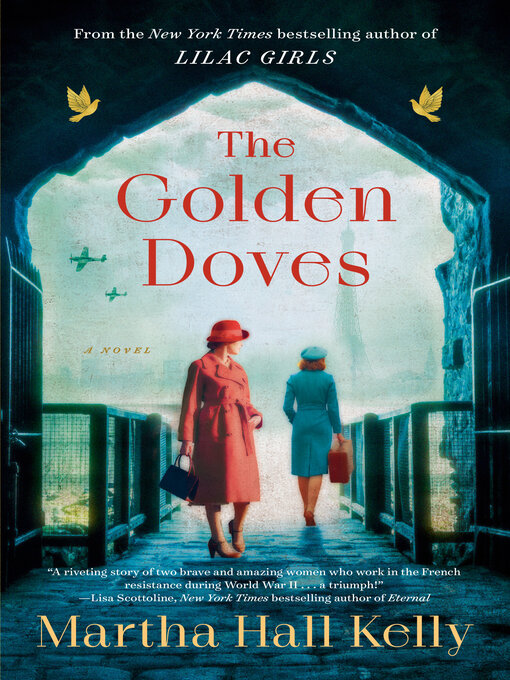 The Golden Doves
Format:

Kindle Book

2023

Adobe EPUB ebook

OverDrive Read

Availability:

Unavailable

0 of 9 copies
72 people on waitlist
Summary
Two former female spies, bound together by their past, risk everything to hunt down an infamous Nazi doctor in the aftermath of World War II—a pulse-pounding novel inspired by true events from the New York Times bestselling author of Lilac Girls"Martha Hall Kelly deftly illuminates little-known complexities of the post-war era while painting a vivid portrait of the deep scars and trauma that Holocaust survivors carried."—Pam Jenoff, New York Times bestselling author of Code Name SapphireAmerican Josie Anderson and Parisian Arlette LaRue are thrilled to be working in the French resistance, stealing so many Nazi secrets that they become known as the Golden Doves, renowned across France and hunted by the Gestapo. Their courage will cost them everything. When they are finally arrested and taken to the Ravensbrück concentration camp, along with their loved ones, a reclusive Nazi doctor does unspeakable things to Josie's mother, a celebrated Jewish singer who joined her daughter in Paris when the world seemed bright. And Arlette's son is stolen from her, never to be seen again. A decade later the Doves fall headlong into a dangerous dual mission: Josie is working for U.S. Army Intelligence and accepts an assignment to hunt down the infamous doctor, while a mysterious man tells Arlette he may have found her son. The Golden Doves embark on a quest across Europe and ultimately to French Guiana, discovering a web of terrible secrets, and must put themselves in grave danger to finally secure justice and protect the ones they love. Martha Hall Kelly has garnered acclaim for her stunning combination of empathy and research into the stories of women throughout history and for exploring the terrors of Ravensbrück. With The Golden Doves, she has crafted an unforgettable story about the fates of Nazi fugitives in the wake of World War II—and the unsung female spies who risked it all to bring them to justice.

Published Reviews
Booklist Review:
"Kelly (Sunflower Sisters, 2021) returns to World War II with this tale of Josie Anderson and Arlette LaRue, resistance fighters known as the Golden Doves. Josie is the daughter of an American diplomat and his Jewish wife. Arlette finds herself pregnant by a young German soldier and is handed over to the Lebensborn program by her aunt, though she escapes after her child is born. After being caught with subversive propaganda, the two are transported to Ravensbrück without being identified as the Golden Doves, even though they are revered across France and wanted by the Gestapo. Their paths cross again 10 years later when Josie is an army-intelligence officer tracking down Nazi war criminals and Arlette is trying to reunite with her son, Willie, who was taken from her in the camp. Josie's handler sends her to French Guiana in search of the doctor who experimented on her mother, where Arlette has also traveled in hopes of identifying Willie among the boys in an orphanage run by a French dilettante and his mother. Once again Kelly weaves a fascinating tale of lesser-known heroes, inspired by true events, to enhance our understanding of history. Offer it to fans of plucky women, found family, and beating the odds."
From Booklist, Copyright (c) American Library Association. Used with permission.
Publisher's Weekly Review:
"Two women involved with the French Resistance become embroiled in postwar espionage in the intriguing latest from Kelly (Lilac Girls). Josie Anderson, an American diplomat and daughter of a French Jewish singer, works in 1950s Fort Bliss, Tex., where former Nazi scientists are brought to keep them away from Russian intelligence agents. When Josie's assigned to bring in the elusive Dr. Snow, a Nazi physician who experimented on prisoners during Josie's imprisonment at Ravensbrück, she jumps at the chance. In Europe, Josie reunites with former fellow Resistance worker Arlette LaRue, with whom she thwarted Nazi efforts in Paris before they were captured. While Josie chases leads, Arlette meets Luc Minau, who offers to fly her to French Guiana, where Luc operates a charitable Catholic home for children orphaned during the war. Suspecting there may be a more sinister purpose behind the children's home--namely, medical experimentation--Arlette and Josie come to believe that Father Peter, the home's priest, might in fact be Snow. Kelly informs her dramatic narrative with rich historical details, such as the Catholic officials who transported former Nazis to South America. Historical fiction fans will be delighted. Agent: Alexandra Machinist, ICM Partners. (Apr.)"
(c) Copyright PWxyz, LLC. All rights reserved
Additional Information