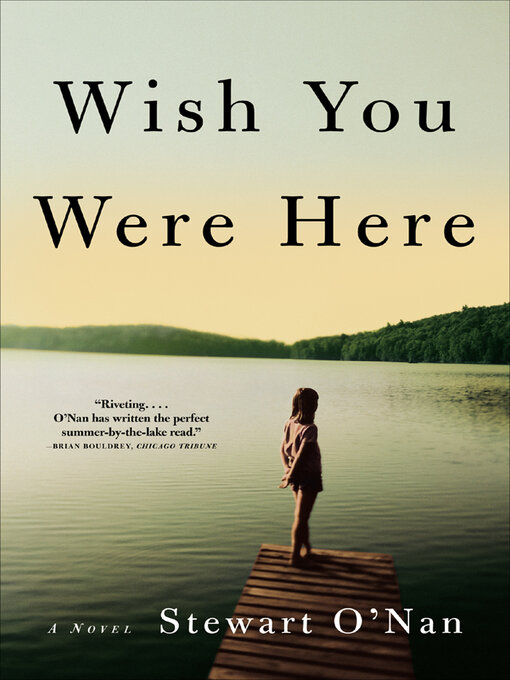 Wish You Were Here
Format:

Kindle Book

2007

Adobe EPUB ebook

OverDrive Read

Availability:

Unavailable

0 of 4 copies
6 people on waitlist
Summary
A family gathers at their vacation cottage for the last time: "Riveting...the perfect summer-by-the-lake read."—Chicago TribuneA New York Times Notable BookA Chicago Tribune Favorite Book of the YearA year after the death of her husband, Emily Maxwell gathers her family by Lake Chautauqua in western New York for what will be a last vacation at their summer cottage. Joining is her sister-in-law, who silently mourns the sale of the lake house, and a long-lost love. Emily's firebrand daughter, a recovering alcoholic recently separated from her husband, brings her children from Detroit. Emily's son, who has quit his job and mortgaged his future to pursue his art, comes accompanied by his children and his wife, who is secretly heartened to be visiting the house for the last time. Memories of past summers resurface, old rivalries flare up, and love is rekindled and born anew, resulting in a timeless novel drawn, as the best writing often is, from the ebbs and flow of daily life."A sprawling, generously written saga that imparts exceptional insights into the human heart."—Charlotte Observer"Brilliantly mesmerizing."—Los Angeles Times"Succeeds beautifully...showcases some of the finest character studies a contemporary reader could ask for."—The Boston Globe

Published Reviews
Booklist Review:
"Walking the dog, playing cards, trying to fill too many rainy days--it seems like any other summer vacation at the Maxwell family cottage in Chautauqua, except that since widowed matriarch Emily has sold the place, this summer could be the last. The week is bittersweet, and not just for Emily, who is caught between the memories of her long marriage with Henry and the need to move on. Her son, Ken, still trying to find himself at age 40, and his wife, Lisa; daughter, Meg, in the midst of a bitter divorce; Ken and Lisa's kids, Ella and Sam; Meg's kids, Sarah and Justin; and Henry's sister, Arlene, all bring their own baggage of insecurity, disappointment, and frustration, as well as, for some of them, regret that the cottage (and the past) are slipping away. Taking us inside everyone, from sixtyish women to 10-year-old boys, O'Nan gets all the details right--the irritations that arise from too much forced intimacy, the clutter and cast-offs that accumulate in a summerhouse that has been in the same family for years, the worn and slightly tacky ambience of an old resort, the tedium of days with nothing important to do. Although it's a long week and this is a long book, readers will find themselves fully engaged by each character's particular dilemmas and dreams. --Mary Ellen Quinn"
From Booklist, Copyright (c) American Library Association. Used with permission.
Publisher's Weekly Review:
"O'Nan relies on a patient accumulation of detail instead of a focused dramatic arc to achieve a Vermeer-like realism in his latest novel. His strategy is to record minutely the thoughts and actions of all nine members of the extended Maxwell family as they spend a week at their family summer house, until their smallest gestures become familiar to the reader. Now that her husband, Henry, is dead, Emily Maxwell, the matriarch of the clan, is selling the family retreat near Chautauqua, N.Y. Emily and her sister-in-law, Arlene, drive up together from Pittsburgh for a last summer visit; Emily's son, Ken, and his wife, Lise, come next with their two children; and finally Emily's daughter, Meg, and Meg's son and daughter arrive. For seven days the Maxwells interact, with Emily's disappointment in her children prompting them to assess their lives themselves. Meg, a recovering alcoholic, is in the middle of a divorce. Kenneth is a failed photographer, whose latest low-paying job is in a photo lab. Lise, his wife, dislikes Emily, and is jealous of Ken and Meg's closeness. The children, whose tensions are wholly other than those of the adults, are tracked just as closely, with O'Nan's account of Ken's 13-year-old daughter Ella's budding crush on her cousin Sarah, also 13, becoming one of the high points of the novel. Various subplots evolve, especially one concerning a kidnapped local store clerk. At times the story is smothered by its own accumulative logic; yet in clinging so relentlessly to the surface of his world, O'Nan slowly pulls the reader into it. Agent, David Gernert, the Gernert Company. 9-city author tour. (May) Forecast: O'Nan refuses to be pigeonholed this slice-of-middle-class-life novel follows the nonfiction Circus Fire and the inner-city novel Everyday People. The appealing ordinariness of its subject should make it one of his more accessible and better-selling books. (c) Copyright PWxyz, LLC. All rights reserved"
(c) Copyright PWxyz, LLC. All rights reserved
Additional Information
Subjects
Literature
Fiction

Publisher

Grove Atlantic2007



Language

English



ISBN
9781555847913