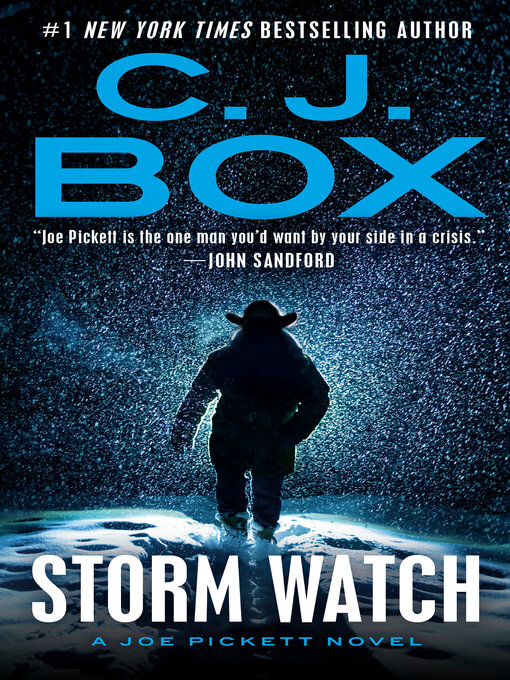 Storm Watch
Format:

Kindle Book

2023

Adobe EPUB ebook

OverDrive Read

Availability:

Unavailable

0 of 8 copies
84 people on waitlist
Summary
Wyoming Game Warden Joe Pickett investigates a mysterious death at a secret remote high-tech facility in this riveting new novel from #1 New York Times bestseller C.J. Box.     When a prominent University of Wyoming professor goes missing, authorities are stumped. That is, until Joe Pickett makes two surprising discoveries while hunting down a wounded elk on his district as an epic spring storm descends upon him. First, he finds the professor's vehicle parked on a remote mountainside. Then Joe finds the professor's frozen and mutilated body. When he attempts to learn more, his investigation is obstructed by federal agents, extremists, and Governor Colter Allen.     Nate Romanowski is rebuilding his falconry company—and financing this through crypto mining with the assistance of Geronimo Jones. He's then approached by a shadowy group of local militant activists that is gaining in power and influence, and demanding that Wyoming join other western states and secede from the union—by force, if necessary. They ask Nate to throw in with them, but he's wary. Should he trust them, or is he being set up?     As a storm of peril gathers around them, Joe and Nate confront it in different ways—and maybe, for the first time, on opposite sides.

Published Reviews
Booklist Review:
"Game Warden Joe Pickett is pursuing a wounded elk in the foothills of the Bighorn Mountains, his customary Stetson replaced by a thick wool rancher's cap, earflaps down. A significant storm was predicted by the National Weather Service, and it turned out to be a "day that would both start and end with blood on the snow." He finds the mutilated body of a state university professor and is frustrated when the state and the feds put a lid on it. He is not sure why. Meanwhile, a local militant group attempts to recruit Joe's friend Nate Romanowski for a violent coup that will enable Wyoming to secede from the union. This very tense twenty-third entry in Box's legendary series (after Treasure State, 2022) keeps timely, introducing crypto mining, gun control, and political extremism into the plot. The sparkling dialogue and rich characterizations again testify to Box's storytelling prowess. A second season of the well-received Spectrum Originals series Joe Pickett is in production.HIGH-DEMAND BACKSTORY: Box is no stranger to best-seller lists, and his latest in an ever-popular series will further cement his position."
From Booklist, Copyright (c) American Library Association. Used with permission.
Publisher's Weekly Review:
"At the start of Edgar winner Box's outstanding 23rd Joe Pickett novel (after 2022's Shadows Reel), the Wyoming game warden comes across a grisly scene after pursuing an injured elk: inside an isolated ranch outbuilding there's a body of a man with the top of his head missing. With a snowstorm fast approaching, Joe has time only to remove the man's wallet and take some photos with his phone. The lazy local sheriff offers little help, and the body of the victim, a University of Wyoming professor according to the ID in his wallet, is gone when Joe returns to the scene. It becomes clear that higher-ups want Joe to stay away from the case. Joe soon has another crime to deal with--a gang has been gathering "sheds," the antlers that bull elks shed each spring, out of season. Meanwhile, Joe's falconer buddy, Nate Romanowski, is suspicious of a shadowy figure keen on persuading him to join an anti-government group. The suspense builds as the various story lines neatly intersect on the way to a tense confrontation between two of the most powerful politicians in Wyoming. Box is writing at the top of his game. Agent: Ann Rittenberg, Ann Rittenberg Literary. (Feb.)"
(c) Copyright PWxyz, LLC. All rights reserved
Additional Information