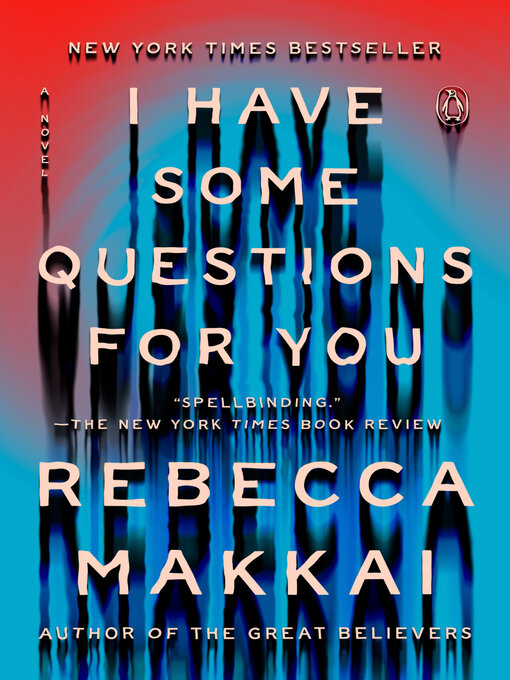 I Have Some Questions for You
Format:

Kindle Book

2023

Adobe EPUB ebook

OverDrive Read

Availability:

Unavailable

0 of 23 copies
260 people on waitlist
Summary
A NEW YORK TIMES BESTSELLER "A twisty, immersive whodunit perfect for fans of Donna Tartt's The Secret History." —People "Spellbinding." —The New York Times Book Review"[An] irresistible literary page-turner." —The Boston GlobeNamed a Most Anticipated Book of 2023 by TIME, NPR, USA Today, Elle, Newsweek, Salon, Bustle, AARP, The Millions, Good Housekeeping, and moreThe riveting new novel — "part true-crime page-turner, part campus coming-of-age" (San Francisco Chronicle) — from the author of the Pulitzer Prize and National Book Award finalist The Great Believers A successful film professor and podcaster, Bodie Kane is content to forget her past—the family tragedy that marred her adolescence, her four largely miserable years at a New Hampshire boarding school, and the murder of her former roommate, Thalia Keith, in the spring of their senior year. Though the circumstances surrounding Thalia's death and the conviction of the school's athletic trainer, Omar Evans, are hotly debated online, Bodie prefers—needs—to let sleeping dogs lie.But when the Granby School invites her back to teach a course, Bodie is inexorably drawn to the case and its increasingly apparent flaws. In their rush to convict Omar, did the school and the police overlook other suspects? Is the real killer still out there? As she falls down the very rabbit hole she was so determined to avoid, Bodie begins to wonder if she wasn't as much of an outsider at Granby as she'd thought—if, perhaps, back in 1995, she knew something that might have held the key to solving the case.In I Have Some Questions for You, award-winning author Rebecca Makkai has crafted her most irresistible novel yet: a stirring investigation into collective memory and a deeply felt examination of one woman's reckoning with her past, with a transfixing mystery at its heart. Timely, hypnotic, and populated with a cast of unforgettable characters, I Have Some Questions for You is at once a compulsive page-turner and a literary triumph.

Published Reviews
Booklist Review:
"Beloved novelist Makkai follows up The Great Believers (2018), winner of the Carnegie Medal and a host of other awards, with this beguiling campus novel that blends true-crime obsession and #MeToo-era reckoning with a woman's inevitable exorcism of the past. Host of a popular podcast that reexamines the lives of female film stars, Bodie Kane returns to the New Hampshire boarding school she attended in the 1990s to lead a brief, intensive winter course on podcasting. As Bodie knew, however subconsciously, one student would investigate the death of Bodie's classmate Thalia Keith, a crime a devoted following of online sleuths believes is far from resolved, though the school's former athletic trainer has been imprisoned for decades. Drifting back to her own student years, Bodie narrates her contemporary collision course with the case to the Granby music teacher she's now certain behaved inappropriately with underage Thalia, a man who also took self-protective teenage Bodie--and how many others?--under his wing. Both wide-angle observer and genius provocateur, Bodie is so real readers will expect to find her in their own yearbooks. Chilled as the deep New England winters during which it takes place and twisty with the slowly found and then suddenly illuminated branches of memory, Makkai's rich, winding story dazzles from cover to cover. HIGH-DEMAND BACKSTORY: Fingers are already poised over the hold button for Makkai's first novel since the still-raved-about The Great Believers."
From Booklist, Copyright (c) American Library Association. Used with permission.
Publisher's Weekly Review:
"Makkai returns after her Pulitzer-finalist The Great Believers with a clever and deeply thoughtful story involving a 1990s boarding school murder and its repercussions decades later. Bodie Kane, a successful 40-year-old podcaster, returns from Los Angeles to her alma mater in New Hampshire in 2018 to teach. After two of her students team up on a Serial-like podcast about the killing of Thalia Keith, whose murder was pinned on the school's Black athletic trainer, Omar Evans, questions are raised about the state's flimsy case against Omar and Thalia's classmates' racist assumptions about his guilt. Meanwhile, Bodie reexamines her own understanding of what happened, and comes to grips with the predatory behavior of her and Thalia's beloved music teacher. Just as Makkai brought a keen perspective to the 1980s with her previous novel, she does a brilliant job here at showing how in the '90s girls were conditioned to shrug off sexual assault. A steady stream of precise, cringe-inducing period details--Thalia's manipulative jock boyfriend belts out "Come to My Window" while drunk--prove the reader's in good hands. A final act, set in spring 2022, brings more of the classmates together for a deliciously complex reckoning. This is sure to be a hit. Agent: Nicole Aragi, Aragi Inc. (Feb.)"
(c) Copyright PWxyz, LLC. All rights reserved
Additional Information
Subjects
Literature
Fiction

Publisher

Penguin Publishing Group2023



Language

English



ISBN
9780593490150