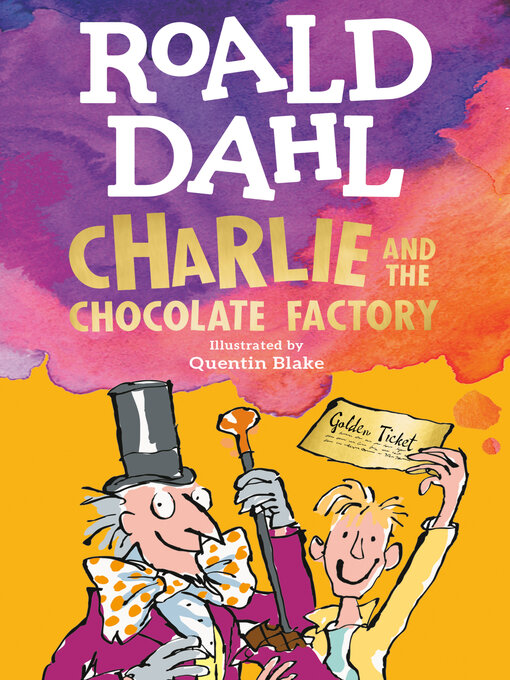 Charlie and the Chocolate Factory
Format:

Kindle Book

2007

Adobe EPUB ebook

OverDrive Read

Availability:

Unavailable

0 of 4 copies
9 people on waitlist
Summary
Willy Wonka's famous chocolate factory is opening at last!But only five lucky children will be allowed inside. And the winners are: Augustus Gloop, an enormously fat boy whose hobby is eating; Veruca Salt, a spoiled-rotten brat whose parents are wrapped around her little finger; Violet Beauregarde, a dim-witted gum-chewer with the fastest jaws around; Mike Teavee, a toy pistol-toting gangster-in-training who is obsessed with television; and Charlie Bucket, Our Hero, a boy who is honest and kind, brave and true, and good and ready for the wildest time of his life!

Published Reviews
Booklist Review:
"*Starred Review* No single title is more associated with Dahl than this one funny, then, that the iconic 1971 film version changed it to Willy Wonka & the Chocolate Factory. Regrettable episode of fat-shaming aside (Augustus Gloop's reviled gluttony is wince-worthy), Dahl's classic-of-classics holds up tremendously well, with hairpin swerves and bizarro details turning each page into a wonder of idiosyncratic absurdity. For you poor saps who don't know the story, it stars hand-to-mouth ragamuffin Charlie Bucket, who beats stratospheric odds by finding one of the five Golden Tickets hidden inside Willy Wonka candy bars. The five finders are awarded with a lifetime candy supply and a tour of Wonka's chocolate factory led by the mad genius himself, who hasn't been seen in 10 years. Wonka is a uproarious character sharpened by a subtle, maniacal glee: his monolithic paragraphs of exclamation-pointed dialogue is simply too verbose for comfort. Meanwhile, the winning kids the aforementioned Gloop, the spoiled Veruca Salt, the gum-smacking Violet Beauregarde, the screen-obsessed Mike Teavee are roundly grotesque, and their rotten habits lead them to grotesque ends. (Who doesn't shudder when the Oompa-Loompas cart off the blueberry-inflated Violet to the Juicing Room?) Charlie is a dull goody-goody, of course, but he's just the boat in which we ride through this particular fun house, which is every bit as giddily subversive as it was 52 years ago.--Kraus, Daniel Copyright 2016 Booklist"
From Booklist, Copyright (c) American Library Association. Used with permission.
Publisher's Weekly Review:
"In a sublime bit of casting, comedic actor Idle delivers an inspired rendition of Dahl's classic novel, available for the first time as an unabridged recording (an abridged Caedmon edition, read by Dahl, was released in the 1970s). Using expert timing and a seemingly strong familiarity with the material, Idle wrings every note of humor from the author's colorful behind-the-scenes look at Willy Wonka's world-famous chocolate factory. During the course of a factory tour (whose participants were determined by a contest), honest, humble Charlie Bucket beats out four bratty, selfish children to become the heir to Wonka's wonderland. Readers new to Dahl, as well as longstanding admirers of the book or even the feature film starring Gene Wilder, will not want to miss Idle's interpretation of Wonka's whirlwind energy and "high and flutey" voice. Ages 6-up. (Nov.) (c) Copyright PWxyz, LLC. All rights reserved"
(c) Copyright PWxyz, LLC. All rights reserved
Additional Information