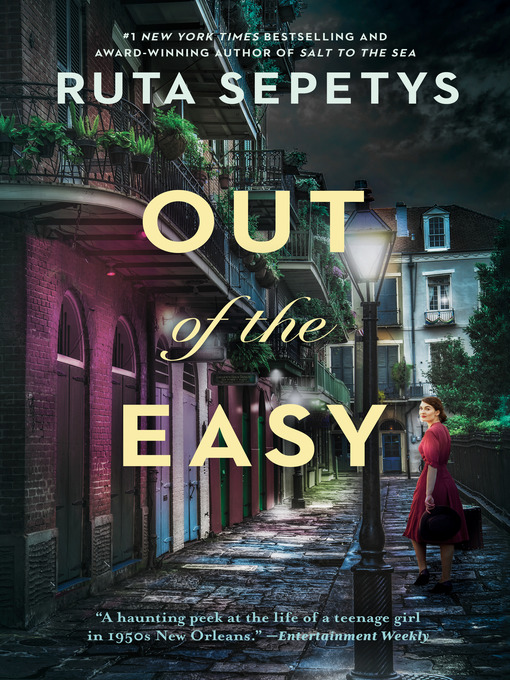 Out of the Easy
Format:

Kindle Book

2013

Adobe EPUB ebook

OverDrive Read

Availability:

Unavailable

0 of 2 copies
Summary
"A haunting peek at the life of a teenage girl in 1950s New Orleans."—Entertainment WeeklyIt's 1950, and as the French Quarter of New Orleans simmers with secrets, seventeen-year-old Josie Moraine is silently stirring a pot of her own. Known among locals as the daughter of a brothel prostitute, Josie wants more out of life than the Big Easy has to offer. She devises a plan get out, but a mysterious death in the Quarter leaves Josie tangled in an investigation that will challenge her allegiance to her mother, her conscience, and Willie Woodley, the brusque madam on Conti Street. Josie is caught between the dream of an elite college and a clandestine underworld. New Orleans lures her in her quest for truth, dangling temptation at every turn, and escalating to the ultimate test.With characters as captivating as those in her internationally bestselling novel Between Shades of Gray, Ruta Sepetys skillfully creates a rich story of secrets, lies, and the haunting reminder that decisions can shape our destiny.From the Trade Paperback edition.

Published Reviews
Booklist Review:
"In a radical departure from her first novel, Between Shades of Gray (2011), Sepetys' second is partially set in a 1950s New Orleans brothel where Josie's mother works as a prostitute. Humiliated, the 18-year-old fears she is destined for nothing more than a crummy life skirting the New Orleans underworld. That underworld looms larger when a murder occurs and it appears Josie's mother may be complicit. Josie's dream is to go to Smith College, but even if she is admitted, how will she pay for it? Meanwhile, she finds herself attracted to two very different young men: her best friend, clean-cut Patrick, with whom she works at his father's bookstore, and quietly mysterious biker Jesse. Complicated? You bet! Sepetys' latest strongly evokes 1950s radio soap operas, but despite over-the-top emotional pitch and stereotypical characters, this is nevertheless a page-turner that noir romance fans will gobble up like popcorn shrimp. HIGH-DEMAND BACKSTORY: The legions of fans that Sepetys earned with her best-selling debut novel will all be lining up for this.--Cart, Michael Copyright 2010 Booklist"
From Booklist, Copyright (c) American Library Association. Used with permission.
Publisher's Weekly Review:
"Sepetys follows her debut, Between Shades of Gray, with another taut and charged historical novel, though the setting-the French Quarter of New Orleans in 1950-is a world apart from that of her previous book. Living and working in a bookshop, 17-year-old Josie Moraine dreams of attending college-anything to get away from her mother, a prostitute with Hollywood dreams and a knack for getting involved with the worst men. When Josie becomes involved in a high-profile murder investigation, she becomes even more entrenched in her circumstances. The sensual yet rigidly class-based setting is a real standout, and Sepetys has also built a stellar cast, which includes Willie, a strident but generous madam; Charlie Marlowe, the bookshop's owner; and a pair of potential love interests for Josie. Readers will find Josie irresistible from the get-go ("The only reason I'd lift my skirt is to pull out my pistol and plug you," she tells a guy early on) and will devour the sultry mix of mystery, historical detail, and romance. Ages 14-up. Agent: Writers House. (Feb.)? (c) Copyright PWxyz, LLC. All rights reserved."
(c) Copyright PWxyz, LLC. All rights reserved
Additional Information