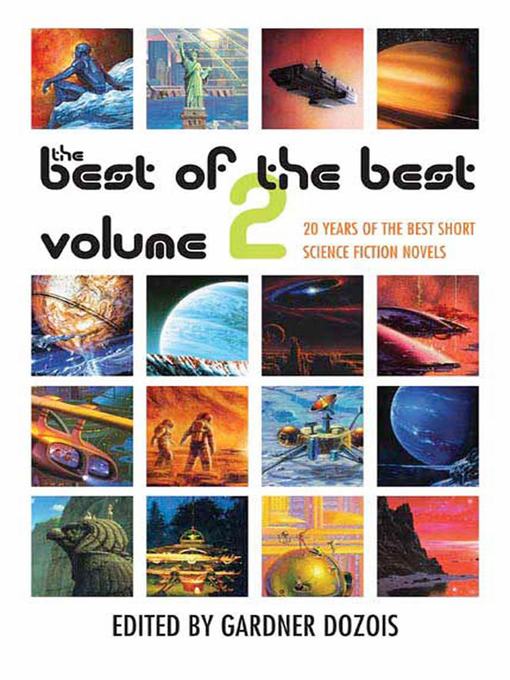 The Best of the Best, Volume 2
Format:

Kindle Book

2007

Adobe EPUB ebook

OverDrive Read

Availability:

Unavailable

0 of 1 copy
Summary
For more than twenty years The Year's Best Science Fiction has been recognized as the best collection of short science fiction writing in the universe and an essential resource for every science fiction fan. In 2005 the original Best of the Best collected the finest short stories from that series and became a benchmark in the SF field. Now, for the first time ever, Hugo Award-winning editor Gardner Dozios sifts through hundreds of stories and dozens of authors who have gone on to become some of the most esteemed practitioners of the form, to bring readers the ultimate anthology of short science fiction novels from his legendary series. Included are such notable short novels as:Sailing to Byzantium by Robert SilverbergIn the fiftieth century, people of Earth are able to create entire cities on a whim, including those of mythology and legend. When twentieth-century traveler Charles Philip accidentally lands in this aberrant time period, he is simultaneously obsessed with discovering more about this alluring world and getting back home. But in a world made entirely of man's creation, things are not always as they seem on the surface.Forgiveness Day by Ursula K. Le GuinLe Guin returns to her Hainish-settled interstellar community, the Edumen, to tell the tale of two star-crossed lovers who are literally worlds apart in this story of politics, violence, religion, and cultural disparity.Turquoise Days by Alastair ReynoldsOn a sea-wold planet covered with idyllic tropical oceans, peace seems pervasive. Beneath the placid water lurks an ominous force that has the potential to destroy all tranquility.Contributors include: Greg Egan; Joe Haldeman; James Patrick Kelly; Nancy Kress; Ursula K. Le Guin; Ian R. MacLeod; Ian McDonald; Maureen F. McHugh; Frederick Pohl; Alastair Reynolds; Robert Silverberg; Michael Swanwick; Walter Jon WilliamsWith work spanning two decades, The Best of the Best, Volume 2 stands as the ultimate anthology of short science fiction novels ever published in the world.

Published Reviews
Booklist Review:
"In Best of the Best (2004), veteran sf editor Dozois skimmed 20 years' worth of his Year's Best Science Fiction anthologies for the cream of his favorite short stories. In this companion volume, he sifts the series' novellas for a baker's dozen of masterfully written longer tales that span the spectrum of speculative fiction's most inventive scenarios, from a peek at Earth in the fiftieth century to a stopover on an exotic, alien sea world. In Joe Haldeman's The Hemingway Hoax, a Hemingway scholar unexpectedly confronts the legendary author in an alternate universe. Michael Swanwick's Griffin's Egg envisions human settlements on the moon, albeit with unusual agendas kept secret from Earth. Several entries, such as Nancy Kress' Beggars in Spain, featuring her famous Sleepless mutants, have become sf classics or, like James Patrick Kelly's Mr. Boy, about an ageless 12-year-old, have launched careers. While the selections perforce reflect Dozois' prejudices, his keen eye for talent makes the collection an indispensable treasury of, as promised, some of the best short novels in the genre. --Carl Hays Copyright 2006 Booklist"
From Booklist, Copyright (c) American Library Association. Used with permission.
Publisher's Weekly Review:
"Beginning with Robert Silverberg's poignant "Sailing to Byzantium," this outstanding follow-up to Dozois's Best of the Best Volume 1 (2005) pays homage to the science fiction novellas of the past two decades and by extension to the entire genre in all its varied glory. Michael Swanwick's "Griffin's Egg" holds down the hard SF end, while Joe Haldeman's "The Hemingway Hoax" is more of a fantastical mystery. Nancy Kress's "Beggars in Spain" and Ian McDonald's heartwrenching "Tendel?o's Story" describe two very different near futures where gifted minorities battle societal envy and fear. Far future ruminations on age and death include James Patrick Kelly's demented "Mr. Boy," Frederik Pohl's somber "Outnumbering the Dead" and Ian R. MacLeod's tender "New Light on the Drake Equation." Otherworldly culture clash appears in Ursula K. Le Guin's "Forgiveness Day" as well as the bittersweet trio of Alastair Reynolds's "Turquoise Days," Maureen F. McHugh's "The Cost to Be Wise" and Walter Jon Williams's "Surfacing." (Feb.) (c) Copyright PWxyz, LLC. All rights reserved"
(c) Copyright PWxyz, LLC. All rights reserved
Additional Information