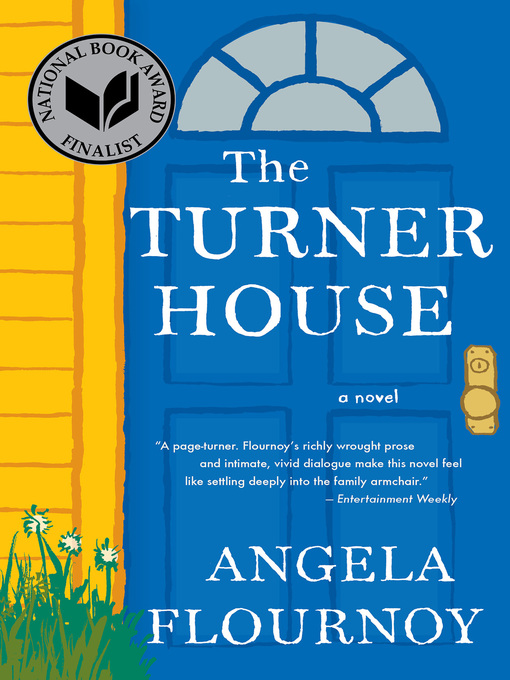 The Turner House
Format:

Kindle Book

2015

Adobe EPUB ebook

OverDrive Read

Availability:

Available from OverDrive

7 of 7 copies
Summary
NATIONAL BOOK AWARD FINALIST A powerful, timely debut, The Turner House marks a major new contribution to the story of the American family. The Turners have lived on Yarrow Street for over fifty years. Their house has seen thirteen children grown and gone—and some returned; it has seen the arrival of grandchildren, the fall of Detroit's East Side, and the loss of a father. The house still stands despite abandoned lots, an embattled city, and the inevitable shift outward to the suburbs. But now, as ailing matriarch Viola finds herself forced to leave her home and move in with her eldest son, the family discovers that the house is worth just a tenth of its mortgage. The Turner children are called home to decide its fate and to reckon with how each of their pasts haunts—and shapes—their family's future. Praised by Ayana Mathis as "utterly moving" and "un-putdownable," The Turner House brings us a colorful, complicated brood full of love and pride, sacrifice and unlikely inheritances. It's a striking examination of the price we pay for our dreams and futures, and the ways in which our families bring us home.

Published Reviews
Booklist Review:
"*Starred Review* The Turners have lived on Yarrow Street on Detroit's East Side for more than 50 years. The neighborhood has fallen into disrepair, and the mortgage on the family home is under water. The patriarch has long been dead, and Viola, the matriarch, is ill and has moved in with her oldest son, Cha-Cha, who feels the full burden of being both father and brother to his 12 rambunctious, demanding siblings. And the siblings are having yet another vehement argument, this time about whether to sell their family home or pay off the mortgage. Meanwhile, Lelah, the youngest, is evicted from her apartment due to gambling debts and has surreptitiously moved into the old homestead, now surrounded by abandoned lots. In this wonderfully lively debut novel, Flournoy tells the story of a complicated family, stepping back in time to show the parents' early married days in the 1940s, their move north to Detroit from the rural South, and how their children each experienced a different version of the neighborhood, which comes to symbolize both the hopes and dashed dreams of Detroit's lower-middle-class blacks. Encompassing a multitude of themes, including aging and parenthood, this is a compelling read that is funny and moving in equal measure.--Wilkinson, Joanne Copyright 2015 Booklist"
From Booklist, Copyright (c) American Library Association. Used with permission.
Publisher's Weekly Review:
"Flounoy's debut is a lively, thoroughly engaging family saga with a cast of fully realized characters. Francis and Viola Turner and their 13 children have lived in a house on Detroit's East Side for more than 50 years. In its prime, Yarrow Street was a comfortable haven for black working-class homeowners. In 2008, after Detroit's long economic depression, Francis has died and Viola is about to lose the house, the value of which has declined to less than the owed mortgage payments, and the siblings are faced with a difficult decision about the house's fate. Flournoy focuses on three of the Turner siblings-Cha-Cha, the eldest son, who drove an 18-wheeler carrying Chryslers before an accident took him off the road; Troy, the youngest son, a policeman with an ambitious, illegal plan; and Lelah, the unstable youngest daughter, who has a gambling addiction. In addition to the pressing financial issue regarding their family home, the plot touches on the moral, emotional, marital, and psychological problems that affect the siblings. Flournoy evokes the intricacies of domestic situations and sibling relationships, depicting how each of the Turners' lives has been shaped by the social history of their generation. She handles time and place with a veteran's ease as the narrative swings between decades, at times leaping back to the 1940s. A family secret, which involves a "haint" (or ghost) who became Francis's nemesis-perhaps real, perhaps just a superstition-appears many years later to haunt Cha-Cha. Readers may be reminded of Ayana Mathis's The Twelve Tribes of Hattie, but Flournoy puts her own distinctive stamp on this absorbing narrative. (Apr.) © Copyright PWxyz, LLC. All rights reserved."
(c) Copyright PWxyz, LLC. All rights reserved
Additional Information