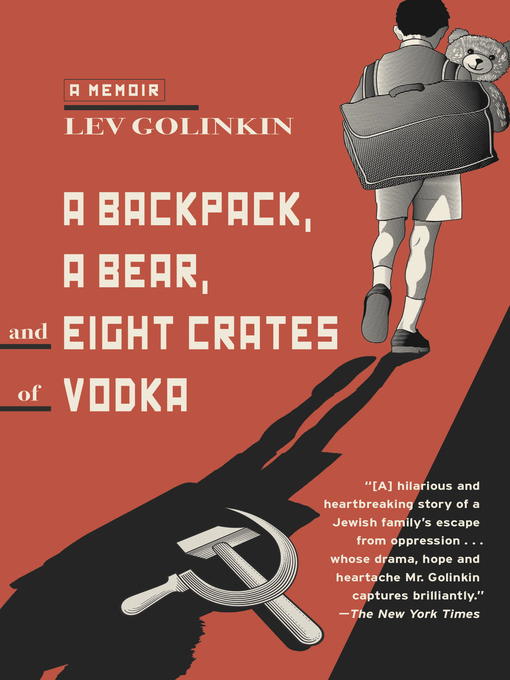 A Backpack, a Bear, and Eight Crates of Vodka
Format:

Kindle Book

2014

Adobe EPUB ebook

OverDrive Read

Availability:

Available from OverDrive

2 of 2 copies
Summary
A compelling memoir—"hilarious and heartbreaking" (The New York Times)—of two intertwined journeys: a Jewish refugee family in Ukraine fleeing persecution and a young man seeking to reclaim a shattered pastIn the twilight of the Cold War (the late 1980s), nine-year old Lev Golinkin and his family cross the Soviet border, leaving Ukraine with only ten suitcases, $600, and the vague promise of help awaiting in Vienna. Years later, Lev, now an American adult, sets out to retrace his family's long trek, locate the strangers who fought for his freedom, and in the process, gain a future by understanding his past.This is the vivid, darkly comic, and poignant story of Lev Golinkin in the confusing and often chilling final decade of the Soviet Union, and "of a Jewish family's escape from oppression ... whose drama, hope and heartache Mr. Golinkin captures brilliantly" (The New York Times). It's also the story of Lev Golinkin as an American man who finally confronts his buried past by returning to Austria and Eastern Europe to track down the strangers who made his escape possible ... and say thank you. Written with biting, acerbic wit and emotional honesty in the vein of Gary Shteyngart, Jonathan Safran Foer, and David Bezmozgis, Golinkin's search for personal identity set against the relentless currents of history is more than a memoir—it's a portrait of a lost era. This is a thrilling tale of escape and survival, a deeply personal look at the life of a Jewish child caught in the last gasp of the Soviet Union, and a provocative investigation into the power of hatred and the search for belonging. Lev Golinkin achieves an amazing feat—and it marks the debut of a fiercely intelligent, defiant, and unforgettable new voice.

Published Reviews
Booklist Review:
"Golinkin was just a child during the tumultuous years of Soviet premier Gorbachev's introduction of glasnost and perestroika, yet his parents and grandmother remembered the worst of the USSR's restrictive, controlling atmosphere. Worse, the family members were zhid, Jewish. This atmospheric, touching memoir, whose chapters begin with dates and locations to orient the reader, follows the Golinkins as they escape the Soviet Union and land in America. Golinkin's early memories are touchingly true to those of a youngster, and he reports on his family members' fears, troubles, persistence, and patience with a keen eye and a memorable voice. Once in the U.S., ensconced near Purdue University the former-engineer father a clerk, the former-doctor mother a barista, and hopes for his sister's attending Purdue wavering Golinkin muses, Dignity, family, social status, or blood, one way or another, every immigrant pays the admission price to America, and the older they are, the steeper the fare. Years later, Golinkin finds and thanks the many people who helped his family and inspired him to help others as well. Eye-opening for those who come to the U.S. and for those who help them do so.--Kinney, Eloise Copyright 2014 Booklist"
From Booklist, Copyright (c) American Library Association. Used with permission.
Publisher's Weekly Review:
"In late 1989, an 11-year-old Golinkin and his family joined the Jewish diaspora from what would soon be the former Soviet Union. Despite having little connection to their Jewish heritage, the Golinkins had been harassed, bullied, and seen their prospects blocked due to their ethnicity. Their exile brought them first to Austria, where they developed an important friendship with a local baron whose father was an unrepentant Nazi. Soon after, they received asylum in the college town of West Lafayette, Ind. Decades later, Golinkin retraced his journey and interviewed the people who had made his escape possible. Golinkin convincingly portrays the miseries, and rare joys, of his bullied, furtive childhood, and the limits it put on him. As he takes on an American identity, he rejects every aspect of his previous life, from its language to a faith he barely knew, a rejection that includes his choice of colleges (he attended the Roman Catholic Boston College).Trauma and his attempts to deal with it give substance to his book, although Golinkin supplements his memories with interviews and research that add important context. While the narrative grows choppy at the end as it devolves into a series of postscripts, Golinkin has created a deeply moving account of fear and hope. (Nov.) (c) Copyright PWxyz, LLC. All rights reserved."
(c) Copyright PWxyz, LLC. All rights reserved
Additional Information