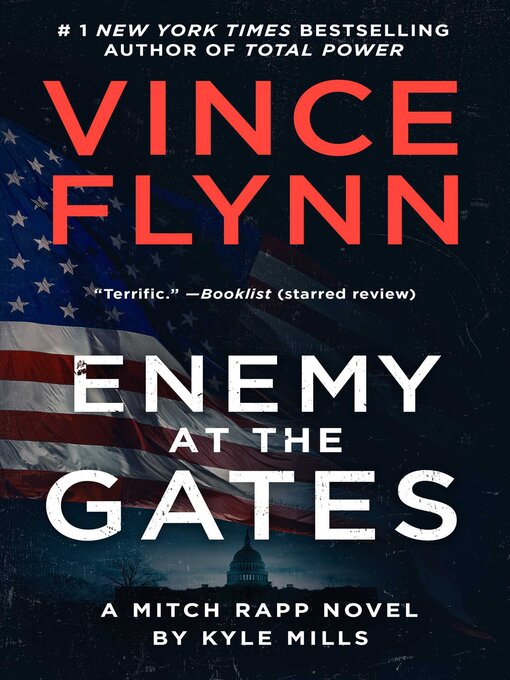 Enemy at the Gates
Format:

Kindle Book

2021

Adobe EPUB ebook

OverDrive Read

Availability:

Unavailable

0 of 8 copies
69 people on waitlist
Summary
Mitch Rapp, the CIA's top operative, searches for a high-level mole with the power to rewrite the world order in this riveting thriller from #1 New York Times bestselling author Vince Flynn, written by Kyle Mills.Mitch Rapp has worked for a number of presidents over his career, but Anthony Cook is unlike any he's encountered before. Cunning and autocratic, he feels no loyalty to America's institutions and is distrustful of the influence Rapp and CIA director Irene Kennedy have in Washington. Meanwhile, when Kennedy discovers evidence of a mole scouring the Agency's database for sensitive information on Nicholas Ward, the world's first trillionaire, she convinces Rapp to take a job protecting him. In doing so, he finds himself walking an impossible tightrope: Keep the man alive, but also use him as bait to uncover a traitor who has seemingly unlimited access to government secrets. As the attacks on Ward become increasingly dire, Rapp and Kennedy are dragged into a world where the lines between governments, multinational corporations, and the hyper-wealthy fade. An environment in which liberty, nationality, and loyalty are meaningless. Only the pursuit of power remains. As "one of the best thriller writers on the planet" (The Real Book Spy), Kyle Mills has created another nail-biter that not only echoes the America of today, but also offers a glimpse into its possible future.

Published Reviews
Booklist Review:
"Flynn introduced counterterrorism operative Mitch Rapp in 1999's Transfer of Power and wrote 12 more Rapp novels. After Flynn's death in 2013, Kyle Mills took over the series, and has guided it with a sure hand ever since. This is his seventh Rapp novel, and it is just terrific. When the CIA learns that its computer system has been attacked, perhaps by someone operating within the agency, Mitch is assigned the difficult job of protecting Nicholas Ward, the world's first trillionaire, who appears to be the target of the hacking. Mitch soon realizes that the only real way of protecting him is to lure the hacker out of hiding, which means using Ward, one of the most famous people on the planet, as bait for someone who might want him dead. The key to the early success of the Rapp novels was Flynn's careful construction of the character. Rapp is no standard-issue muscular action hero; instead, he is, as created by Flynn, a fully fleshed human being. Mills has continued in that vein, giving the reader involving stories populated by believable characters who are grounded in a recognizable reality. Not every series that has changed hands after the original author's death has fared well after the transition. Thanks to Mills, that's not the case with the Rapp novels."
From Booklist, Copyright (c) American Library Association. Used with permission.
Publisher's Weekly Review:
"Bestseller Mills's entertaining seventh entry in Vince Flynn's Mitch Rapp series (after 2020's Total Power) finds CIA agent Mitch considering retirement. After 20 years in the game, he's seriously banged up, he's got a wife and child to protect, he has no relationship with the new U.S. president, and he sees his beloved America collapsing into extremism. Mitch heads to South Africa, where he has a house and plans to become a long-distance bicycle racer. But shortly after his arrival, Nicholas Ward, the world's first trillionaire, shows up to ask for his help finding missing virologist David Chism. Chism, who was working on a vaccine for any type of coronavirus that exists now and any that might arise in the future, disappeared after his laboratory in Uganda, financed by Ward, was attacked by a local terrorist. Mitch, with his wife's blessing, accepts and joins old pal Scott Coleman's security team to locate Chism. Mills delivers the goods, including a CIA mole, perfidy at the highest levels of the U.S. government, and close-combat with a messianic psychopathic terrorist villain who commands a drug-fueled army. Military action fans will be pleased. Agent: Simon Lipskar, Writers House. (Sept.)"
(c) Copyright PWxyz, LLC. All rights reserved
Additional Information