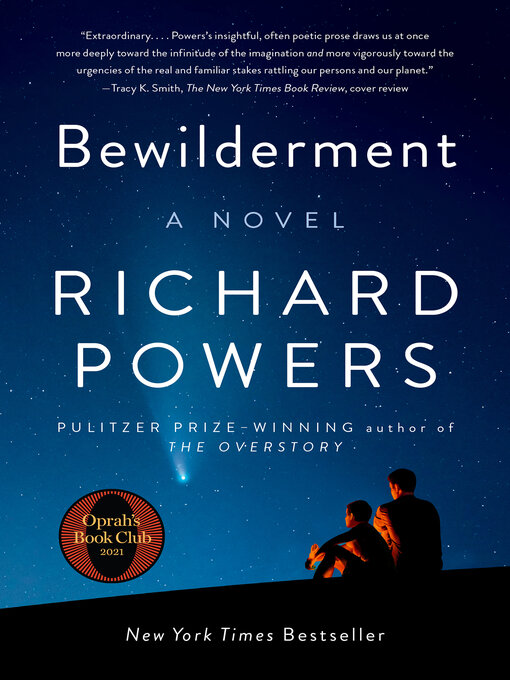 Bewilderment
Format:

Kindle Book

2021

Adobe EPUB ebook

OverDrive Read

Availability:

Unavailable

0 of 19 copies
157 people on waitlist
Summary
AN OPRAH'S BOOK CLUB SELECTIONAn Instant New York Times BestsellerShortlisted for the 2021 Booker PrizeLonglisted for the 2021 National Book Award for FictionA heartrending new novel from the Pulitzer Prize–winning and #1 New York Times best-selling author of The Overstory.The astrobiologist Theo Byrne searches for life throughout the cosmos while single-handedly raising his unusual nine-year-old, Robin, following the death of his wife. Robin is a warm, kind boy who spends hours painting elaborate pictures of endangered animals. He's also about to be expelled from third grade for smashing his friend in the face. As his son grows more troubled, Theo hopes to keep him off psychoactive drugs. He learns of an experimental neurofeedback treatment to bolster Robin's emotional control, one that involves training the boy on the recorded patterns of his mother's brain...With its soaring descriptions of the natural world, its tantalizing vision of life beyond, and its account of a father and son's ferocious love, Bewilderment marks Richard Powers's most intimate and moving novel. At its heart lies the question: How can we tell our children the truth about this beautiful, imperiled planet?

Published Reviews
Booklist Review:
"Powers, author of the Pulitzer Prize--winning The Overstory (2018), focuses his new, intimate novel on loneliness, tragedy, and love for life and family. Theo, an astrobiologist, and his sensitive nine-year-old son, Robin, who has a keen interest in nature, struggle to adapt following the unexpected death of spirited wife and mother Aly. When Robin has a fit of rage at school, Theo realizes he must seek treatment. Opposed to pharmacological intervention, he enrolls Robin in an experimental therapy, known as decoded neurofeedback, which matches brain-pattern activity to a model brain print from another individual. The other individual in Robin's case? Aly, his deceased mother. As therapy progresses, Robin transforms, perceiving biodiversity with fresh insights, wonder, and fascination. He is happier, more inquisitive, and even motivated to fight for environmental change amid the inexorable ecological doom all around him. But will these surprisingly positive outcomes persist? With soaring descriptions and forthright observations about our planet and the life it supports, Bewilderment is centered on a devoted father-and-son relationship, but it also offers rich commentary on the complex, often mystifying intersections between science, popular culture, and politics. In the end, Theo, who searches for alien life in remote outposts of the universe, may make his most profound discovery, together with his son, much closer to home. HIGH-DEMAND BACKSTORY: As the best-selling The Overstory continues to reverberate, readers will be excited to turn to another deeply involving Powers novel."
From Booklist, Copyright (c) American Library Association. Used with permission.
Publisher's Weekly Review:
"Pulitzer winner Powers (The Overstory) offers up a marvelous story of experimental neurotherapy and speculations about alien life. Astrophysicist Theo Byrne simulates worlds outside Earth's solar system as part of lobbying efforts for a new spaceborne telescope. As a single parent in Madison, Wis., his work takes a back seat--his wife, Aly, mother of their nine-year-old, Robin, died two years earlier. Theo shares his fictional descriptions of life on exoplanets with Robin in the form of bedtime stories, and they bond over a Trumpian administration's hostility to scientific research. Theo allows Robin to protest neglect of endangered species at the state capitol, despite Robin's volatile behavior. He's been diagnosed with Asperger's, OCD, and ADHD, and Theo refuses to give him psychoactive medication ("Life is something we need to stop correcting," goes Theo's new "crackpot theory"). More cutting-edge is the neurofeedback program run by an old friend of Aly's, who trains Robin to model his emotions from a record saved of Aly's brain activity. It works, for a while--the tragic, bittersweet plot has some parallels to Flowers to Algernon. The planetary descriptions grow a bit repetitive and don't gain narrative traction, but in the end, Powers transforms the wrenching story into something sublime. Though it's not his masterpiece, it shows the work of a master. (Sept.)"
(c) Copyright PWxyz, LLC. All rights reserved
Additional Information
Subjects
Literature
Fiction

Publisher

W. W. Norton & Company2021



Language

English



ISBN
9780393881158