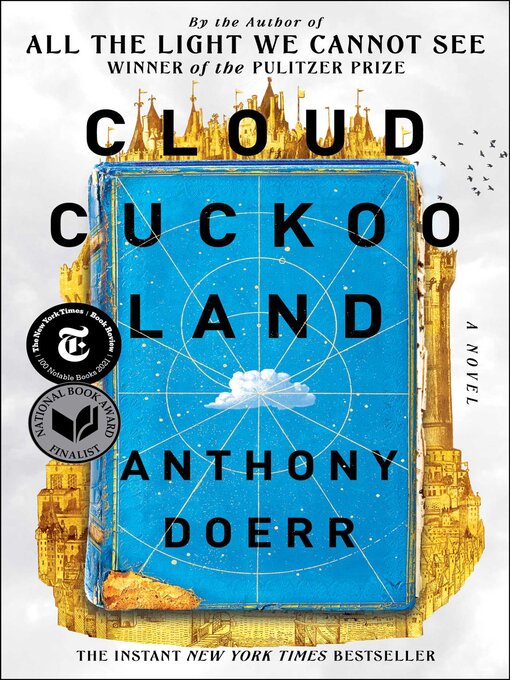 Cloud Cuckoo Land
Format:

Kindle Book

2021

Adobe EPUB ebook

OverDrive Read

Availability:

Unavailable

0 of 59 copies
477 people on waitlist
Summary
Finalist for the 2021 National Book Award! From the Pulitzer Prize–winning author of All the Light We Cannot See, perhaps the most bestselling and beloved literary fiction of our time, comes the highly anticipated Cloud Cuckoo Land. Set in Constantinople in the fifteenth century, in a small town in present-day Idaho, and on an interstellar ship decades from now, Anthony Doerr's gorgeous third novel is a triumph of imagination and compassion, a soaring story about children on the cusp of adulthood in worlds in peril, who find resilience, hope—and a book. In Cloud Cuckoo Land, Doerr has created a magnificent tapestry of times and places that reflects our vast interconnectedness—with other species, with each other, with those who lived before us, and with those who will be here after we're gone. Thirteen-year-old Anna, an orphan, lives inside the formidable walls of Constantinople in a house of women who make their living embroidering the robes of priests. Restless, insatiably curious, Anna learns to read, and in this ancient city, famous for its libraries, she finds a book, the story of Aethon, who longs to be turned into a bird so that he can fly to a utopian paradise in the sky. This she reads to her ailing sister as the walls of the only place she has known are bombarded in the great siege of Constantinople. Outside the walls is Omeir, a village boy, miles from home, conscripted with his beloved oxen into the invading army. His path and Anna's will cross. Five hundred years later, in a library in Idaho, octogenarian Zeno, who learned Greek as a prisoner of war, rehearses five children in a play adaptation of Aethon's story, preserved against all odds through centuries. Tucked among the library shelves is a bomb, planted by a troubled, idealistic teenager, Seymour. This is another siege. And in a not-so-distant future, on the interstellar ship Argos, Konstance is alone in a vault, copying on scraps of sacking the story of Aethon, told to her by her father. She has never set foot on our planet. Like Marie-Laure and Werner in All the Light We Cannot See, Anna, Omeir, Seymour, Zeno, and Konstance are dreamers and outsiders who find resourcefulness and hope in the midst of gravest danger. Their lives are gloriously intertwined. Doerr's dazzling imagination transports us to worlds so dramatic and immersive that we forget, for a time, our own. Dedicated to "the librarians then, now, and in the years to come," Cloud Cuckoo Land is a beautiful and redemptive novel about stewardship—of the book, of the Earth, of the human heart.

Published Reviews
Booklist Review:
"Doerr, recipient of the Pulitzer Prize and the Carnegie Medal for Excellence in Fiction for All the Light We Cannot See (2014), returns with this masterful novel that spans centuries as it brilliantly examines the lives of five young people. Though seemingly disparate, their lives prove to have in common the mysterious presence of a comic novel from classical antiquity telling of a simpleminded shepherd, Aethon, who embarks on a quest to find Cloud Cuckoo Land, a fabled city in the clouds. As for the five children, who all come of age over the course of the novel, they are Anna and Omeir, who live in the fifteenth century during the siege of Constantinople; Zeno and Seymour, both outsiders, who live in Lakeport, Idaho, in the twentieth and twenty-first centuries; and Konstance, who lives aboard an interstellar spaceship sometime in the distant future. Doerr demonstrates a singular gift for bringing these complex, fully realized characters to empathetic life in this brilliantly imagined story, which moves backward and forward in time. Interspersed among the five children's evolving stories is the saga of Aethon's quest. One of the joys of reading Cloud Cuckoo Land is discovering the threads that link the five characters' lives, which ultimately cohere in ways that are simply unforgettable, as is this amazing gift of a novel.HIGH-DEMAND BACKSTORY: Doerr's many ardent fans cannot wait to immerse themselves in his newest imaginative tale."
From Booklist, Copyright (c) American Library Association. Used with permission.
Publisher's Weekly Review:
"Pulitzer winner Doerr (All the Light We Cannot See) returns with a deeply affecting epic of a long-lost book from ancient Greece. In the mid-22nd century, Konstance, 14, copies an English translation of Cloud Cuckoo Land by Antonius Diogenes with her food printer's Nourish powder while aboard the Argos, an ark-like spaceship destined for a habitable planet. She found the book in the Argos's library, and was already familiar with Diogenes's story of a shepherd named Aethon and his search for a book that told of all the world's unknown lands, because her father told it to her while they tended the Argos's farm. Her father's connection to the Diogenes book is gradually revealed, but first Doerr takes the reader farther back in time. In chapters set in and around Constantinople leading up to the 1453 siege, two 13-year-old children, Anna and Omeir, converge while fleeing the city, and Omeir helps Anna protect a codex of Cloud Cuckoo Land she discovered in a monastery. Then, in 2020 Lakeport, Idaho, translator Zeno Ninis collaborates with a group of young children on a stage production of Cloud Cuckoo Land at the library, where a teenage ecoterrorist has planted a bomb meant to target the neighboring real estate office. Doerr seamlessly shuffles each of these narratives in vignettes that keep the action in full flow and the reader turning the pages. The descriptions of Constantinople, Idaho, and the Argos are each distinct and fully realized, and the protagonists of each are united by a determination to survive and a hunger for stories, which in Doerr's universe provide the greatest nourishment. This is a marvel. (Sept.)"
(c) Copyright PWxyz, LLC. All rights reserved
Additional Information