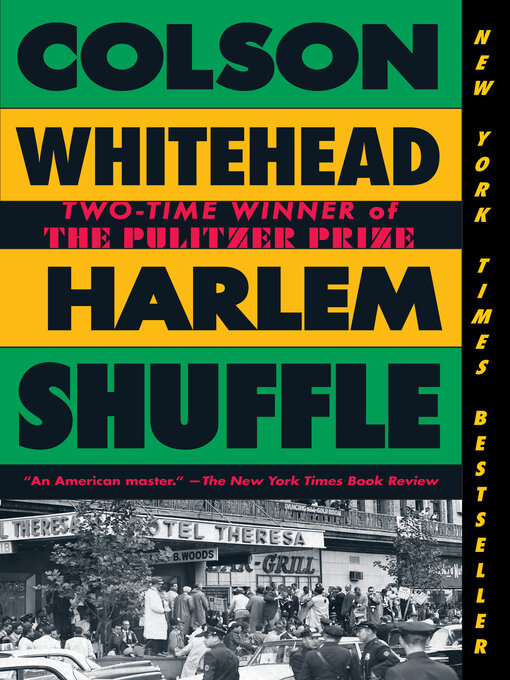 Harlem Shuffle
Format:

Kindle Book

2021

Adobe EPUB ebook

OverDrive Read

Availability:

Unavailable

0 of 47 copies
314 people on waitlist
Summary
NEW YORK TIMES BEST SELLER • From the two-time Pulitzer Prize-winning author of The Underground Railroad and The Nickel Boys, a gloriously entertaining novel of heists, shakedowns, and rip-offs set in Harlem in the 1960s."Ray Carney was only slightly bent when it came to being crooked..." To his customers and neighbors on 125th street, Carney is an upstanding salesman of reasonably priced furniture, making a decent life for himself and his family. He and his wife Elizabeth are expecting their second child, and if her parents on Striver's Row don't approve of him or their cramped apartment across from the subway tracks, it's still home. Few people know he descends from a line of uptown hoods and crooks, and that his façade of normalcy has more than a few cracks in it. Cracks that are getting bigger all the time. Cash is tight, especially with all those installment-plan sofas, so if his cousin Freddie...

Published Reviews
Booklist Review:
"Whitehead adds another genre to an ever-diversifying portfolio with his first crime novel, and it's a corker. Ray Carney owns a furniture store in Harlem. When the novel begins in 1959, he's selling mostly used furniture, struggling to escape the legacy of his criminal father. "Living taught you," Ray believes, "that you didn't have to live the way you'd been taught." Almost. Ray's ne'er-do-well cousin, Freddie, who's been luring Ray into hot water since childhood ("I didn't mean to get you in trouble," is Freddie's constant refrain) regularly brings Ray the odd piece of jewelry, provenance unknown, which Ray peddles to a dealer downtown, building a stake to invest in his business. "There was a natural flow of goods in and out and through people's lives . . . a churn of property, and Ray facilitated that churn." It works until Freddie suggests Ray as a fence for a jewel heist at the Hotel Theresa ("the Waldorf of Harlem"), and suddenly the churn produces a potentially disastrous backwash. Following Ray as his business grows and he delicately balances the crooked and straight sides of his life, Whitehead delivers a portrait of Harlem in the early '60s, culminating with the Harlem Riot of 1964, that is brushed with lovingly etched detail and features a wonderful panoply of characters who spring to full-bodied life, blending joy, humor, and tragedy. A triumph on every level.HIGH-DEMAND BACKSTORY: Twice a Pulitzer winner, Whitehead seems destined for more honors with his first crime novel."
From Booklist, Copyright (c) American Library Association. Used with permission.
Publisher's Weekly Review:
"Two-time Pulitzer winner Whitehead (The Nickel Boys) returns with a sizzling heist novel set in civil rights--era Harlem. It's 1959 and Ray Carney has built an "unlikely kingdom" selling used furniture. A husband, a father, and the son of a man who once worked as muscle for a local crime boss, Carney is "only slightly bent when it to being crooked." But when his cousin Freddie--whose stolen goods Carney occasionally fences through his furniture store--decides to rob the historic Hotel Theresa, a lethal cast of underworld figures enter Carney's life, among them the mobster Chink Montague, "known for his facility with a straight razor"; WWII veteran Pepper; and the murderous, purple-suited Miami Joe, Whitehead's answer to No Country for Old Men's Anton Chigurh. These and other characters force Carney to decide just how bent he wants to be. It's a superlative story, but the most impressive achievement is Whitehead's loving depiction of a Harlem 60 years gone--"that rustling, keening thing of people and concrete"--which lands as detailed and vivid as Joyce's Dublin. Don't be surprised if this one wins Whitehead another major award. Agent: Nicole Aragi, Aragi, Inc. (Sept.)"
(c) Copyright PWxyz, LLC. All rights reserved
Additional Information