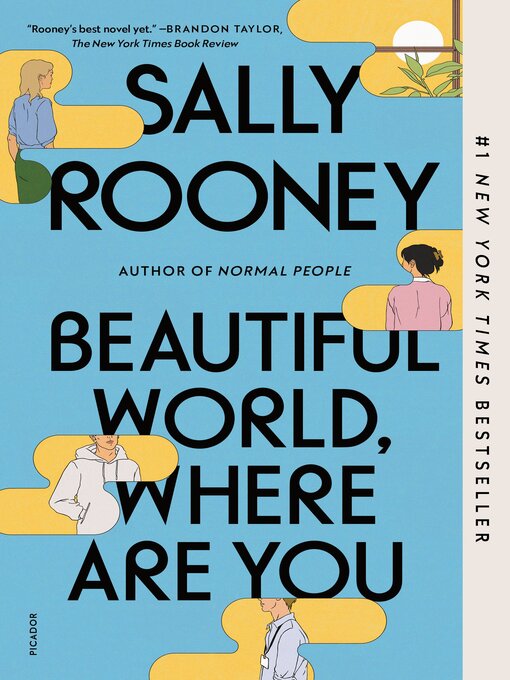 Beautiful World, Where Are You
Format:

Kindle Book

2021

Adobe EPUB ebook

OverDrive Read

Availability:

Unavailable

0 of 15 copies
291 people on waitlist
Summary
Beautiful World, Where Are You is a new novel by Sally Rooney, the bestselling author of Normal People and Conversations with Friends.Alice, a novelist, meets Felix, who works in a warehouse, and asks him if he'd like to travel to Rome with her. In Dublin, her best friend, Eileen, is getting over a break-up, and slips back into flirting with Simon, a man she has known since childhood.Alice, Felix, Eileen, and Simon are still young—but life is catching up with them. They desire each other, they delude each other, they get together, they break apart. They have sex, they worry about sex, they worry about their friendships and the world they live in. Are they standing in the last lighted room before the darkness, bearing witness to something? Will they find a way to believe in a beautiful world?

Published Reviews
Booklist Review:
"Alice, a famous young novelist renting a home on the Irish coast, goes on a date with local Felix, who works in a warehouse, and they don't hit it off at first. Alice's best friend, Eileen, is an editorial assistant at a Dublin-based literary magazine who goes home to the sad room she's been renting since her breakup. She's known Simon, an activist and devout Catholic several years her senior, her whole life, and been in love with him for much of it. Their actions often observed at a neutral distance, these four fully human and flawed characters navigate contemporary life, with its dating apps and worsening inequalities and horrifying quantities of plastic, in a novel that yet feels refreshingly old-fashioned. Interspersed among chapters are emails between Alice and Eileen, not uncritical but steeped in affection, in which they discuss philosophy, politics, the degradation and collapse of societies, and how one can still be concerned about beauty, sex, and friendship, let alone something as inconsequential as a novel, in light of all that. Writing with her trademark truthfulness and wit, Rooney compels with both these meta-conversations and the actions of her characters' lives: their enthralling, intimate, and consequential grappling with themselves, with one another, with desire, and with the world.HIGH-DEMAND BACKSTORY: Rooney's first novel since Normal People (2019), which became a popular and award-winning Hulu series, is steadily drawing excitement."
From Booklist, Copyright (c) American Library Association. Used with permission.
Publisher's Weekly Review:
"Rooney (Normal People) continues her exploration of class, sex, and mental health with a cool, captivating story about a successful Irish writer, her friend, and their lovers. Alice Kelleher, 29, has suffered a nervous breakdown as a result of her work's popularity. After moving from Dublin to a small seaside town, she meets Felix, a local with a similar background--they both grew up working-class, and both have absent fathers--who works in a shipping warehouse. She invites him to accompany her to Rome, where he falls in love with her but resents what he takes to be her superior attitude. Meanwhile, in Dublin, Alice's university friend Eileen Lydon works a low-paying literary job and explores her attraction to a childhood friend who seems to return her feelings but continues seeing other women. Alice and Eileen update each other in long emails, which Rooney cleverly exploits for essayistic musings about culture, climate change, and political upheaval. Rooney establishes a distance from her characters' inner lives, creating a sense of privacy even as she describes Alice and Eileen's most intimate moments. It's a bold change to her style, and it makes the illuminations all the more powerful when they pop. As always, Rooney challenges and inspires. Agent: Tracy Bohan, the Wylie Agency. (Sept.)"
(c) Copyright PWxyz, LLC. All rights reserved
Additional Information
Subjects
Literature
Fiction

Publisher

Farrar, Straus and Giroux2021



Language

English



ISBN
9780374602611