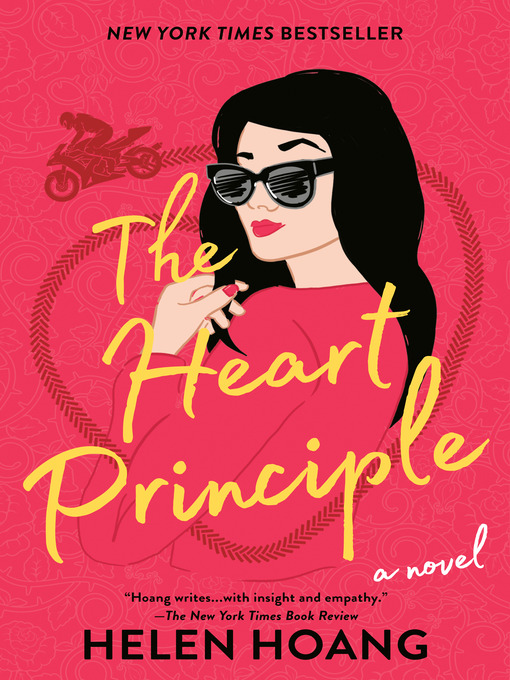 The Heart Principle
Format:

Kindle Book

2021

Adobe EPUB ebook

OverDrive Read

Availability:

Unavailable

0 of 25 copies
142 people on waitlist
Summary
A woman struggling with burnout learns to embrace the unexpected—and the man she enlists to help her—in this new New York Times bestselling romance by Helen Hoang. When violinist Anna Sun accidentally achieves career success with a viral YouTube video, she finds herself incapacitated and burned out from her attempts to replicate that moment. And when her longtime boyfriend announces he wants an open relationship before making a final commitment, a hurt and angry Anna decides that if he wants an open relationship, then she does, too. Translation: She's going to embark on a string of one-night stands. The more unacceptable the men, the better. That's where tattooed, motorcycle-riding Quan Diep comes in. Their first attempt at a one-night stand fails, as does their second, and their third, because being with Quan is more than sex—he accepts Anna on an unconditional level that she herself has just started to understand. However, when tragedy strikes Anna's family she takes on a role that she is ill-suited for, until the burden of expectations threatens to destroy her. Anna and Quan have to fight for their chance at love, but to do that, they also have to fight for themselves.

Published Reviews
Booklist Review:
"When a video of violinist Anna Sun goes viral, it catapults her career to new heights--and ratchets up her anxiety. A recent diagnosis of autism spectrum disorder explains a lot, but having the joy stripped away from playing music is taking a toll. If that wasn't enough, her boyfriend decides he might want marriage, but he wants to try an open relationship first. Anna figures that if her boyfriend is dating, she should be as well, so she signs up for dating apps in search of a one-night stand. It doesn't take long for Anna to match with Quan Diep, a tattooed, motorcycle-riding bad boy who is the polar opposite of her milquetoast boyfriend. But their first date isn't what Anna was expecting. Neither is their second, or their third, and soon enough Anna realizes that Quan is far more than a one-night stand. He's relationship material. Hoang's latest delivers everything her fans have come to expect: thoughtful explorations of neurodiversity, steamy love scenes, and relatable characters. The first-person narration adds a feeling of intimacy and immediacy to the story. Readers will be delighted that Quan has met his match; this is also a good pick for fans of Talia Hibbert."
From Booklist, Copyright (c) American Library Association. Used with permission.
Publisher's Weekly Review:
"A classical musician struggling with professional burnout, family judgment, and a faithless long-term boyfriend gets her groove back in the beautifully melancholy and meditative latest from Hoang (The Bride Test). Violinist Anna Sun is already in a major professional rut when, instead of the marriage proposal she expects, her parent-approved long-term boyfriend proposes that they experiment with an open relationship. Given what he perceives as Anna's lack of interest in sex, he doesn't expect that the experiment will go both ways. But then Anna meets sexy, tattooed, motorcycle-riding Quan Diep. Quan quickly proves that he only looks like a bad boy; he's patient, kind, and supportive as both a friend and sexual partner and, sweetly, brings food for Anna's unwelcoming family when her dad lands in the hospital. Hoang strikes a more somber tone in this outing, giving Anna daunting challenges to overcome, including some serious hang-ups around sex. Readers shouldn't expect a typical rom-com, but many will still swoon for this sensitive love story. Agent: Kim Lionetti, Bookends Literary. (Aug.)"
(c) Copyright PWxyz, LLC. All rights reserved
Additional Information