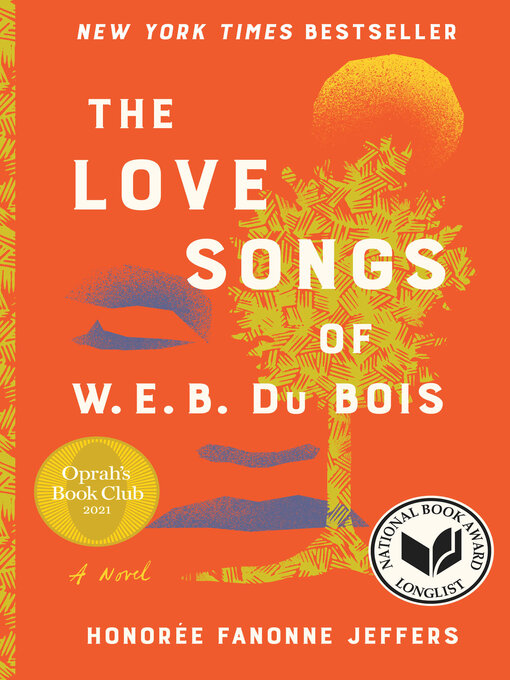 The Love Songs of W.E.B. Du Bois
Format:

Kindle Book

2021

Adobe EPUB ebook

OverDrive Read

Availability:

Unavailable

0 of 11 copies
55 people on waitlist
Summary
INSTANT NEW YORK TIMES BESTSELLERAN OPRAH BOOK CLUB SELECTIONAn Instant Washington Post, USA Today, and Indie Bestseller"Epic.... I was just enraptured by the lineage and the story of this modern African-American family.... A combination of historical and modern story—I've never read anything quite like it. It just consumed me." —Oprah Winfrey, Oprah Book Club PickLonglisted for the Center for Fiction First Novel Prize • An Indie Next Pick • A New York Times Book Everyone Will Be Talking About • A People 5 Best Books of the Summer • A Good Morning America 15 Summer Book Club Picks • An Essence Best Book of the Summer • A Time 11 Best Books of the Month • A Washington Post 10 Books of the Month • A CNN Best Book of the Month • A Ms. Most Anticipated Book of the Year • A Goodreads Most Anticipated Book of the Year • A Book Page Writer to Watch • A USA Today Book Not to Miss • A Chicago Tribune Summer Must-Read • An Observer Best Summer Book • A Millions Most Anticipated Book • A Ms. Book of the Month • A Well-Read Black Girl Book Club Pick • A BiblioLifestyle Most Anticipated Literary Book of the Summer • A Deep South Best Book of the Summer • Winner of an AudioFile Earphones Award The 2020 National Book Award–nominated poet makes her fiction debut with this magisterial epic—an intimate yet sweeping novel with all the luminescence and force of Homegoing; Sing, Unburied, Sing; and The Water Dancer—that chronicles the journey of one American family, from the centuries of the colonial slave trade through the Civil War to our own tumultuous era. The great scholar, W. E. B. Du Bois, once wrote about the Problem of race in America, and what he called "Double Consciousness," a sensitivity that every African American possesses in order to survive. Since childhood, Ailey Pearl Garfield has understood Du Bois's words all too well. Bearing the names of two formidable Black Americans—the revered choreographer Alvin Ailey and her great grandmother Pearl, the descendant of enslaved Georgians and tenant farmers—Ailey carries Du Bois's Problem on her shoulders.Ailey is reared in the north in the City but spends summers in the small Georgia town of Chicasetta, where her mother's family has lived since their ancestors arrived from Africa in bondage. From an early age, Ailey fights a battle for belonging that's made all the more difficult by a hovering trauma, as well as the whispers of women—her mother, Belle, her sister, Lydia, and a maternal line reaching back two centuries—that urge Ailey to succeed in their stead.To come to terms with her own identity, Ailey embarks on a journey through her family's past, uncovering the shocking tales of generations of ancestors—Indigenous, Black, and white—in the deep South. In doing so Ailey must learn to embrace her full heritage, a legacy of oppression and resistance, bondage and independence, cruelty and resilience that is the story—and the song—of America itself.

Published Reviews
Booklist Review:
"Poet Jeffers reinvigorates the multigenerational saga in her first novel, an audacious, mellifluous love song to an African American family. In alternate chapters, Jeffers traces the coming of age of her contemporary heroine, Ailey, juxtaposed against the tales of multiracial ancestors whose sufferings and blood infuse the rich Georgia soil. Jeffers' lyrical cadences shimmer across the historical chapters, echoing biblical genealogies in connecting Ailey to her roots. Her story is inseparable from those who went before, and like her beloved Uncle Root, she is destined to preserve their history. Some stories she would rather forget: the sexual abuse that will haunt Ailey and her sisters, as it did their foremothers; the indelible yet often denied connection between white masters and African slaves, resulting in family members who "pass" for white, and "color struck" Negro clubs and sororities. Yet the strength of Ailey's family bonds enable her to overcome monstrous racism and sexism to become her community's prophet. "And the Word was knowledge. And the knowledge was a sound within the flesh, which may have been the Good Lord, or may have been dead ones in Africa talking across an ocean, or our people here on this side." Incandescent and not to be missed."
From Booklist, Copyright (c) American Library Association. Used with permission.
Publisher's Weekly Review:
"Poet Jeffers (The Age of Phyllis) debuts with a staggering and ambitious saga exploring African American history. Ailey Pearl Garfield, the youngest daughter of Geoff Garfield, a light-skinned Washington, D.C., physician, and Belle Driskell Garfield, a Southern school teacher, reckons with ancestral trauma while growing up in the 1980s and '90s. Throughout, historical sketches (or "songs") link Ailey to her ancestors: Creeks, enslaved Africans, and early Scot slave owners. Ailey follows in the footsteps of her parents, attending the southern HBCU where they met and married as undergraduates before moving north to the "City," where Geoff attended medical school at Mecca University (a thinly veiled Howard). W.E.B. Du Bois's theories emerge in epigraphs throughout and are sagaciously reflected in the plot, as the accounts of Ailey's college life correspond to the "talented tenth." Later, tragedy unfolds as Lydia, Ailey's oldest sister who is haunted by childhood sexual abuse, succumbs to crack addiction. The multigenerational story bursts open when Ailey unearths some unknown family history during her graduate studies, as well as secrets of the Black female founder of her family's alma mater. Themes of family, class, higher education, feminism, and colorism yield many rich layers. Readers will be floored. Agent: Sarah Burns, the Gernert Company. (July)"
(c) Copyright PWxyz, LLC. All rights reserved
Additional Information