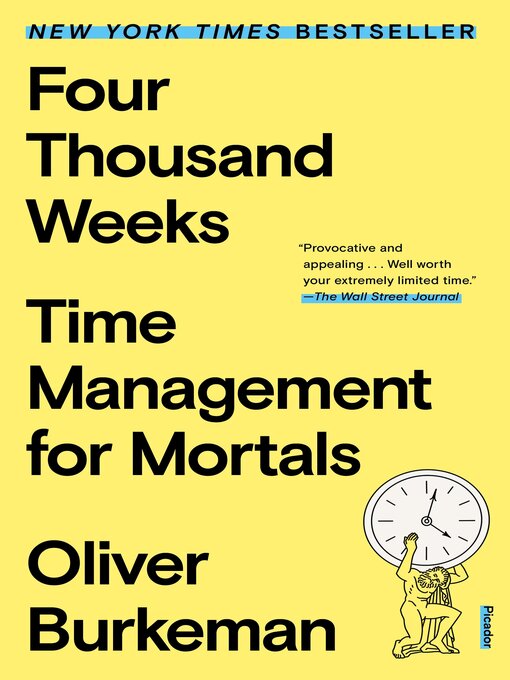 Four Thousand Weeks
Format:

Kindle Book

2021

Adobe EPUB ebook

OverDrive Read

Availability:

Unavailable

0 of 7 copies
34 people on waitlist
Summary
"This is the most important book ever written about time management." —Adam Grant, #1 New York Times bestselling author of Think Again and host of WorkLifeThe average human lifespan is absurdly, insultingly brief. Assuming you live to be eighty, you have just over four thousand weeks.Nobody needs telling there isn't enough time. We're obsessed with our lengthening to-do lists, our overfilled inboxes, work-life balance, and the ceaseless battle against distraction; and we're deluged with advice on becoming more productive and efficient, and "life hacks" to optimize our days. But such techniques often end up making things worse. The sense of anxious hurry grows more intense, and still the most meaningful parts of life seem to lie just beyond the horizon. Still, we rarely make the connection between our daily struggles with time and the ultimate time management problem: the challenge of how best to use our four thousand weeks.Drawing on the insights of both ancient and contemporary philosophers, psychologists, and spiritual teachers, Oliver Burkeman delivers an entertaining, humorous, practical, and ultimately profound guide to time and time management. Rejecting the futile modern fixation on "getting everything done," Four Thousand Weeks introduces readers to tools for constructing a meaningful life by embracing finitude, showing how many of the unhelpful ways we've come to think about time aren't inescapable, unchanging truths, but choices we've made as individuals and as a society?and that we could do things differently.

Published Reviews
Publisher's Weekly Review:
"In this insightful work, Burkemen (The Antidote), former psychology columnist for The Guardian, looks at how most people's efforts to improve their lives using time efficiently just make things harder. A 4,000-week lifespan, Burkemen laments, is not enough time to get everything done: if one can accept the fact that "time management as we know it has failed miserably," one can then enjoy what can be accomplished in the time one has. Burkeman ruefully illustrates this by describing his own efforts to efficiently read emails, with the result being simply more emails. He began to question why he worried so much about efficiency, which meant just jamming more into each day. His answer: "We do so because it helps us maintain the feeling of being in omnipotent control of our lives." Burkemen's light philosophical musings point the way to less stressful living, such as his contemplation of "being present" in each moment as a way to control time. He also suggests embracing and setting limits, prioritizing one's most valued activities, and accepting "the truth about your finite time" by limiting one's obligations. Burkemen's thoughtful, reassuring analysis will be a welcome balm to readers feeling overwhelmed by the (perhaps unrealistic) demands of life. (Aug.)"
(c) Copyright PWxyz, LLC. All rights reserved
Additional Information