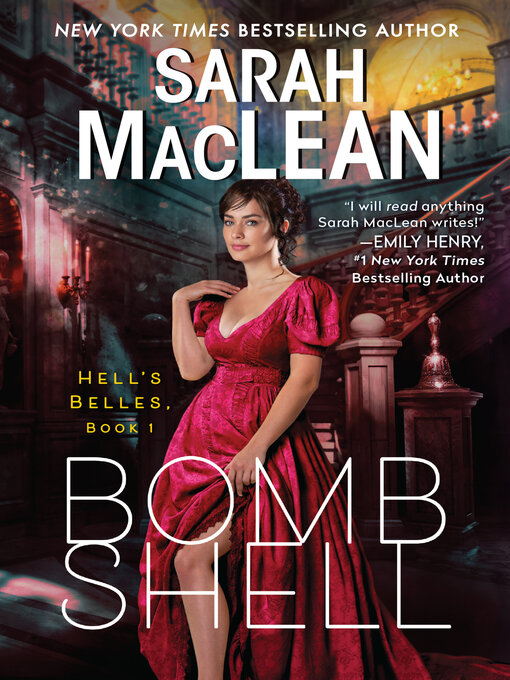 Bombshell
Format:

Kindle Book

2021

Adobe EPUB ebook

OverDrive Read

Availability:

Unavailable

0 of 9 copies
55 people on waitlist
Summary
New York Times bestselling author Sarah MacLean returns with a blazingly sexy, unapologetically feminist new series, Hell's Belles, beginning with a bold, bombshell of a heroine, able to dispose of a scoundrel—or seduce one—in a single night.After years of living as London's brightest scandal, Lady Sesily Talbot has embraced the reputation and the freedom that comes with the title. No one looks twice when she lures a gentleman into the dark gardens beyond a Mayfair ballroom...and no one realizes those trysts are not what they seem. No one, that is, but Caleb Calhoun, who has spent years trying not to notice his best friend's beautiful, brash, brilliant sister. If you ask him, he's been a saint about it, considering the way she looks at him...and the way she talks to him...and the way she'd felt in his arms during their one ill-advised kiss. Except someone has to keep Sesily from tumbling into trouble during her dangerous late-night escapades, and maybe close proximity is exactly what Caleb needs to get this infuriating, outrageous woman out of his system. But now Caleb is the one in trouble, because he's fast realizing that Sesily isn't for forgetting...she's forever. And forever isn't something he can risk.

Published Reviews
Booklist Review:
"Lady Justice may wear a blindfold, but Lady Sesily Talbot does not. Working with the Duchess of Trevescan, Adelaide Frampton, and Imogen Loveless, Sesily helps tip the scales of justice back in favor of the female population of London by whatever means necessary. In Sesily's case, her willingness to court scandal regardless of the consequences to her reputation leaves her immune from the scrutiny of almost everyone in the ton. Well, everyone except for American Caleb Calhoun. Now back in London after spending two years in Boston, Caleb is convinced Sesily is flirting with danger, and while she might think she doesn't need anyone's help, he plans on being right there by her side just in case. With the splendidly conceived launch to her new Hell's Belles series, RITA award-winning MacLean (Daring and the Duke, 2020) aptly demonstrates that her literary magic never loses its allure by gifting readers with both an extraordinarily memorable cast of characters and a fiercely feminist storyline powered by ample measures of intense sensuality and sharp wit."
From Booklist, Copyright (c) American Library Association. Used with permission.
Publisher's Weekly Review:
"Bestseller MacLean (Daring and the Duke) launchers her Hell's Belles series with a sizzling, adventurous Victorian romance. Thirty-year-old Lady Sesily Talbot's brazen reputation is well-earned--it's also a helpful cover for her acts of vigilante justice: no one thinks twice about a notorious lightskirt luring men into dark corners. With a group of multitalented, badass women at her back, Sesily makes a habit of toppling villainous aristocrats, and now she's plotting to expose the crimes of the horrible Viscount Coleford. Throwing a wrench in this plan is American tavern owner Caleb Calhoun. The pair have been pining for each other for two years, but Caleb's convinced that his dark past will endanger any woman in his orbit. As resolved as he is to keep his distance, however, he's equally determined to protect Sesily, and comes to her rescue in ballrooms and bar fights alike. Refreshingly, their relationship's development hinges on Caleb learning that Sesily is more than capable of protecting herself. Caleb's defining traits are his unwavering devotion and willingness to martyr himself, but he lacks the wonderful nuance that animates Sesily herself. The highlight is instead Sesily's fierce, loyal friend group, and readers will be eager to see more of them in future installments. This promises good things to come. Agent: Holly Root, Root Literary. (Aug.)"
(c) Copyright PWxyz, LLC. All rights reserved
Additional Information