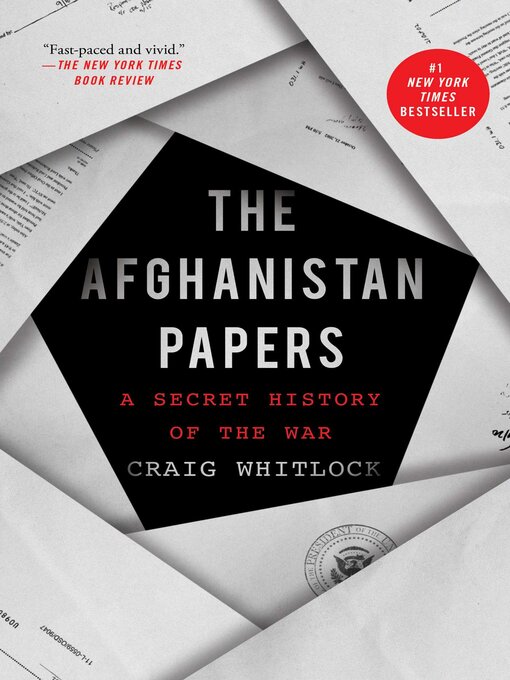 The Afghanistan Papers
Format:

Kindle Book

2021

Adobe EPUB ebook

OverDrive Read

Availability:

Unavailable

0 of 9 copies
44 people on waitlist
Summary
The groundbreaking investigative story of how three successive presidents and their military commanders deceived the public year after year about America's longest war, foreshadowing the Taliban's recapture of Afghanistan, by Washington Post reporter and three-time Pulitzer Prize finalist Craig Whitlock.Unlike the wars in Vietnam and Iraq, the US invasion of Afghanistan in 2001 had near-unanimous public support. At first, the goals were straightforward and clear: to defeat al-Qaeda and prevent a repeat of 9/11. Yet soon after the United States and its allies removed the Taliban from power, the mission veered off course and US officials lost sight of their original objectives. Distracted by the war in Iraq, the US military became mired in an unwinnable guerrilla conflict in a country it did not understand. But no president wanted to admit failure, especially in a war that began as a just cause. Instead, the Bush, Obama, and Trump administrations sent more and more troops to Afghanistan and repeatedly said they were making progress, even though they knew there was no realistic prospect for an outright victory. Just as the Pentagon Papers changed the public's understanding of Vietnam, The Afghanistan Papers contains startling revelation after revelation from people who played a direct role in the war, from leaders in the White House and the Pentagon to soldiers and aid workers on the front lines. In unvarnished language, they admit that the US government's strategies were a mess, that the nation-building project was a colossal failure, and that drugs and corruption gained a stranglehold over their allies in the Afghan government. All told, the account is based on interviews with more than 1,000 people who knew that the US government was presenting a distorted, and sometimes entirely fabricated, version of the facts on the ground. Documents unearthed by The Washington Post reveal that President Bush didn't know the name of his Afghanistan war commander—and didn't want to make time to meet with him. Secretary of Defense Donald Rumsfeld admitted he had "no visibility into who the bad guys are." His successor, Robert Gates, said: "We didn't know jack shit about al-Qaeda." The Afghanistan Papers is a shocking account that will supercharge a long overdue reckoning over what went wrong and forever change the way the conflict is remembered.

Published Reviews
Booklist Review:
"ldquo;I have no visibility into who the bad guys are in Afghanistan"--words all the more disturbing because they were penned by then Secretary of Defense Donald Rumsfeld in a confidential memo he wrote two years after U.S. troops invaded that country. It took Washington Post national security reporter Whitlock and his employer three years and two federal lawsuits to pry loose a U.S. government report, Lessons Learned, an insider analysis of the war comprising 10,000 documents, including oral histories, interviews, and memos emanating from American military brass, diplomats, and security personnel, as well as Afghan officials and many others. In a haunting doppelgänger of the Pentagon Papers, Lessons Learned--and the narrative Whitlock weaves from it here--presents an utterly damning account of American naivete (starting, tragically, with our conflation of the indigenous Taliban with the foreign al-Qaeda), profligacy, and hubris in Afghanistan, all carried along on a river of lies by three administrations. Of particular note here are the sheer depth and extent of Afghan corruption, and America's misguided, fruitless, even ultimately corrupting side war on Afghanistan's opium industry. An important, timely account, especially in the run-up to the U.S. troop withdrawal scheduled for September."
From Booklist, Copyright (c) American Library Association. Used with permission.
Publisher's Weekly Review:
"U.S. government and military officials took part in an "unspoken conspiracy to mask the truth" about the war in Afghanistan, according to this searing chronicle. Expanding on a series of articles published in the Washington Post, Whitlock explains how he learned, in 2016, about a government program to interview hundreds of participants in the war for a report on policy failures in Afghanistan called "Lessons Learned." Drawing on these transcripts and other oral history projects, Whitlock paints a devastating portrait of how public messaging about the conflict consistently belied the reality on the ground. He details internal rivalries in the White House, the Pentagon, and the State Department, and the fatigue and pessimism of soldiers on the front lines. ("We were just going around killing people," says one special forces officer.) A costly program to eradicate opium poppy fields in Helmand province backfired spectacularly, turning the region into a "lethal stronghold for the insurgency" and earning harsh criticism from veteran diplomat Richard Holbrooke and others. Whitlock also delves into the 2011 killing of Osama bin Laden, the Obama administration's skewing of statistics to support its war strategy, evidence of Afghan government corruption, and the Trump administration's complex peace plan with the Taliban. Rigorously detailed and relentlessly pessimistic, this is a heartbreaking look at how America's leaders "chose to bury their mistakes and let the war drift." (Sept.)"
(c) Copyright PWxyz, LLC. All rights reserved
Additional Information