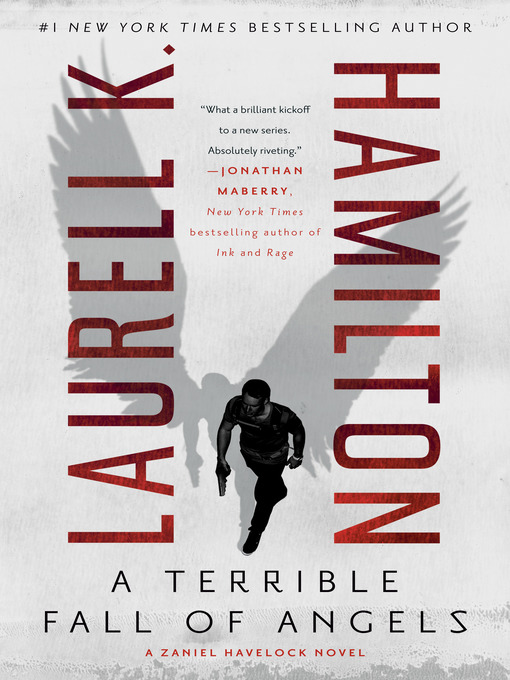 A Terrible Fall of Angels
Format:

Kindle Book

2021

Adobe EPUB ebook

OverDrive Read

Availability:

Unavailable

0 of 7 copies
42 people on waitlist
Summary
Angels walk among us, but so do other unearthly beings in this brand new series by #1 New York Times Bestselling author Laurell K. Hamilton. Meet Detective Zaniel Havelock, a man with the special ability to communicate directly with angels. A former trained Angel speaker, he devoted his life to serving both the celestial beings and his fellow humans with his gift, but a terrible betrayal compelled him to leave that life behind. Now he's a cop who is still working on the side of angels. But where there are angels, there are also demons. There's no question that there's evil at work when he's called in to examine the murder scene of a college student—but is it just the evil that one human being can do to another, or is it something more? When demonic possession is a possibility, even angelic protection can only go so far. The race is on to stop a killer before he finds his next victim, as Zaniel is forced to confront his own very personal demons, and the past he never truly left behind. The first in a new series from the author of the Anita Blake and Merry Gentry series.

Published Reviews
Booklist Review:
"Hamilton moves from vampires and fairies of Anita Blake to a world of angels and demons, kicking off a new series featuring the gifted detective Zaniel "Havoc" Havelock. In a world where psychic gifts are common and angels, demons, witches, and shamans are considered run-of-the-mill, Detective Havelock was chosen at a young age to be an "Angel Speaker," a person with the ability to communicate with angels and raised by a shadowy organization to serve the celestial beings. Now, having turned his back on that life, he works for the Metaphysical Coordination Unit, also known as the Heaven and Hell Unit, solving crimes involving all aspects of the supernatural. While investigating a murder with angelic ties, Havelock finds himself suddenly in the middle of some greater mystery, involving things that all his training, whether it be investigative or angelic, says should be impossible. Hamilton has a deft hand in developing complex worlds and belief systems without overwhelming the reader, and Havelock is a character that has lots of potential, and the overarching mystery will leave readers ready for book number two."
From Booklist, Copyright (c) American Library Association. Used with permission.
Publisher's Weekly Review:
"With this ambitious but disappointing series opener, bestseller Hamilton (the Anita Blake, Vampire Hunter series) conjures a world where Heaven and Hell are all too active on the mortal plane. Det. Zaniel "Havoc" Havelock is part of the City of Angels' Metaphysical Coordination Unit, a specialized team dedicated to handling supernatural crimes. As a graduate of the secretive College of Angels and former Angel Speaker, Zaniel is an expert in Heavenly matters. So when an angel feather is found at the site of the rape and murder of a college student, Zaniel is called in--only to be swept up in a dangerous investigation involving a murderous, demon-possessed teenager who represents an unprecedented union between the mortal and the infernal. Meanwhile, Zaniel attempts to piece together his fractured personal life and reunite with his estranged wife and son. Hamilton's intense, sometimes heavy-handed focus on the spiritualism and metaphysics of her premise proves a drastic departure from her usual supernatural soap opera fare and doesn't always work. Zaniel is a protagonist straight out of any procedural--experienced, jaded, juggling a mysterious past and a messy present--but underdeveloped. The worldbuilding has potential, but slow pacing and clunky, exposition-laden dialogue undermine the potential. The author's fans will hope for a return to form next time. Agent: Merrilee Heifetz, Writers House. (Aug.)"
(c) Copyright PWxyz, LLC. All rights reserved
Additional Information
Subjects
Fantasy
Mystery
Fiction

Publisher

Penguin Publishing Group2021



Language

English



ISBN
9781984804488