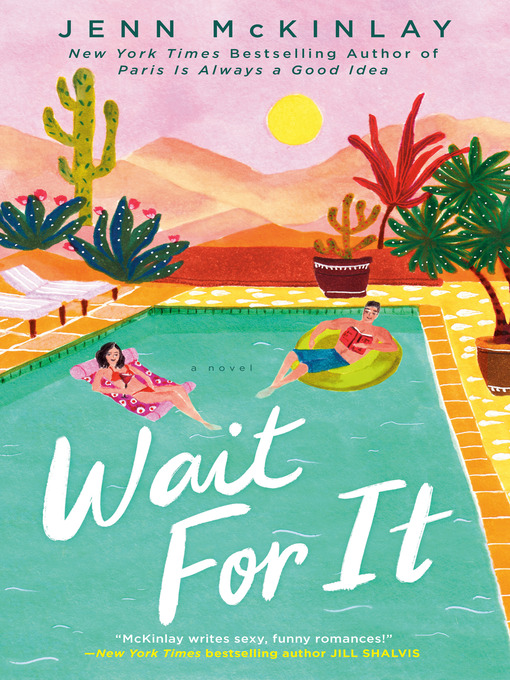 Wait For It
Format:

Kindle Book

2021

Adobe EPUB ebook

OverDrive Read

Availability:

Unavailable

0 of 6 copies
40 people on waitlist
Summary
A woman at the end of her rope moves to Arizona looking for a new lease on life and befriends a handsome shut-in who teaches her about resilience, courage, and ultimately true love, in this funny, bighearted novel about hope and healing from New York Times bestselling author Jenn McKinlay. Stuck in a dreary Boston winter, surrounded by annoyingly happy couples, Annabelle Martin would like nothing more than to run away from her current life. She's not even thirty years old, twice-divorced, and has just dodged a marriage proposal… from her ex-husband. When an opportunity to start over arises, she jumps at it and flees to Arizona for a dream job as a graphic designer. When she arrives in the Valley of the Sun, Annabelle moves into a pool house attached to a mansion with a mysterious owner. Having assumed her anonymous landlord, Nick Daire, to be some old, rich curmudgeon, Annabelle is shocked when she finally meets him and finds that he's not much older than her and is in a wheelchair. Nick suffered from a stroke a year ago, and while there's no physical reason for him not to recover, he is struggling to overcome the paralyzing fear that has kept him a prisoner in his own home. Despite her promise to herself not to get involved, Annabelle finds herself irresistibly drawn to Nick. And soon she wonders if she and Nick might help each other find the courage to embrace life, happiness, and true love.

Published Reviews
Booklist Review:
"When her first ex-husband unexpectedly asks her to marry him again, Annabelle Martin is not about to test the maxim "better luck next time." Instead, Annabelle accepts her best friend Sophie Vasquez's job offer and leaves chilly Boston for sunny Phoenix. One perk of Annabelle's new dream job is getting to live in a charming guest house on the estate of an old friend of the Vasquez family. However, this same perk has a downside in the form of the seemingly endless "tenant rules" her new landlord--obviously a crotchety old codger--keeps leaving on her doorstep. So, of course, it is quite a surprise when Annabelle comes face to face with her landlord--Nick Daire--and discovers he is actually the hot guy she has secretly been ogling. Both fans and readers who are not already smitten with McKinlay's zingy prose and effervescent wit will soon find themselves happily succumbing to this author's many literary charms, including the effortless way in which she deftly pivots from moments of comic absurdity to heartfelt emotion without missing a beat."
From Booklist, Copyright (c) American Library Association. Used with permission.
Publisher's Weekly Review:
"McKinlay (Paris Is Always a Good Idea) delivers a disappointing rom-com. After Annabelle Martin's ex-husband unexpectedly re-proposes, Annabelle realizes she needs a clean break--and a graphic design job at her best friend's company in sunny Phoenix is the perfect fit. But her new digs in the guest house of a beautiful mansion come with their own issues: her crotchety landlord has a long list of rules and prefers to communicate via passive-aggressive notes rather than meeting in person. Aggravated by these restrictions, Annabelle blatantly breaks rules hoping to draw him out of seclusion. When this plan works, she's shocked to discover her landlord is the young, gorgeous Nick Daire. Nick withdrew from the public eye after a stroke that weakened his legs and occasionally made it necessary for him to use a wheelchair. Despite his reluctance to socialize and painfully depicted self-hatred, Nick feels drawn to his vibrant tenant. When Nick's sister asks for help with a business venture and Annabelle is tasked with bringing in a big client, their needs align, forcing the pair to work together. McKinlay's writing is punchy, but the rushed romance strains belief and Nick's disability is often insensitively handled. These unfortunate flaws outweigh the chemistry between the central couple. Agent: Christina Hogrebe, Jane Rotrosen Agency. (Aug.)"
(c) Copyright PWxyz, LLC. All rights reserved
Additional Information