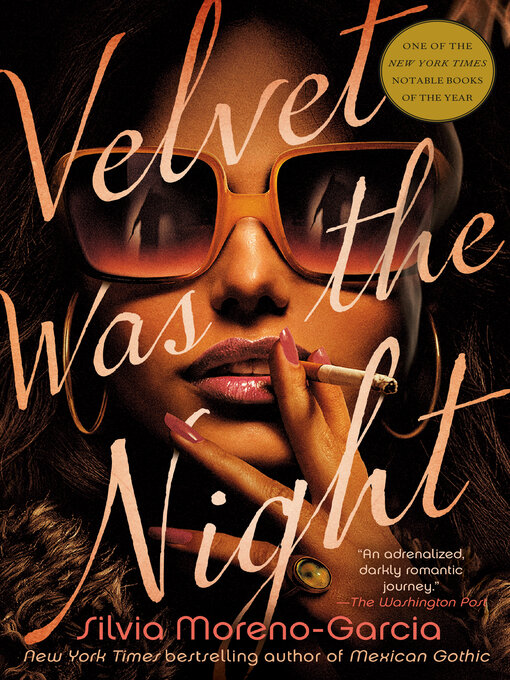 Velvet Was the Night
Format:

Kindle Book

2021

Adobe EPUB ebook

OverDrive Read

Availability:

Unavailable

0 of 16 copies
85 people on waitlist
Summary
NEW YORK TIMES EDITORS' CHOICE • From the New York Times bestselling author of Mexican Gothic comes a "delicious, twisted treat for lovers of noir"* about a daydreaming secretary, a lonesome enforcer, and the mystery of a missing woman they're both desperate to find. *Simone St. James, New York Times bestselling author of The Sun Down Motel1970s, Mexico City. Maite is a secretary who lives for one thing: the latest issue of Secret Romance. While student protests and political unrest consume the city, Maite escapes into stories of passion and danger. Her next-door neighbor, Leonora, a beautiful art student, seems to live a life of intrigue and romance that Maite envies. When Leonora disappears under suspicious circumstances, Maite finds herself searching for the missing woman—and journeying deeper into Leonora's secret life of student radicals and dissidents.Meanwhile, someone else is also looking for Leonora at the behest of his boss, a shadowy figure who commands goon squads dedicated to squashing political activists. Elvis is an eccentric criminal who longs to escape his own life: He loathes violence and loves old movies and rock 'n' roll. But as Elvis searches for the missing woman, he watches Maite from a distance—and comes to regard her as a kindred spirit who shares his love of music and the unspoken loneliness of his heart.Now as Maite and Elvis come closer to discovering the truth behind Leonora's disappearance, they can no longer escape the danger that threatens to consume their lives, with hitmen, government agents, and Russian spies all aiming to protect Leonora's secrets—at gunpoint.Velvet Was the Night is an edgy, simmering historical novel for lovers of smoky noirs and anti-heroes.

Published Reviews
Booklist Review:
"Moreno-Garcia, the author of acclaimed and best-selling speculative novels, including Mexican Gothic (2020), returns to noir crime fiction with a winner that brings together a romance-fiction-obsessed secretary and a lovelorn enforcer during the brutally suppressed student riots in 1970s Mexico City. Leonora, a neighbor, asks Maite, the secretary, to feed her cat, then makes a frenzied departure. Days go by, and Maite, fretting over the expense and inconvenience, starts asking around about Leonora. Elvis is doing the same. As part of a goon squad assembled to quash political activism, he needs to find Leonora before she can deliver photos to the press that she took during the riots. Soon, Maite is in way over her head when it is assumed that she is one of the dissidents, and Elvis begins to have doubts about his chosen path. They are both in danger from hired guns, government agents, and the KGB (!). Their stories of danger and passion run side by side in an enveloping narrative that is at once dark and bright. Maite's "litany of bitterness" shows in her face, and Elvis' eyes are "twin black abysses." Despite their failings, readers will be rooting for them and hoping they find some happiness, and, maybe, even, each other."
From Booklist, Copyright (c) American Library Association. Used with permission.
Publisher's Weekly Review:
"This seductive neo-noir thriller from bestseller Moreno-Garcia (Mexican Gothic) draws on the real-life efforts of the Mexican government to suppress political dissent in the 1970s. Maite, a 30-year-old secretary in Mexico City who feels life has passed her by, escapes from routine by reading the magazine Secret Romance, oblivious to the political upheaval around her. When her beautiful art student neighbor, Leonora, disappears, Maite, with the help of Rubén, Leonora's former lover, begins a search that takes her into the world of student radicals. Meanwhile, 21-year-old Elvis, muscle for a clandestine, government-funded shock troop employed to suppress student protests, longs for something more and wishes to escape his old life. When Elvis's boss assigns him to track down Leonora, his search crosses that of Maite, with whom he becomes fascinated. As the two get closer to discovering the reason behind Leonora's disappearance, they uncover secrets that shadowy forces, both domestic and foreign, will kill to protect. This is a rich novel with an engrossing plot, distinctive characters, and a pleasing touch of romance. Readers won't be able to put it down. Agent: Eddie Schneider, JABberwocky Literary. (Aug.)"
(c) Copyright PWxyz, LLC. All rights reserved
Additional Information