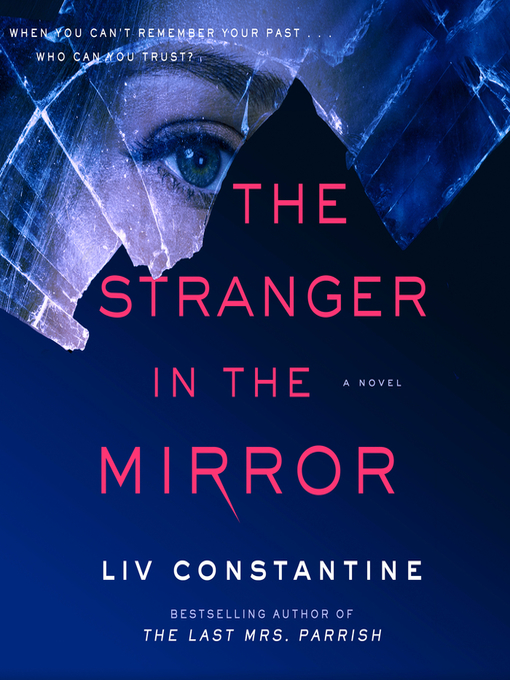 The Stranger in the Mirror
Format:

OverDrive MP3 Audiobook

2021

OverDrive Listen

Availability:

Unavailable

0 of 11 copies
8 people on waitlist
Summary
A diabolically twisty, psychologically unsettling novel about a woman with no recollection of her past from the authors of the Reese Witherspoon Book Club pick The Last Mrs. Parrish and The Wife Stalker."Jaw-dropping twists with an unsettling edge that you'll need a few days at the beach to recover." —Reese's Book ClubAddison's about to get married, but she's not looking forward to the big day. It's not her fiancé; he's a wonderful man. It's because Addison doesn't know who she really is. A few years ago, a kind driver found her bleeding next to a New Jersey highway and rescued her. While her physical wounds healed, Addison's memory never returned. She doesn't know her real name. Or how she ended up injured on the side of a road. Or why she can't shake the notion that she may have done something very, very bad . . .In a posh home in the Boston suburbs, Julian tries to figure out what happened to his loving, caring wife, Cassandra, who disappeared without a trace two years ago. She would never have left him and their seven-year-old daughter Valentina of her own free will—or would she? As these two lives intersect, The Stranger in the Mirror hooks readers with riveting drama, told with Liv Constantine's hallmark blend of glamour, tense psychological thrills, and jaw-dropping twists.

Published Reviews
Booklist Review:
"Another twisty and unsettling domestic psychological thriller (following The Wife Stalker, 2020) from established book-club favorite Liv Constantine, the pen name of sisters Lynne and Valerie Constantine. Their previous titles are in development for both TV and film. So who is Addison Hope? She doesn't even know. Two years ago, she was rescued by a kind driver who found her injured on the side of the road. She does not remember anything that happened before that, but is tortured by intermittent violent images from what she assumes is her earlier life. Addie has made a new life for herself in Philadelphia and is engaged to be married. Her wealthy prospective mother-in-law hires a private investigator to investigate what she fears is feigned amnesia. Meanwhile, a man in Boston wonders what happened to his wife, who disappeared without a trace, leaving him and their seven-year-old daughter behind. At the intersection of their lives there is a shattering truth that unfolds in a toney drama, certain to appeal to fans of the genre."
From Booklist, Copyright (c) American Library Association. Used with permission.
Publisher's Weekly Review:
"A trucker finds the protagonist of this soapy psychological thriller from the pseudonymous Constantine (The Wife Stalker) walking a New Jersey highway with no memory or ID. He brings her to Philadelphia and helps her start over as Addison Hope, a name taken from a tombstone. Two years later, Addison is engaged to Gabriel Oliver, whose family owns an art gallery. Gabriel's mother has reservations about him marrying an amnesiac that are borne out when Julian Hunter visits the gallery and recognizes Addison as Cassandra--his wife, and the mother of his seven-year-old daughter, Valentina. Gabriel is skeptical, but Addison returns to Boston with Julian, hoping to remember who she was and what happened the night she vanished. Constantine (sisters Lynne and Valerie Constantine) squanders a clever premise and suspenseful opening with a string of increasingly absurd plot twists. Addison is a resilient heroine for whom readers will root, but her supporting cast lacks depth, and the tale's villain borders on caricature. Fans will hope for better next time. Agent: Bernadette Baker-Baughman, Victoria Sanders & Assoc. (July)"
(c) Copyright PWxyz, LLC. All rights reserved
Additional Information