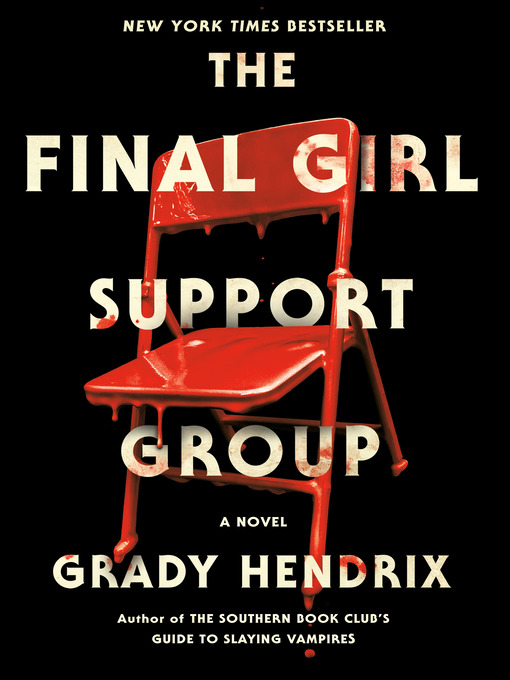 The Final Girl Support Group
Format:

Kindle Book

2021

Adobe EPUB ebook

OverDrive Read

Availability:

Unavailable

0 of 19 copies
130 people on waitlist
Summary
THE INSTANT NEW YORK TIMES BESTSELLER"The horror master…puts his unique spin on slasher movie tropes."-USA TodayA can't-miss summer read, selected by The New York Times, Oprah Daily, Time, USA Today, The Philadelphia Inquirer, CNN, LitHub, BookRiot, Bustle, Popsugar and the New York Public LibraryIn horror movies, the final girls are the ones left standing when the credits roll. They made it through the worst night of their lives…but what happens after? Like his bestselling novel The Southern Book Club's Guide to Slaying Vampires, Grady Hendrix's latest is a fast-paced, frightening, and wickedly humorous thriller. From chain saws to summer camp slayers, The Final Girl Support Group pays tribute to and slyly subverts our most popular horror films—movies like The Texas Chainsaw Massacre, A Nightmare on Elm Street, and Scream. Lynnette Tarkington is a real-life final girl who survived a massacre. For more than a decade, she's been meeting with five other final girls and their therapist in a support group for those who survived the unthinkable, working to put their lives back together. Then one woman misses a meeting, and their worst fears are realized—someone knows about the group and is determined to rip their lives apart again, piece by piece.   But the thing about final girls is that no matter how bad the odds, how dark the night, how sharp the knife, they will never, ever give up.

Published Reviews
Booklist Review:
"In old-school slasher movies, there's always one traumatized, blood-drenched teen who survives the knife-wielding bad guy. Hendrix (The Southern Book Club's Guide to Slaying Vampires, 2020) follows up with these so-called Final Girls in this entertaining, fast-paced, and darkly humorous novel that reads like a sequel to a spooky '80s horror flick. The title refers to a therapy group of women who survived mass murderers similar to Michael Myers in Halloween and Jason Voorhees in Friday the 13th. When a string of attacks starts targeting fellow survivors, Lynnette Tarkington (antihero and survivor of the 1988 Silent Night Slayings), wonders if it's all part of a big scheme for a gory, grand finale. Who is behind this twisted nightmare--and why now? This epic thrill ride reminiscent of R. L. Stine's teen slashers is perfect for Christopher Moore's fans and scream queen aficionados nostalgic for B-movie classics. Don't be fooled by the gore and adrenaline rush, though. Hendrix delivers the right amount of jumps and scares while highlighting imperfect and human characters who forge indestructible friendships against all odds."
From Booklist, Copyright (c) American Library Association. Used with permission.
Publisher's Weekly Review:
"Hendrix (The Southern Book Club's Guide to Slaying Vampires) delivers a wildly entertaining romp through the conventions of horror's slasher film subgenre. The novel's title refers to a Los Angeles--based therapeutic support group for six "final girls"--survivors of mass-murderer rampages whose experiences inspired the splatter-film franchises that saturated horror cinema in the 1980s and '90s, earning them minor celebrity. When one of the six is murdered decades after she escaped her assailant, and others come under violent assault, Lynnette Tarkington--herself a survivor of the Silent Night Slayings of 1988--realizes that someone is trying to orchestrate an extravagant final girl finale. But is the killer a garden-variety homicidal maniac, an unhinged slasher-film superfan, or someone more intimately familiar with their group? Hendrix masterfully evokes the paranoid existences of his diverse cast in the aftermath of their traumatic ordeals, and he so explicitly details the massacres and fictional film sagas that grew out of them that readers may believe them to be real. The result is a wonderfully suspenseful and darkly comic novel that cleverly subverts popular culture. Horror fans will be wowed. Agent: Joshua Bilmes, JABberwocky Literary. (July)"
(c) Copyright PWxyz, LLC. All rights reserved
Additional Information