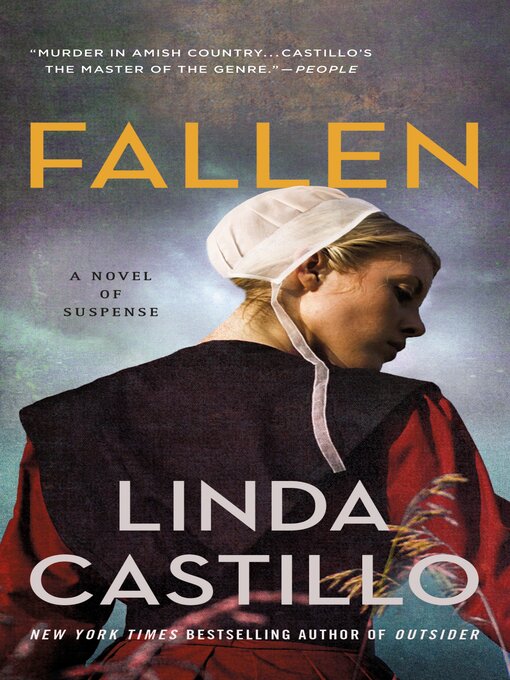 Fallen
Format:

Adobe EPUB ebook

2021

OverDrive Read

Availability:

Unavailable

0 of 14 copies
56 people on waitlist
Summary
In New York Times bestselling author Linda Castillo's new thriller, a rebellious Amish woman leaves the Plain life, but the secrets she takes with her will lead Chief of Police Kate Burkholder down a dark path to danger and death.

Published Reviews
Booklist Review:
"Kate Burkholder is police chief in Painters Mill, Ohio, in the heart of Amish country. Raised Amish, Kate found the sect too confining and left. After training as a cop, she returned to Painters Mill and took over as head cop. She loves her job, even though most of her cases involve traffic violations, car accidents, and drunk-and-disorderlies. So it's a shock when she's called to the Willowdell Motel, where a woman's body has been found beaten to death, her injuries so extensive that she's almost unrecognizable. But a bigger shock awaits Kate--the victim is her childhood friend Rachael Schwartz. Rachael was a rebel, and her refusal to abide by Amish rules eventually saw her excommunicated. She moved away, and no one had heard from her for years. So why did she return to Painters Mill? Who hated her enough to kill her so brutally, and what was the motive? As Kate investigates, she finds dark secrets from Rachael's past that almost certainly led to her death. But when Kate discovers the truth behind Rachael's murder, she finds herself in mortal danger from the killer. Castillo's latest in her acclaimed series offers a twisty, tragic plot and new insights into the savvy Burkholder. An absolute cracker of a book."
From Booklist, Copyright (c) American Library Association. Used with permission.
Publisher's Weekly Review:
"In bestseller Castillo's exhilarating 13th Amish mystery (after 2020's Outsider), Painters Mill, Ohio, police chief Kate Burkholder investigates the murder of Rachael Schwartz, a young woman she once babysat, who was beaten to death in a local motel. Kate, who recalls Rachael's rebellious attitude as a child, isn't surprised Rachael, like Kate, left the Amish faith. Rachael lived in Cleveland, where she co-owned a restaurant, but Kate can't determine what brought her back to Painters Mill. As Kate speaks with Rachael's business partner, Andrea Matson, and Amish best friend Loretta Bontrager, she deduces Rachael made most of her money from blackmailing people, creating several Amish and "English" enemies along the way. Flashbacks to 2008, when Rachael and Loretta were in their late teens, showcase Rachael's free-spirited behavior and potential culprits. The tension rises as Kate narrows down the suspects and falls into danger at the climax. In addition to providing readers with plenty of Amish cultural context, Castillo adds surprising twists to the gripping plot and touches upon police brutality and Amish discrimination. This sterling entry can be easily read as a standalone. Agent: Nancy Yost, Nancy Yost Literary. (July)"
(c) Copyright PWxyz, LLC. All rights reserved
Additional Information