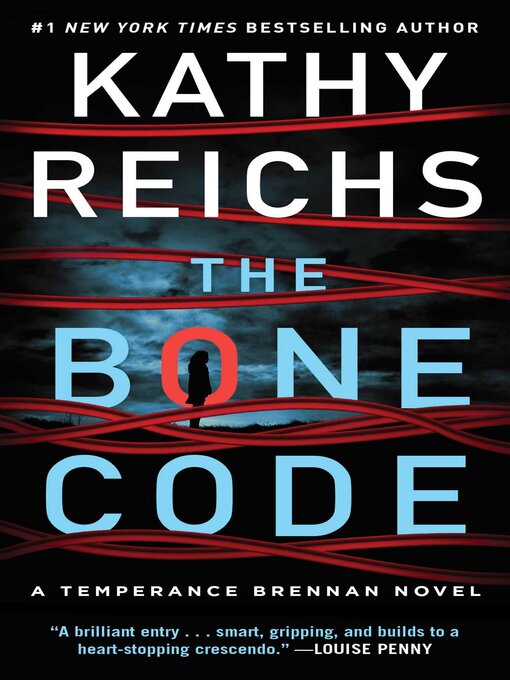 The Bone Code
Format:

Kindle Book

2021

Adobe EPUB ebook

OverDrive Read

Availability:

Unavailable

0 of 15 copies
81 people on waitlist
Summary
#1 New York Times bestselling author Kathy Reichs returns with her twentieth gripping novel featuring forensic anthropologist Temperance Brennan, whose examinations, fifteen years apart, of unidentified bodies ignite a terrifying series of events.On the way to hurricane-ravaged Isle of Palms, a barrier island off the South Carolina coast, Tempe receives a call from the Charleston coroner. The storm has tossed ashore a medical waste container. Inside are two decomposed bodies wrapped in plastic sheeting and bound with electrical wire. Tempe recognizes many of the details as identical to those of an unsolved case she handled in Quebec years earlier. With a growing sense of foreboding, she travels to Montreal to gather evidence. Meanwhile, health authorities in South Carolina become increasingly alarmed as a human flesh-eating contagion spreads. So focused is Tempe on identifying the container victims that, initially, she doesn't register how their murders and the pestilence may be related. But she does recognize one unsettling fact. Someone is protecting a dark secret—and willing to do anything to keep it hidden. An absorbing look at the sinister uses to which genetics can be put, and featuring a cascade of ever-more-shocking revelations, The Bone Code is Temperance Brennan's most astonishing case yet—one that gives new meaning to today's headlines.

Published Reviews
Publisher's Weekly Review:
"The coroner of South Carolina's Charleston County needs Temperance Brennan's help in bestseller Reichs's average 20th thriller featuring the forensic anthropologist (after 2020's A Conspiracy of Bones). The coroner knows Brennan, who specializes in analyzing "remains unfit for a pathologist's scalpel: the decomposed, dismembered, burned, mummified, mutilated, and skeletal," happens to be headed from North Carolina to Charleston. A recent hurricane has tossed ashore a container with two decayed bodies inside wrapped in plastic secured by electrical wire, and at least one of the bodies shows evidence of a bullet to the head. These details rattle Brennan, as they match those of a 15-year-old unsolved case involving two victims that Brennan worked on with Andrew Ryan, a former Quebec homicide detective turned PI, who's her current significant other. The new victims spur Brennan to labor to identify the killer or killers of all four people. Reichs's tendency to end chapters with ominous foreshadowing ("Unaware that the storm damage would be nothing compared to that triggered by an upcoming call") gets old quickly. Despite that, this is an accessible entry point for newcomers. (July)"
(c) Copyright PWxyz, LLC. All rights reserved
Additional Information