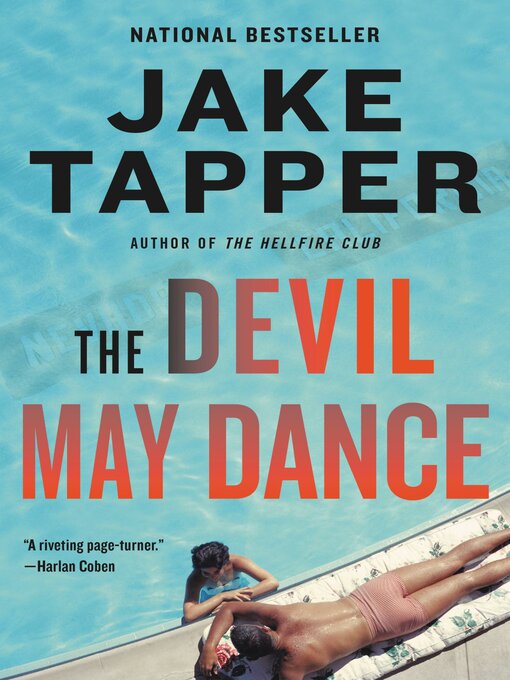 The Devil May Dance
Format:

Kindle Book

2021

Adobe EPUB ebook

OverDrive Read

Availability:

Unavailable

0 of 10 copies
64 people on waitlist
Summary
Charlie and Margaret discover the dark side of Holllywood in this sequel to New York Times bestseller The Hellfire Club—a thrilling cocktail of corruption and ambition from CNN's Jake Tapper.Charlie and Margaret Marder, political stars in 1960s Washington DC, know all too well how the tangled web of power in the nation's capital can operate. But while they long to settle into the comforts of home, Attorney General Robert Kennedy has other plans. He needs them to look into a potential threat not only to the presidency, but to the security of the United States itself.Charlie and Margaret quickly find themselves on a flight to sunny Los Angeles, where they'll face off against a dazzling world of stars and studios. At the center of their investigation is Frank Sinatra, a close friend of President John F. Kennedy and a rumored mob crony, whom Charlie and Margaret must befriend to get the inside scoop. But in a town built on illusions, where friends and foes all look alike, nothing is easy, and drinks by the pool at the Sands and late-night adventures with the Rat Pack soon lead to a body in the trunk of their car. Before they know it, Charlie and Margaret are being pursued by sinister forces from Hollywood's stages to the newly founded Church of Scientology, facing off against the darkest and most secret side of Hollywood's power.As the Academy Awards loom, and someone near and dear to Margaret goes missing, Charlie and Margaret find the clock is not only ticking but running out. Someone out there knows what they've uncovered and can't let them leave alive. Corruption and ambition form a deadly mix in this fast-paced sequel to The Hellfire Club.

Published Reviews
Booklist Review:
"California in the early 1960s. Congressman Charlie Marder is doing a favor for Robert Kennedy, but it's not a typical favor that a congressman might do for an attorney general. Charlie's in Hollywood cozying up to Frank Sinatra, trying to learn what connection the singer might have to the notorious mobster Sam Giancana. Well, if you're going to be friends with Sinatra, that means you're friends with the whole Rat Pack, and this hugely entertaining sequel to 2018's The Hellfire Club is full of larger-than-life famous people: Sinatra, Peter Lawford, Sammy Davis Jr., Dean Martin, Shirley MacLaine, and more. The book has a thoroughly involving story--Charlie finds himself in some serious jeopardy--and Tapper, best known as a news anchor for CNN, is clearly having a great time re-creating Tinseltown in the Swinging Sixties. Recommend this one to Robert J. Randisi's Rat Pack series, including You Make Me Feel So Dead (2013), in which Sinatra and pals "chaperone" Elvis in Vegas."
From Booklist, Copyright (c) American Library Association. Used with permission.
Publisher's Weekly Review:
"Set in 1962, Tapper's excellent sequel to 2018's The Hellfire Club opens with a highly effective tease. New York congressman Charlie Marder is in a California cemetery along with his wife, Margaret, and members of the Rat Pack, including Frank Sinatra and Dean Martin, who chose the grim locale to mark the passing of mobster Lucky Luciano. After the gathering ends, the Marders return to their rental car, only to find the body of an unnamed woman both of them knew in the trunk, her eyes shot out. On that cliffhanger, Tapper flashes back a month to New York City, where Marder gets a disturbing call from his political fixer father, Winston, who has been arrested for consorting with gangsters. During their brief jailhouse talk, Winston asks Marder to find out what Attorney General Robert Kennedy wants "and give it to him." That turns out to be information on the relationships between Mafia leaders and Hollywood stars, such as Sinatra. The plot eventually circles back to the female corpse. Tapper makes good use of the rich source material. Fans of Max Allan Collins's Nathan Heller books will be pleased. Agent: Robert Barnett, Williams & Connolly. (May)"
(c) Copyright PWxyz, LLC. All rights reserved
Additional Information