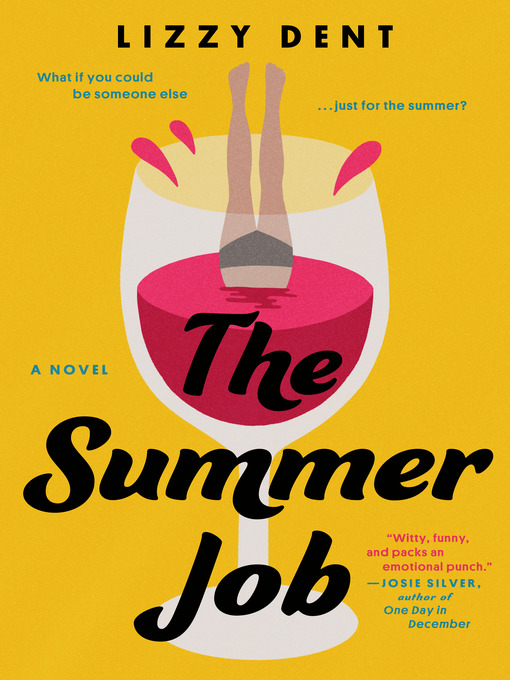 The Summer Job
Format:

Kindle Book

2021

Adobe EPUB ebook

OverDrive Read

Availability:

Unavailable

0 of 8 copies
54 people on waitlist
Summary
"My perfect summer read! Sure to be one of the sweetest, funniest, and sexiest books of the year." —Emily Henry, #1 New York Times bestselling author of People We Meet on Vacation Named a Best Beach Read by Cosmopolitan, Entertainment Weekly, New York Post, Bustle, Country Living, Parade, Fortune, and more. What if you could be someone else? Just for the summer...Birdy has made a mistake. Everyone imagines running away from their life at some point. But Birdy has actually done it. And the life she's run into is her best friend Heather's. The only problem is, she hasn't told Heather. The summer job at the highland Scottish hotel that her world class wine-expert friend ditched turns out to be a lot more than Birdy bargained for. Can she survive a summer pretending to be her best friend? And can Birdy stop herself from falling for the first man she's ever actually liked, but who thinks she's someone else? One good friend's very bad decision is at the heart of this laugh-out-loud love story and unexpected tale of a woman finally finding herself in the strangest of places.

Published Reviews
Booklist Review:
"Birdy Finch is not known for seizing opportunities, unlike her best friend, Heather, an up-and-coming sommelier who has landed a summer job at a remote Scottish resort. When Heather decides to decamp to Italy with her boyfriend, Birdy makes the rash decision to take Heather's place. How difficult could it be to spend the summer at a run-down old manor that caters to elderly tourists? Then she arrives at Loch Doon, which has been newly renovated, complete with a celebrity chef and an extensive wine list. Though she's tempted to cut and run, Birdy owes it to Heather to fake it until she makes it, leaning on her co-workers for advice and support. As her confidence grows, so does her budding romance with the resort's sous chef, James. How will her new friends react when the truth comes out? Dent's debut is a frothy story reminiscent of late 1990s chick lit, complete with unexpected friendships, offbeat situations, and a relatable protagonist whose inner journey will charm and delight readers. It's escapist fun with surprising emotional depth; fans of Emily Henry and Katie Fforde should add this to their summer-read list."
From Booklist, Copyright (c) American Library Association. Used with permission.
Publisher's Weekly Review:
"Dent's stressful debut sees a woman living out a classic anxiety dream as she fudges her way through a job she's way underqualified for. When Birdy Finch's best friend, Heather, decides against taking a job as a sommelier at a Scottish inn, Birdy offers to let Heather's potential employers know. But, on a whim, she doesn't--deciding a summer in Scotland is just what she herself needs. Though Birdy has no knowledge of wine, the inn's website shows a run-down cottage with a small, manageable wine list. So when she arrives, posing as Heather, she's shocked to find a newly renovated Loch Dorn Estate with a Michelin-starred chef helming the restaurant. She flails through her first days on the job before buckling down to study the extensive wine list. She also discovers an interest in cooking and an equal fascination with dedicated but reserved chef James. But can their budding relationship and her friendships among Loch Dorn's staff survive after they learn she's not who she claims? The romance is solid, but a key emotional moment happens off-page, making the ending feel unearned, and the side characters outshine self-centered Birdy, making it hard to forgive her deception as her bumbling puts their jobs at risk. Readers will need a high tolerance for anxiety-inducing humor to get into this one. (May)"
(c) Copyright PWxyz, LLC. All rights reserved
Additional Information