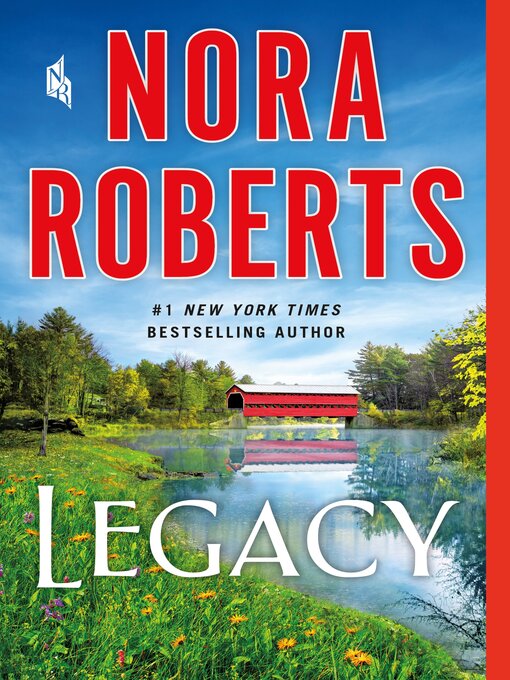 Legacy
Format:

Kindle Book

2021

Adobe EPUB ebook

OverDrive Read

Availability:

Unavailable

0 of 47 copies
243 people on waitlist
Summary
#1 New York Times bestselling author Nora Roberts presents Legacy, a new novel of a mother and a daughter, of ambition and romance, and of a traumatic past reawakened by a terrifying threat...Adrian Rizzo was seven when she met her father for the first time. That was the day he nearly killed her—before her mother, Lina, stepped in.Soon after, Adrian was dropped off at her grandparents' house in Maryland, where she spent a long summer drinking lemonade, playing with dogs, making a new best friend—and developing the stirrings of a crush on her friend's ten-year-old brother. Lina, meanwhile, traveled the country promoting her fitness brand and turning it into a billion-dollar business. There was no point in dwelling on the past.A decade later, Adrian has created her own line of yoga and workout videos, following in Lina's footsteps but intent on maintaining creative control. And she's just as cool-headed and ambitious as her mother. They aren't close, but they're cordial—as long as neither crosses the other.But while Lina dismisses the death threats that Adrian starts getting as a routine part of her daughter's growing celebrity, Adrian can't help but find the vicious rhymes unsettling. Year after year, they keep arriving—the postmarks changing, but the menacing tone the same. They continue after she returns to Maryland and becomes reacquainted with Raylan, her childhood crush, all grown up and as gorgeously green-eyed as ever. Sometimes it even seems like the terrifying messages are indeed routine, like nothing will come of them. Until the murders start, and the escalation begins...

Published Reviews
Booklist Review:
"Many people have tried to kill Adrian Rizzo. When she was seven, her biological father tried to murder Adrian and her mother Lina. Fortunately, Lina, creator of the wildly successful Yoga Baby brand, was able to save them both. Ten years later, Adrian received her first death threat--in the form of an anonymous poem--when she was just starting her own fitness brand, Next Generation. Over the years, as Adrian builds her company into a worldwide sensation, the anonymous poems continue to arrive. Now, after relocating her company to the small town of Traveler's Creek, Maryland, Adrian is reconnecting with her maternal family and with old friends, including Raylan Wells, when her poetic pen pal decides to no longer limit the threats to mere words. Once again, Roberts (Hideaway, 2020) effectively parlays her literary superpower into creating compelling, all-too-human characters and crafting plots composed of realistic domestic details and unflinching suspense. Legacy is another page-turning hit for supreme storyteller Roberts.HIGH-DEMAND BACKSTORY: With a major multimedia PR campaign and news about the Netflix movie adaptation of Roberts' thriller Brazen Virtue (2010), her latest is practically best-seller status."
From Booklist, Copyright (c) American Library Association. Used with permission.
Publisher's Weekly Review:
"Adrian Rizzo, the protagonist of this melodramatic thriller from bestseller Roberts (Hideaway), first meets her father, Jonathan Bennett, a university professor with a reputation for forcing sex on his students, at age seven when he barges into the Georgetown townhouse where she lives with her nanny, Mimi, and her mother, Lina Rizzo, a fitness expert with a successful business called Yoga Baby. After hitting Mimi, Jon attacks Adrian and Lina. Fighting back, Lina kills Jon by pushing him over a second-floor railing. Though the death is ruled self-defense, Lina, fearing the negative publicity, sends Adrian to her parents in the small town of Traveler's Creek, Md. Meanwhile, Lina's career soars, and Adrian's summer with her loving grandparents is idyllic. Years later, Lina and Adrian, now a teenager, resettle in New York, where Adrian starts her own fitness company. But each February, Adrian receives a creepy poem coinciding with a woman's murder in different parts of the country. Roberts knows how to entertain, but the plot follows formula and the gimmicky killer emerges as a caricature with transparent motives. Established fans will best appreciate this one. Agent: Amy Berkower, Writers House. (May)"
(c) Copyright PWxyz, LLC. All rights reserved
Additional Information