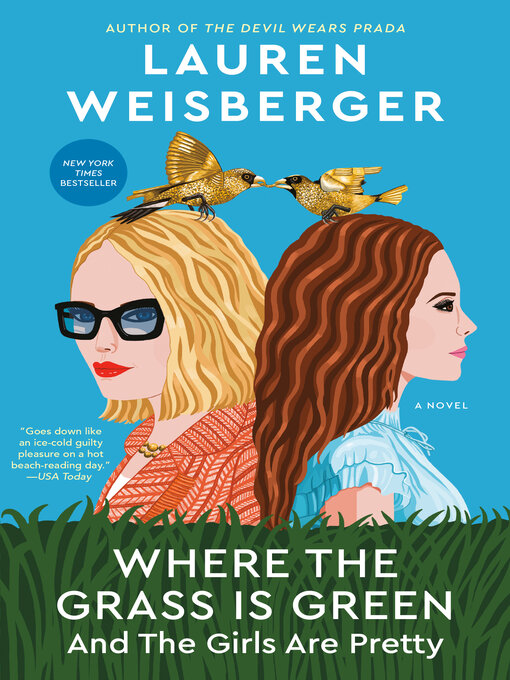 Where the Grass Is Green and the Girls Are Pretty
Format:

Kindle Book

2021

Adobe EPUB ebook

OverDrive Read

Availability:

Unavailable

0 of 32 copies
175 people on waitlist
Summary
NEW YORK TIMES BESTSELLER • GOOD MORNING AMERICA BUZZ PICK • From the bestselling author of The Devil Wears Prada and When Life Gives You Lululemons comes a highly entertaining, sharply observed novel about sisters, their perfect lives . . . and their perfect lies.A seat at the anchor desk of the most-watched morning show. Recognized by millions across the country, thanks in part to her flawless blond highlights and Botox-smoothed skin. An adoring husband and a Princeton-bound daughter. Peyton is that woman. She has it all. Until . . . Skye, her sister, is a stay-at-home mom living in a glitzy suburb of New York. She has degrees from all the right schools and can helicopter-parent with the best of them. But Skye is different from the rest. She's looking for something real and dreams of a life beyond the PTA and pickup. Until . . . Max, Peyton's bright and quirky seventeen-year-old daughter, is poised to kiss her fancy private school goodbye and head off to pursue her dreams in film. She's waited her entire life for this opportunity. Until . . . One little lie. That's all it takes. For the illusions to crack. For resentments to surface. Suddenly the grass doesn't look so green. And they're left wondering: will they have what it takes to survive the truth?

Published Reviews
Booklist Review:
"Oh, the irony. After covering the college-admissions controversy as a top-rated anchor for the ANN news network, Peyton Marcus is shocked when a second round of exposed briberies engulfs her own family. Her husband Isaac stands accused of "buying" their daughter Max's admission to Princeton. It's a scandal with far-reaching tentacles. Peyton is placed on hiatus from the network, Princeton rescinds Max's acceptance, and Peyton's sister Skye loses funding for the girls-at-risk shelter she's developing. Perhaps worst of all is the fact that it was Peyton herself who wrote the check that unleashed all their misery, a detail she is advised to keep to herself. Peyton may Botox out the crows' feet and Peloton away the pounds, but it's going to take much more than mere cosmetics to undo the damage her deception has done to her family. Then there's subtly heroic Max, the unwitting victim who is far more mature than the adults. Weisberger (When Life Gives You Lululemons, 2018) never loses her trademark beach-read breeziness as she tackles weighty problems of familial trust with a pitch-perfect blend of humor and poignancy.HIGH-DEMAND BACKSTORY: Best-selling Weisberger's newest scandal-oriented satire will appear on many summer TBR lists."
From Booklist, Copyright (c) American Library Association. Used with permission.
Publisher's Weekly Review:
"The dispiriting latest from Weisberger (The Devil Wears Prada) is a paint-by-numbers tale of two wealthy sisters' self-generated problems. While Manhattanite and TV news anchor Peyton Marcus covers a scandal involving parents cheating on college admissions, Peyton's husband, Isaac, is charged by the FBI for paying a "college fixer" to get their vlogger daughter, Max, into Princeton, having taken the fall for Peyton's transgression. The school rescinds Max's acceptance, leaving her with no options for college. Meanwhile, Peyton's formerly free-spirited sister, Skye, who is now raising an adopted daughter with her bland Australian architect husband in the nearby suburban town of Paradise, has maxed out a secret credit card on an ambitious charity project. After news breaks of Isaac's arrest, her major donor leaves her twisting in the wind. Peyton and Max, meanwhile, retreat to Paradise, where they adopt chickens, make friends, and adjust their expectations. Along the way, Weisberger gets in some digs at suburban mommy life and its youth-obsessed lifestyle of Botox and "vampire facials," and regularly name-drops upscale stores and clothing lines, but it's low hanging fruit and it doesn't feel like there's much life in here. The result is not light and fizzy enough to be entertaining, or consequential enough to move readers. Agent: Sloan Harris, ICM Partners. (May)"
(c) Copyright PWxyz, LLC. All rights reserved
Additional Information