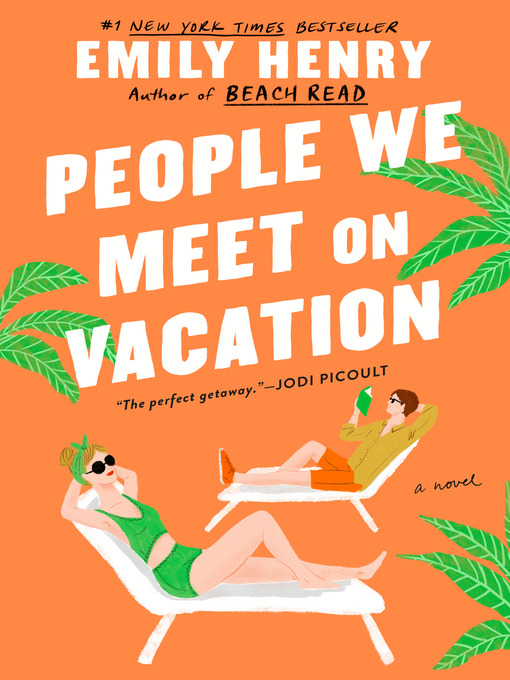 People We Meet on Vacation
Format:

Kindle Book

2021

Adobe EPUB ebook

OverDrive Read

Availability:

Unavailable

0 of 107 copies
641 people on waitlist
Summary
THE #1 NEW YORK TIMES BESTSELLER! Named a Most Anticipated Book of 2021 by Newsweek ∙ Oprah Magazine ∙ The Skimm ∙ Marie Claire ∙ Parade ∙ The Wall Street Journal ∙ Chicago Tribune ∙ PopSugar ∙ BookPage ∙ BookBub ∙ Betches ∙ SheReads ∙ Good Housekeeping ∙ BuzzFeed ∙ Business Insider ∙ Real Simple ∙ Frolic ∙ and more!Two best friends. Ten summer trips. One last chance to fall in love. From the New York Times bestselling author of Beach Read comes a sparkling new novel that will leave you with the warm, hazy afterglow usually reserved for the best vacations.   Poppy and Alex. Alex and Poppy. They have nothing in common. She's a wild child; he wears khakis. She has insatiable wanderlust; he prefers to stay home with a book. And somehow, ever since a fateful car share home from college many years ago, they are the very best of friends. For most of the year they live far apart—she's in New York City, and he's in their small hometown—but every summer, for a decade, they have taken one glorious week of vacation together.   Until two years ago, when they ruined everything. They haven't spoken since.   Poppy has everything she should want, but she's stuck in a rut. When someone asks when she was last truly happy, she knows, without a doubt, it was on that ill-fated, final trip with Alex. And so, she decides to convince her best friend to take one more vacation together—lay everything on the table, make it all right. Miraculously, he agrees.   Now she has a week to fix everything. If only she can get around the one big truth that has always stood quietly in the middle of their seemingly perfect relationship. What could possibly go wrong?

Published Reviews
Booklist Review:
"Short, loud Poppy and quiet, tall Alex were best friends who took a vacation together each summer for a decade, until their trip two years ago changed everything and tore them apart. Now Poppy lives in New York and works as a travel writer, but she has been feeling unsatisfied. She reaches out to Alex, currently a teacher in their Ohio hometown, and they make plans to travel once again. Poppy hopes that this trip will repair their friendship, but from the onset, they encounter one issue after another. Told through Poppy's perspective, the story shifts in time between the present and past summer trips. Henry, best-selling author of Beach Read (2020), excels at creating chemistry and charm, and readers will eagerly anticipate these characters finally admitting their feelings for each other. Their slow-burn romance builds as the flashbacks reveal their journey as unlikely friends through different schools, jobs, cities, and relationships with other people. The pacing sometimes falters, but the emotions always ring true. While Henry's romance may inspire some wanderlust, it's the people more than the places that truly dazzle."
From Booklist, Copyright (c) American Library Association. Used with permission.
Publisher's Weekly Review:
"Henry's latest rom-com lacks the spark of 2020's Beach Read, but still offers plenty of lighthearted summertime fun. Poppy Wright met Alex Nilsen 12 years ago on the first day of college orientation, and they never got along--until a road trip from Chicago back to their neighboring Ohio towns, which sparked a deep friendship and a tradition of taking a yearly sumer vacation together. But Poppy and Alex haven't spoken much since a disastrous trip two summers ago, and the details of what triggered their falling out are teased maddeningly slowly. When Poppy realizes that what she wants most in the world is to have Alex back in her life, she arranges a shoestring-budget vacation to Palm Springs that she hopes will fix everything. Flashbacks to each past summer trip make for fun travelogues that highlight both characters' understandable but frustrating refusal to discuss their feelings. Watching them dance around the inevitable grows tiresome as things drag on, but Henry's skills with sensory detail and lovable characters shine through. This is a strong choice for readers looking for a vicarious summer vacation of their own. Agent: Taylor Haggerty, Root Literary. (May)"
(c) Copyright PWxyz, LLC. All rights reserved
Additional Information