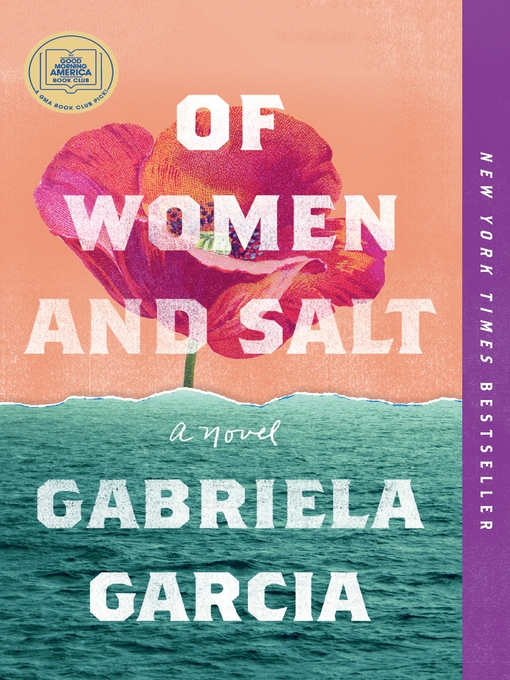 Of Women and Salt
Format:

Kindle Book

2021

Adobe EPUB ebook

OverDrive Read

Availability:

Unavailable

0 of 7 copies
84 people on waitlist
Summary
AN INSTANT NEW YORK TIMES BESTSELLERA GOOD MORNING AMERICA BOOK CLUB PICK A sweeping, masterful debut about a daughter's fateful choice, a mother motivated by her own past, and a family legacy that begins in Cuba before either of them were bornIn present-day Miami, Jeanette is battling addiction. Daughter of Carmen, a Cuban immigrant, she is determined to learn more about her family history from her reticent mother and makes the snap decision to take in the daughter of a neighbor detained by ICE. Carmen, still wrestling with the trauma of displacement, must process her difficult relationship with her own mother while trying to raise a wayward Jeanette. Steadfast in her quest for understanding, Jeanette travels to Cuba to see her grandmother and reckon with secrets from the past destined to erupt.From 19th-century cigar factories to present-day detention centers, from Cuba to Mexico, Gabriela Garcia's Of Women and Salt is a kaleidoscopic portrait of betrayals—personal and political, self-inflicted and those done by others—that have shaped the lives of these extraordinary women. A haunting meditation on the choices of mothers, the legacy of the memories they carry, and the tenacity of women who choose to tell their stories despite those who wish to silence them, this is more than a diaspora story; it is a story of America's most tangled, honest, human roots.

Published Reviews
Booklist Review:
"Garcia turns her MFA thesis for Purdue University (where she studied with the revered Roxane Gay) into her widely buzzed first novel. Presented in 12 chapters that read more like interlinked stories, Garcia channels her Miami-based Cuban-Mexican American heritage into five generations of a Cuban American matriarchy. Garcia opens with a two-page prologue set in 2018 in Miami, introducing Jeanette, who is recovering from drug addiction and desperate to reclaim her life while navigating a complicated relationship with her mother, Carmen. The first chapter then jumps back to 1866 in Camagüey, Cuba, to great-great-grandmother María Isabel, a hungry-for-more young woman anomalously working in a cigar factory. In the generations since, the women survive, outliving their men yet too often estranging their daughters. Back in the near-present, just for a few days, Jeanette becomes a maternal substitute for her disappeared neighbor Gloria's young child, Ana. Originally from El Salvador, Gloria and Ana's journey of multiple dislocations will find reverberating echoes in Jeanette's family history. Garcia's women populate a sprawling albeit textually spare narrative that demands careful parsing for resonant rewards."
From Booklist, Copyright (c) American Library Association. Used with permission.
Publisher's Weekly Review:
"Garcia's dexterous debut chronicles the travails of a Cuban immigrant family. Carmen, a Cuban immigrant living in Miami, is worried about her daughter Jeanette's addiction to drugs and alcohol. In 2014, during a moment of sobriety, Jeanette watches as her Salvadorian neighbor, Gloria, is detained by ICE while Gloria's daughter, Ana, is away with a babysitter. After Jeanette takes in Ana, Garcia unfolds the stories of the two families in parallel narratives, shifting between Gloria awaiting deportation in a Texas detention center while Ana stays briefly with Jeanette and episodes set during the Cuban Independence Movement of the late 19th century, when Jeanette's great-great-grandmother worked in Cuba at a cigar factory, and Carmen's escape from Cuba 15 years after the revolution. Eventually, Jeanette's story reveals her addiction may be her way of coping with the trauma of having been sexually assaulted as child. Throughout, Garcia illustrates the hard choices mothers make generation after generation to protect their children: "Motherhood: question mark, a constant calculation of what-if," muses Gloria. The jumps across time and place can occasionally dampen the various threads' emotional impact, but by the end they form an impressive, tightly braided whole. This riveting account will please readers of sweeping multigenerational stories. Agents: PJ Mark and Marya Spence, Janklow & Nesbit Assoc. (Apr.)"
(c) Copyright PWxyz, LLC. All rights reserved
Additional Information
Subjects
Literature
Fiction

Publisher

Flatiron Books2021



Language

English



ISBN
9781250776693