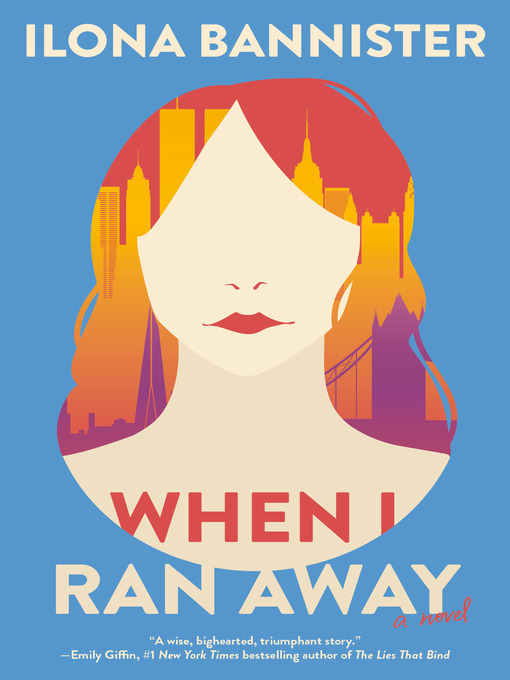 When I Ran Away
Format:

Kindle Book

2021

Adobe EPUB ebook

OverDrive Read

Availability:

Unavailable

0 of 1 copy
5 people on waitlist
Summary
A rich, bighearted debut that takes us from working-class Staten Island in the wake of the September 11th attacks to moneyed London a decade later, revealing a story of loss, motherhood, and love.As the Twin Towers collapse, Gigi Stanislawski flees her office building and escapes lower Manhattan on the Staten Island Ferry. Among the crying, ash-covered, and shoeless passengers, Gigi, unbelievably, finds someone she recognizes—Harry Harrison, a British man and a regular at her favorite coffee shop. Gigi brings Harry to her parents' house, where they watch the television replay the planes crashing for hours, and she waits for the phone call that will never come: the call from Frankie, her younger brother. Ten years later, Gigi, now a single mother consumed with bills and unfulfilled ambitions, meets Harry, again by chance, and they fall deeply, headlong in love. But their move to London and their new baby—which Gigi hoped would finally release her from the past—leave her feeling isolated, raw, and alone with her grief. As Gigi comes face-to-face with the anguish of her brother's death and her rage at the unspoken pain of motherhood, she must somehow find the light amid all the darkness. Startlingly honest and shot through with unexpected humor, When I Ran Away is an unforgettable first novel about love—for our partners, our children, our mothers, and ourselves—pushed to its outer limits.

Published Reviews
Booklist Review:
"It was shockingly easy for Gigi to walk out on her husband and two sons. She reached inside the overstuffed diaper bag for her keys and wallet, walked to a seedy motel, and paid a little extra for early check-in. It got tougher once she zoned out in front of a Real Housewives marathon, and started reflecting on her life. She relives how the tragedy of 9/11 sparked a connection with her now-husband, how her adopted son's earliest days were marked by addiction, and how she didn't think her heart could expand to love one more person until she gave birth to Rocky. As Gigi contemplates her next move, she realizes she's pushed herself aside to make room for the ones she loves, and wonders if it's too late to bring herself back. A thematic companion to Kiley Reid's Such a Fun Age (2019), Bannister's novel is a searing insight into the complexities of motherhood and the interminable frustration of the tiny needs, musts, and wants that keep a family moving. A gripping, introspective read."
From Booklist, Copyright (c) American Library Association. Used with permission.
Publisher's Weekly Review:
"Bannister's emotionally raw debut offers an unflinching glimpse of new motherhood. When readers first encounter native New Yorker Gigi Harrison in London, she's leaving her English husband, Harry, and their two young children for a seedy hotel. In between answering texts from an increasingly panicked Harry, Gigi gradually recounts what made her leave Harry, starting with their first encounter 15 years before on the Staten Island Ferry, as both were fleeing Manhattan on 9/11. Harry's kindness after Gigi and her working-class family learn her 19-year-old brother, Frankie, died in the attack endears him to her, but the two eventually lose touch. In 2012, when their paths cross again, Gigi has become an adoptive mom to Johnny, the infant son of Frankie's former girlfriend. Gigi and Harry fall in love, and Gigi reluctantly follows Harry back to London and into an increasingly lonely realm of homesickness and functional alcoholism, especially after the traumatic birth of their son. Some of Gigi's musings read like a retread of the "mummy wars" debates, as she reflects on a friend who lost her career after having a child, but Bannister effectively captures Gigi's awareness of cultural and class divides. This poignant story feels genuine. Agent: Alice Lutyens, Curtis Brown Group. (Mar.)"
(c) Copyright PWxyz, LLC. All rights reserved
Additional Information