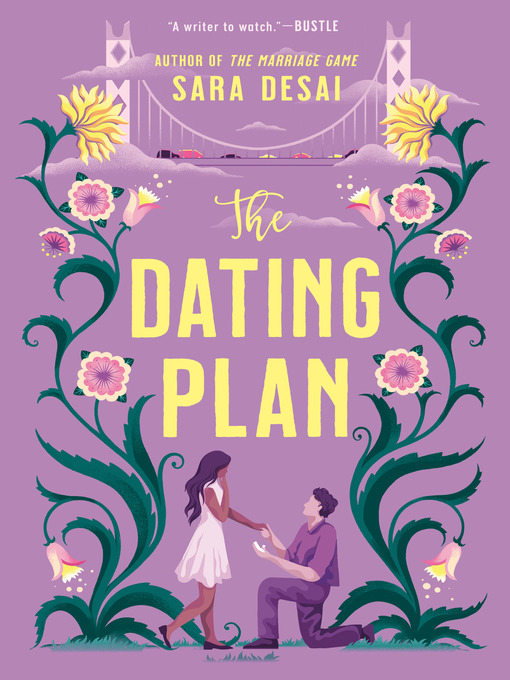 The Dating Plan
Format:

Kindle Book

2021

Adobe EPUB ebook

OverDrive Read

Availability:

Unavailable

0 of 10 copies
45 people on waitlist
Summary
Even with a step-by-step plan, these fake fiancés might accidentally fall for each other in this hilarious, heartfelt romantic comedy from the author of The Marriage Game. Daisy Patel is a software engineer who understands lists and logic better than bosses and boyfriends. With her life all planned out, and no interest in love, the one thing she can't give her family is the marriage they expect. Left with few options, she asks her childhood crush to be her decoy fiancé. Liam Murphy is a venture capitalist with something to prove. When he learns that his inheritance is contingent on being married, he realizes his best friend's little sister has the perfect solution to his problem. A marriage of convenience will get Daisy's matchmaking relatives off her back and fulfill the terms of his late grandfather's will. If only he hadn't broken her tender teenage heart nine years ago... Sparks fly when Daisy and Liam go on a series of dates to legitimize their fake relationship. Too late, they realize that very little is convenient about their arrangement. History and chemistry aren't about to follow the rules of this engagement.

Published Reviews
Booklist Review:
"When Liam didn't show up to take Daisy to the prom, she pushed aside memories of her childhood friend and any notions of love. Marvel movies, her dog, and her career as a software engineer at a start-up are all she needs. Unfortunately, the past will just not stay buried. Liam has left his bad-boy reputation behind (though he has kept the motorcycle) and become a clean-cut venture capitalist, returning to San Francisco for business. When the opportunity comes to inherit his grandfather's distillery, he jumps at the chance before learning the caveat: he must be married before his next birthday. After running into Daisy at a tech conference, Liam knows he can't let this second chance pass him by, and the two devise a plan that helps Liam get his inheritance and ensures that Daisy's start-up will thrive. Desai (The Marriage Game, 2020) nearly overwhelms the story with dependable romance tropes, but ultimately this fake-engagement romance will win readers over as Daisy and Liam explore their past traumas and rekindle their love."
From Booklist, Copyright (c) American Library Association. Used with permission.
Publisher's Weekly Review:
"Desai (The Marriage Game) dazzles with this funny, convincing take on the fake relationship trope. Self-described "neurotic software engineer" Daisy Patel just walked in on her ex-boyfriend and former boss having sex, her company's going under, and her family is pressuring her to get married. So a literal run-in with Liam Murphy, the family friend turned high school crush who stood Daisy up for prom, is the last thing she needs. The death of his grandfather has brought rebel-without-a-cause Liam home to San Francisco. Now, the chance to inherit the family distillery offers the opportunity to reinvent his family's complicated legacy. But to inherit, he'll need to marry before his next birthday. So Liam proposes a marriage of convenience to Daisy: he'll get the distillery and Daisy's family will stop matchmaking. Daisy agrees, but only if there's a "dating plan" to guide them every step of the way. But with the desire between them mounting--and the truth of why Liam stood Daisy up finally revealed--how long can things stay perfectly planned out and pretend? Geek-chic Daisy makes an endearing heroine, and the dysfunctional Murphy family provides believable tension. Desai's fans will be thrilled to reconnect with the eccentric Patels and new readers will be hooked. This is a gem. Agent: Laura Bradford, Bradford Literary. (Feb.)"
(c) Copyright PWxyz, LLC. All rights reserved
Additional Information