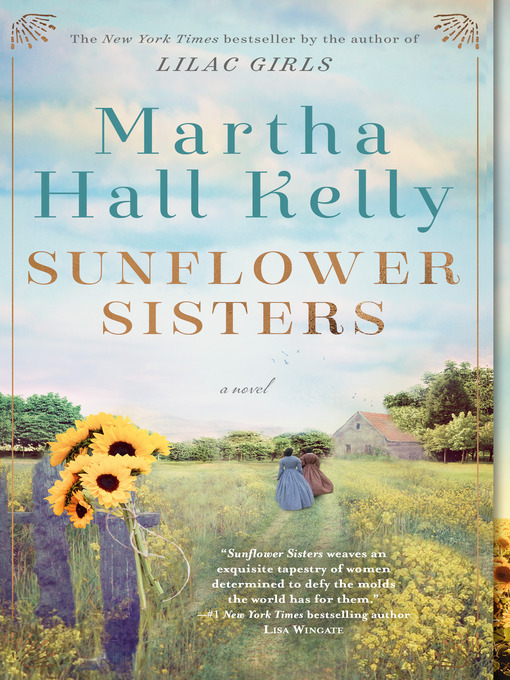 Sunflower Sisters
Format:

Kindle Book

2021

Adobe EPUB ebook

OverDrive Read

Availability:

Unavailable

0 of 24 copies
131 people on waitlist
Summary
NEW YORK TIMES BESTSELLER • Martha Hall Kelly's million-copy bestseller Lilac Girls introduced readers to Caroline Ferriday. Now, in Sunflower Sisters, Kelly tells the story of Ferriday's ancestor Georgeanna Woolsey, a Union nurse during the Civil War whose calling leads her to cross paths with Jemma, a young enslaved girl who is sold off and conscripted into the army, and Anne-May Wilson, a Southern plantation mistress whose husband enlists."An exquisite tapestry of women determined to defy the molds the world has for them."—Lisa Wingate, #1 New York Times bestselling author of Before We Were Yours Georgeanna "Georgey" Woolsey isn't meant for the world of lavish parties and the demure attitudes of women of her stature. So when war ignites the nation, Georgey follows her passion for nursing during a time when doctors considered women on the battlefront a bother. In proving them wrong, she and her sister Eliza venture from New York to Washington, D.C., to Gettysburg and witness the unparalleled horrors of slavery as they become involved in the war effort.In the South, Jemma is enslaved on the Peeler Plantation in Maryland, where she lives with her mother and father. Her sister, Patience, is enslaved on the plantation next door, and both live in fear of LeBaron, an abusive overseer who tracks their every move. When Jemma is sold by the cruel plantation mistress Anne-May at the same time the Union army comes through, she sees a chance to finally escape—but only by abandoning the family she loves.Anne-May is left behind to run Peeler Plantation when her husband joins the Union army and her cherished brother enlists with the Confederates. In charge of the household, she uses the opportunity to follow her own ambitions and is drawn into a secret Southern network of spies, finally exposing herself to the fate she deserves.Inspired by true accounts, Sunflower Sisters provides a vivid, detailed look at the Civil War experience, from the barbaric and inhumane plantations, to a war-torn New York City, to the horrors of the battlefield. It's a sweeping story of women caught in a country on the brink of collapse, in a society grappling with nationalism and unthinkable racial cruelty, a story still so relevant today.

Published Reviews
Booklist Review:
"Kelly's third foray into the lives of the affluent Woolsey women is as well-researched and engaging as Lilac Girls (2016) and Lost Roses (2019), this time focusing on the American Civil War. Georgeanna (Georgy) Woolsey leaves her privileged life to serve as a Union nurse; Anne-May Wilson is a plantation and slave owner in Maryland whose self-importance draws her into espionage; and Jemma is an enslaved woman on that plantation who is sold and then conscripted into the Union army. Crossing paths with President Lincoln and present at the battle of Gettysburg, Georgy sees the ravages of war and the effects of slavery on her country. Meanwhile, Jemma flees Maryland for New York City, remembering the Woolsey's address from a chance encounter. The family takes her in, fostering her skill for millinery. But Anne-May follows, fleeing accusations of treason and seeking to regain what she considers her stolen property. Drawing on real events and primary sources, Kelly illuminates parts of history infrequently told. Offer it to fans of Marie Benedict, the Civil War era, and readers who enjoy historical fiction starring real people."
From Booklist, Copyright (c) American Library Association. Used with permission.
Publisher's Weekly Review:
"This vibrant saga explores the historical ancestor of Kelly's Lost Roses heroine Caroline Ferriday, abolitionist Georgeanna "Georgy" Woolsey. In 1861, Georgy, 28, abandons her privileged New York City debutante's life to volunteer in a nursing brigade for the Union Army alongside her sister, Eliza. Running parallel to this narrative is the plight of Jemma, a literate enslaved Maryland woman who, after being sold off by sadistic mistress Anne-May Watson, must choose between her family and a fleeting opportunity for freedom. After Jemma escapes her new plantation dressed up as a boy, she is conscripted into the Union Army. When Anne-May, now a Confederate spy, hears the news, she pursues Jemma for help. The strands eventually converge in the novel's satisfying second half, when Jemma is taken in by Georgy's family, while Anne-May obsessively searches for her. The vivid, impeccably researched saga briskly sweeps across war-torn battlefields, New York City, and Southern plantations, highlighting the struggles endured by her women characters. This page-turning work is sure to please Kelly's fans. Agent: Alexandra Machinist, ICM Partners. (Mar.)"
(c) Copyright PWxyz, LLC. All rights reserved
Additional Information