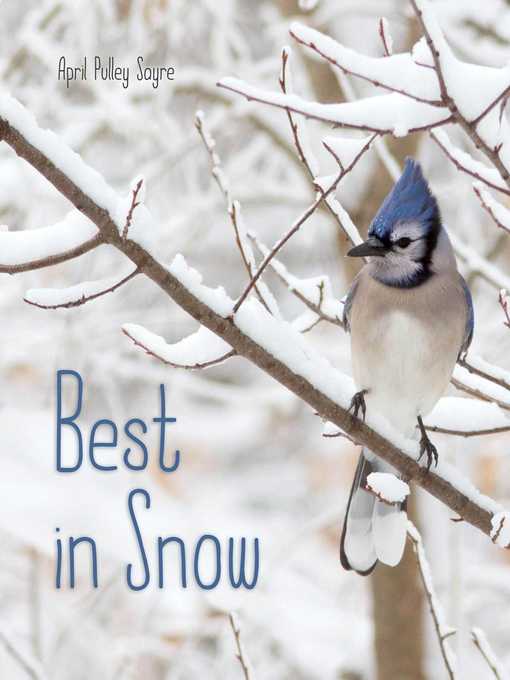 Best in Snow
Format:

Kindle Book

2016

OverDrive Read

Availability:

Available from OverDrive

1 of 1 copy
Summary
Discover the wonderful world of snow with this companion to the celebrated Raindrops Roll!With gorgeous photo illustrations, award-winning author April Pulley Sayre sheds sparkly new light on the wonders of snow. From the beauty of snow blanketing the forest and falling on animals' fur and feathers to the fascinating winter water cycle, this nonfiction picture book celebrates snowfall and the amazing science behind it.

Published Reviews
Booklist Review:
"*Starred Review* A companion volume to Raindrops Roll (2015), this exceptionally handsome picture book offers a close-up look at snow. Crisp, concise phrases point out what happens before, during, and after a snowstorm, leading children from one idea to the next (freeze, cloud, snow, wind, sun, drips, slush) and ending with a sentence that echoes the beginning phrases. In the middle section, accompanying four large photos on two double-page spreads, these words relate to sunlight after a snowfall: Air warms. / Snow softens. / It drip, / drip, / drips. / Snowmelt / forms / icicle / tips. Elements of the text are sometimes slanted, curved, or arranged in ways that underscore their meanings. While the lyrical narrative alone could be read in a minute, the variety, intricacy, and beauty of the photos give viewers many reasons to pause and look closely at each striking image. Sayre has a well-deserved reputation for exceptional nature photography and dependable science writing for young children. The appended Secrets of Snow section presents additional information related to observations made within the book. Combining eye-catching photos and a spare, poetic text, Sayre's latest informational picture book is uncommonly rewarding for one-on-one sharing and highly recommended for preschool and primary-grade units on snow.--Phelan, Carolyn Copyright 2016 Booklist"
From Booklist, Copyright (c) American Library Association. Used with permission.
Publisher's Weekly Review:
"Sayre follows Raindrops Roll with an attention-grabbing tribute to snow, pairing striking photographs with snowflake-delicate verse. Squirrels, deer, and other animals make cameos ("A freeze. A breeze./ A cloud. It snows./ Snowflakes land/ on a squirrel's nose"), but it's Sayre's images of feathery ice crystals, pine needles caked in dripping icicles, and riverscapes blanketed in white that capture the essence of winter's magic. An enlightening closing spread addresses a range of topics about snow (such as why snowflakes sometimes "plaster one side of a tree branch but leave the other side bare"), offering some scientific heft to balance the artistry and poetry of the preceding pages. Ages 3-8. Agent: Emily Mitchell, Wernick & Pratt. (Oct.) © Copyright PWxyz, LLC. All rights reserved."
(c) Copyright PWxyz, LLC. All rights reserved
Additional Information