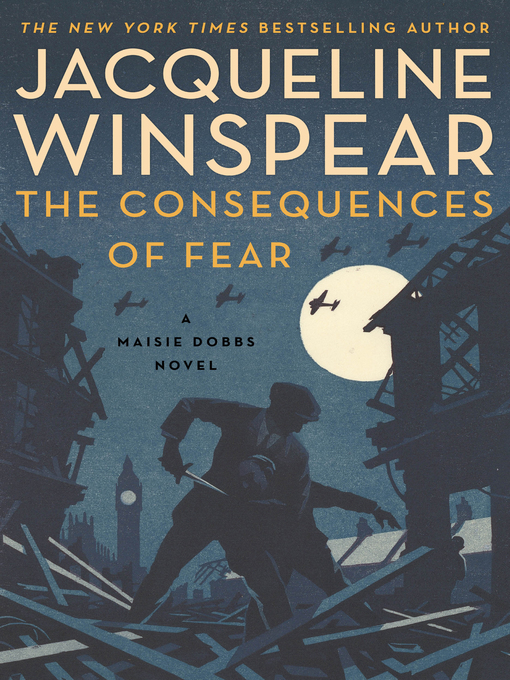 The Consequences of Fear
Format:

Kindle Book

2021

Adobe EPUB ebook

OverDrive Read

Availability:

Unavailable

0 of 19 copies
95 people on waitlist
Summary
INSTANT NEW YORK TIMES BESTSELLERAs Europe buckles under Nazi occupation, Maisie Dobbs investigates a possible murder that threatens devastating repercussions for Britain's war efforts in this latest installment in the New York Times bestselling mystery series.October 1941. While on a delivery, young Freddie Hackett, a message runner for a government office, witnesses an argument that ends in murder. Crouching in the doorway of a bombed-out house, Freddie waits until the coast is clear. But when he arrives at the delivery address, he's shocked to come face to face with the killer. Dismissed by the police when he attempts to report the crime, Freddie goes in search of a woman he once met when delivering a message: Maisie Dobbs. While Maisie believes the boy and wants to help, she must maintain extreme caution: she's working secretly for the Special Operations Executive, assessing candidates for crucial work with the French resistance. Her two worlds collide when she spots the killer in a place she least expects. She soon realizes she's been pulled into the orbit of a man who has his own reasons to kill—reasons that go back to the last war. As Maisie becomes entangled in a power struggle between Britain's intelligence efforts in France and the work of Free French agents operating across Europe, she must also contend with the lingering question of Freddie Hackett's state of mind. What she uncovers could hold disastrous consequences for all involved in this compelling chapter of the "series that seems to get better with every entry" (Wall Street Journal).

Published Reviews
Booklist Review:
"Maisie Dobbs is by now a beloved old friend to Winspear's loyal readers, who will welcome her sixteenth wartime adventure (after The American Agent, 2019). The fast-paced tale opens with runner Freddie--one of the boys employed to sprint through the streets of London with messages--witnessing a brutal murder. Maisie excels at creating family from acquaintances, and soon Freddie and his kin are part of her brood, lovingly tended as she continues her clandestine WWII work and on-the-side investigations into the killing and other knotty situations. Winspear never sugarcoats the horrors of war, and alongside the camaraderie shown by these characters and the Londoners surrounding them she delivers terrible truths that must be endured. There's romance here, too, with Maisie's handsome American beau, Mark Scott, dashing in and out of London on his own often-secret work. More than in previous books, Maisie is growing tired of the constant blows to her circle and the uncertainties of life in wartime, with Winspear successfully showing a more melancholy side to her steadfast heroine. Fans of the series will need no encouragement to try this, and they'll be thrilled with the ending; also recommend it as a less-weighty read-alike for Anthony Doerr's All the Light We Cannot See (2014)."
From Booklist, Copyright (c) American Library Association. Used with permission.
Publisher's Weekly Review:
"Set in the fall of 1941, bestseller Winspear's outstanding 16th Maisie Dobbs novel (after 2019's The American Agent) initially focuses on fleet-footed 12-year-old Freddie Hackett, who earns a few bob a week running government messages across London. One night, while racing across the city to deliver a message, Freddie witnesses a murder, but no one believes him, even when a body matching his description of the victim is pulled from the Thames--until Maisie's compassion for his plight prompts her to begin an investigation. Forensically trained Maisie has been vetting prospective agents for the Special Operations Executive to assess young recruits' psychological fitness for dangerous overseas assignments, and in Freddie she recognizes what would now be called post-traumatic stress. Could his psychological state have led him to imagine the violent encounter? The body is eventually identified as a Frenchman, and later, when a French SOE recruit dies mysteriously, Maisie discovers a connection between the two victims that stretches back to the previous war. Maisie and her loving family of supporting characters continue to evolve and grow in ways sure to win readers' hearts. Winspear is writing at the top of her game. Agent: Amy Rennert, Amy Rennert Agency. (Mar.)"
(c) Copyright PWxyz, LLC. All rights reserved
Additional Information