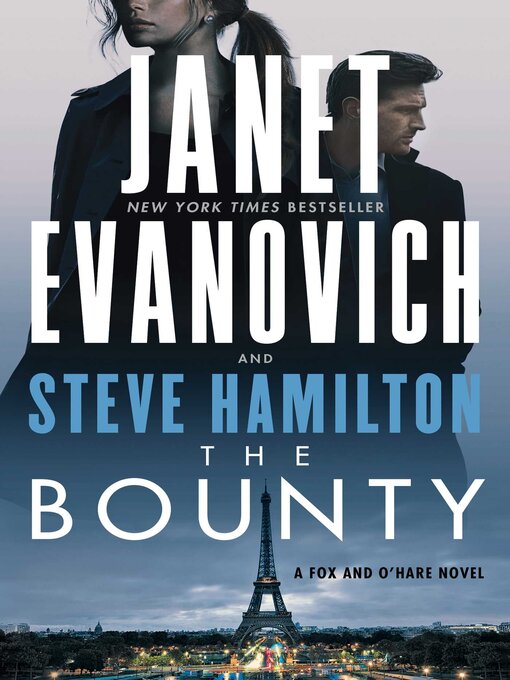 The Bounty
Format:

Kindle Book

2021

Adobe EPUB ebook

OverDrive Read

Availability:

Unavailable

0 of 30 copies
114 people on waitlist
Summary
FBI agent Kate O'Hare and charming con man Nicholas Fox race against time to uncover a buried train filled with Nazi gold in this thrilling adventure in the "romantic and gripping" (Good Housekeeping) Fox and O'Hare series from the #1 New York Times bestselling author Janet Evanovich.Straight as an arrow special agent Kate O'Hare and international con man Nick Fox have brought down some of the biggest criminals out there. But now they face their most dangerous foe yet—a vast, shadowy international organization known only as the Brotherhood. Directly descended from the Vatican Bank priests who served Hitler during World War II, the Brotherhood is on a frantic search for a lost train loaded with $30 billion in Nazi gold, untouched for over seventy-five years somewhere in the mountains of Eastern Europe. Kate and Nick know that there is only one man who can find the fortune and bring down the Brotherhood—the same man who taught Nick everything he knows—his father, Quentin. As the stakes get higher, they must also rely on Kate's own father, Jake, who shares his daughter's grit and stubbornness. Too bad they can never agree on anything. From a remote monastery in the Swiss Alps to the lawless desert of the Western Sahara, Kate, Nick, and the two men who made them who they are today must crisscross the world in a desperate scramble to stop their deadliest foe in the biggest adventure of their lives.

Published Reviews
Booklist Review:
"In the seventh Fox and O'Hare novel (after The Big Kahuna, 2019), FBI agent Kate O'Hare and partner Nick Fox engage in a series of breathtaking chases across Europe and Africa from Vatican City, where they pursue an intrepid thief who turns out to be Nick's father. He has stolen a precious map fragment that, when combined with other pieces hidden in treacherous-to-reach places, will reveal the location of a cache of Nazi-looted gold. O'Hare and her team want to find the treasure to return it to its owners or donate it to a righteous cause, but they are up against enemies with decidedly other plans, one of whom is a seemingly unkillable giant who makes every interaction a brush with grisly death. The duo of Evanovich and Hamilton, each best-selling authors in their own right, start the action on page one and keep up the pace throughout. The dynamic, often-humorous storytelling won't let readers out of its grip, and there's a compelling romantic subplot, to boot. Fans of Evanovich won't need any convincing here, but also offer this one to fans of The Da Vinci Code, as ancient symbols and academic sleuthing play a strong part in the unraveling of the mystery."
From Booklist, Copyright (c) American Library Association. Used with permission.
Publisher's Weekly Review:
"Bestseller Evanovich's underwhelming seventh Fox and O'Hare novel, with Hamilton (after 2019's The Big Kahuna), takes Nick Fox, a former world-class thief who now works for the FBI, and FBI agent Kate O'Hare, who's responsible for keeping him on the straight and narrow, to Vatican City. There they join Interpol in an effort to foil the attempted theft of a diamond ring that once belonged to Pope Paul VI. The thief, Nick's father, Quentin, arrives at the Vatican, but bypasses the ring and instead makes off with a historic treasure map. Nick and Kate set off to track down Quentin, who Interpol believes is working with a neo-Nazi organization known as the Brotherhood. With Kate's father, a muscular former Marine, in tow, they head from Rome to London, and then to Paris, Vienna, Casablanca, the Alps, and the Sahara. On and on they go, alternately chasing and being chased, on the trail of hidden Nazi gold. Full of clichéd action scenes and stock characters, this reads like an Indiana Jones movie knockoff. Only established fans are likely to have fun. Agent: Shane Salerno, Story Factory. (Mar.)"
(c) Copyright PWxyz, LLC. All rights reserved
Additional Information