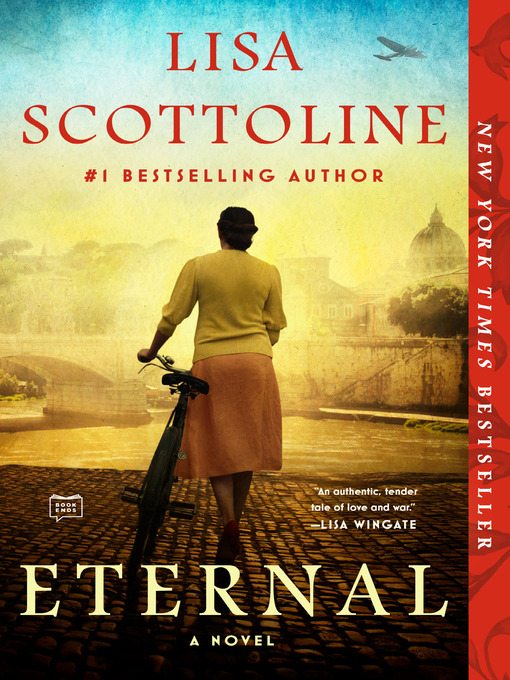 Eternal
Format:

Kindle Book

2021

Adobe EPUB ebook

OverDrive Read

Availability:

Unavailable

0 of 39 copies
195 people on waitlist
Summary
NEW YORK TIMES BESTSELLER #1 bestselling author Lisa Scottoline offers a sweeping and shattering epic of historical fiction fueled by shocking true events, the tale of a love triangle that unfolds in the heart of Rome...in the creeping shadow of fascism.What war destroys, only love can heal.Elisabetta, Marco, and Sandro grow up as the best of friends despite their differences. Elisabetta is a feisty beauty who dreams of becoming a novelist; Marco the brash and athletic son in a family of professional cyclists; and Sandro a Jewish mathematics prodigy, kind-hearted and thoughtful, the son of a lawyer and a doctor. Their friendship blossoms to love, with both Sandro and Marco hoping to win Elisabetta's heart. But in the autumn of 1937, all of that begins to change as Mussolini asserts his power, aligning Italy's Fascists with Hitler's Nazis and altering the very laws that govern Rome. In time, everything that the three hold dearu2014their families, their homes, and their connection to one anotheru2014is tested in ways they never could have imagined.As anti-Semitism takes legal root and World War II erupts, the threesome realizes that Mussolini was only the beginning. The Nazis invade Rome, and with their occupation come new atrocities against the city's Jews, culminating in a final, horrific betrayal. Against this backdrop, the intertwined fates of Elisabetta, Marco, Sandro, and their families will be decided, in a heartbreaking story of both the best and the worst that the world has to offer.Unfolding over decades, Eternal is a tale of loyalty and loss, family and food, love and waru2014all set in one of the world's most beautiful cities at its darkest moment. This moving novel will be forever etched in the hearts and minds of readers.

Published Reviews
Booklist Review:
"Fascists are often portrayed as one monolithic, Nazi block, but Scottoline, famous for her legal thrillers, focuses on a trio of young Romans to explore how Italian fascism pre-dated, inspired, and differed from what eventually subsumed it. Elisabetta has a difficult home life, but she takes solace in being the object of affection for two young men, Marco, an up-and-coming member of Mussolini's bureaucracy, and Sandro, a Jewish mathematics student whose father is also an ardent Fascist. When the Nazis' influence leads to abhorrent, anti-Semitic race laws in Italy, Jewish Fascists, fervent party members for 15 years, are astounded as everything is taken from them. When Italy attempts to leave the Axis and make a separate peace, its former German allies quickly turn into cruel occupiers, and lives are lost with astonishing speed. Scottoline conjures atmosphere and culture in lush landscapes and city scenes and delectable culinary descriptions. This nuanced take on WWII Italy offers a variety of perspectives, but at its heart, this is a love story, with heroes lost being warmly remembered and love conquering all.HIGH-DEMAND BACKSTORY: The hook is how best-selling crime writer Scottoline successfully changes course in a coming-of-age WWII love story that will entrance fans and newcomers alike."
From Booklist, Copyright (c) American Library Association. Used with permission.
Publisher's Weekly Review:
"Scottoline's admirable foray into historical fiction (after her Rosato & Associates series) visits pre-WWII Italy during Mussolini's rise to power as three teenage friends navigate a love triangle. Elisabetta D'Orfeo works at a restaurant to support her alcoholic father. Marco Terrizzi, the son of a bar owner, begins his rise in the Fascist government, using his wit and charm to hide the secret of his learning disability and inability to read. Sandro Simone, a brilliant student, lives in Rome's Jewish quarter with his obstetrician mother and lawyer father, Massimo. Sandro's parents want him to date a Jewish girl, but he is determined to court Elisabetta, plans that are put to a halt by Mussolini's racial laws barring relationships between Jews and non-Jews. Elisabetta succumbs to Marco's charms, but their relationship is derailed after Marco falsely takes credit for a notebook left for her by Sandro to encourage her writing. As the Nazis occupy Rome, threatening to arrest and deport Jewish residents, the Simones are stripped of their livelihoods. Sandro and Massimo are eventually rounded up by the Nazis, and Marco and Elisabetta go to increasingly dangerous lengths to try to rescue them. While the dialogue is a bit wooden at times, Scottoline expertly brings historical events to life. Fans of WWII fiction will be drawn to this immersive, emotional novel. Agent: Robert Gottlieb, Trident Media Group. (Mar.)"
(c) Copyright PWxyz, LLC. All rights reserved
Additional Information