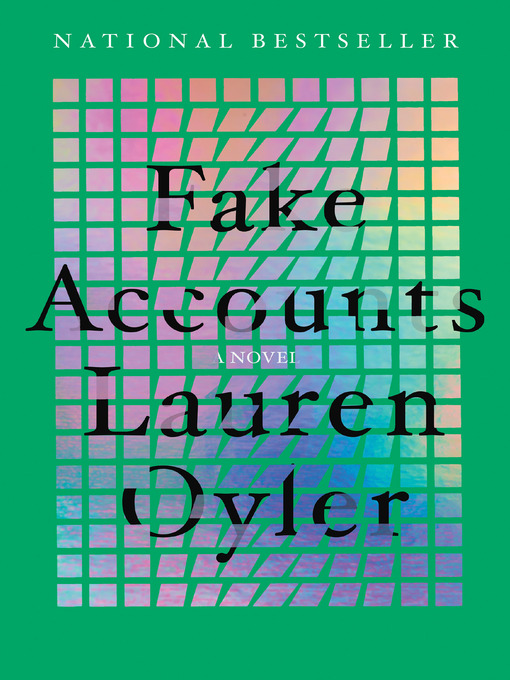 Fake Accounts
Format:

Kindle Book

2021

Adobe EPUB ebook

OverDrive Read

Availability:

Unavailable

0 of 9 copies
45 people on waitlist
Summary
Named a Most-Anticipated Book of the Year by Elle * Vulture * BuzzFeed * The Millions * Literary Hub * The Rumpus * Bustle * and more."An invigorating work, deadly precise in its skewering of people, places and things . . . Stylish, despairing and very funny, Fake Accounts . . . adroitly maps the dwindling gap between the individual and the world." —Katie Kitamura, The New York Times Book ReviewA woman in a tailspin discovers that her boyfriend is an anonymous online conspiracy theorist in this "absolutely brilliant take on the bizarre and despicable ways the internet has warped our perception of reality" (Elle, One of the Most Anticipated Books of the Year).On the eve of Donald Trump's inauguration, a young woman snoops through her boyfriend's phone and makes a startling discovery: he's an anonymous internet conspiracy theorist, and a popular one at that. Already fluent in internet fakery, irony, and outrage, she's not exactly shocked by the revelation. Actually, she's relievedu2014he was always a little distantu2014and she plots to end their floundering relationship while on a trip to the Women's March in DC. But this is only the first in a series of bizarre twists that expose a world whose truths are shaped by online lies.Suddenly left with no reason to stay in New York and increasingly alienated from her friends and colleagues, our unnamed narrator flees to Berlin, embarking on her own cycles of manipulation in the deceptive spaces of her daily life, from dating apps to expat meetups, open-plan offices to bureaucratic waiting rooms. She begins to think she can't trust anyoneu2014shouldn't the feeling be mutual?Narrated with seductive confidence and subversive wit, Fake Accounts challenges the way current conversations about the self and community, delusions and gaslighting, and fiction and reality play out in the internet age.

Published Reviews
Booklist Review:
"On vacation in Berlin, a writer for a New York-based website falls for Felix, a fellow ex-pat slumming as a tour guide. Felix follows the unnamed narrator back to the states, where their romance quickly dwindles on her part after she snoops through his phone and discovers that he has a shadow identity as a conspiracy theorist in the dawning Age of Trump. Just as she's convinced herself to break up with him, she learns that Felix has died in a biking accident. In a dubious attempt to reconcile her conflicted grief, she quits her job and moves back to Berlin. As a not-quite stranger in a strange land, her quest for freedom and clarity plays out through the counterintuitive practice of spinning lies and creating false personae. Prolific essayist and blogger Oyler's first foray into fiction seduces with its mesmerizing stream-of-consciousness and exploration of identity and authenticity, commitment and abandonment. Though not attaining the volume of cultural minutiae displayed in Lucy Ellman's gargantuan Ducks, Newburyport (2019), Oyler's similarly piercing examination of the paradoxically immersive superficiality of life lived in the thrall of social media is hefty in its own right, a case of both too much information and, ironically, not enough. Sure to resonate with the multitasking Millennials and Gen Z digerati."
From Booklist, Copyright (c) American Library Association. Used with permission.
Publisher's Weekly Review:
"In Oyler's bold debut, a blogger discovers her boyfriend is an influential online conspiracy theorist. A suspicion that the unnamed narrator's withdrawn boyfriend, Felix, might be cheating leads her to find his anonymous social media accounts, which stoke alt-right sentiments as Donald Trump's inauguration looms. The narrative flashes back to show the couple's meet-cute in Berlin--he's a tour guide, she's a tourist--and their burgeoning long-distance relationship, which changes for the worse after he joins her in New York. Felix is a habitual liar, prone to inventing alter egos for himself and the narrator when meeting strangers, and initially she plays along, but soon longs for the real Felix. She resolves to break up with him, but first she travels to the Women's March in Washington, D.C., where she gets a phone call informing her Felix has died in a bike accident. Feeling adrift, she quits her job and moves to Berlin, where she leans into a lying life of her own--with the men she meets on dating apps, the mother of twins whom she nannies, even the German government. Oyler experiments with various forms along the way: there is a lengthy parody of fragmented novels, copious analysis of millennial internet habits, literary references from Dickens to Ashbery to Ben Lerner, a Greek chorus of ex-boyfriends, and direct address to the reader. Oyler wields all these devices freely, creating a unique, ferociously modern voice. This incisive, funny work brilliantly captures the claustrophobia of lives led online and personae tested in the real world. Agent: Alia Habib, the Gernert Company. (Feb.)"
(c) Copyright PWxyz, LLC. All rights reserved
Additional Information
Subjects
Literature
Fiction

Publisher

Catapult2021



Language

English



ISBN
9781948226936