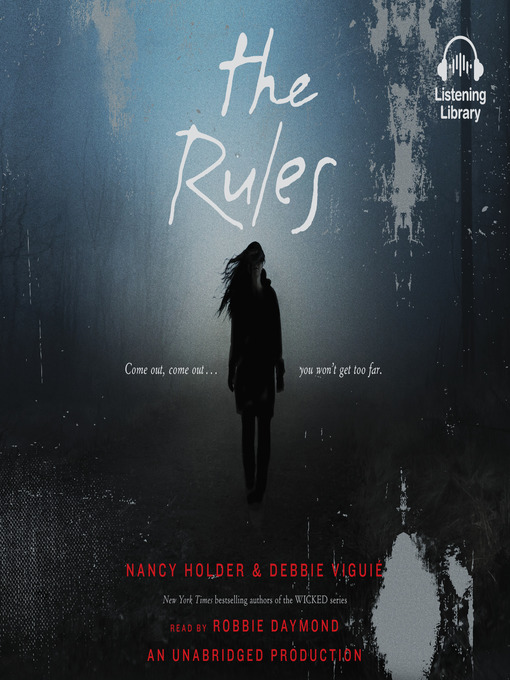 The Rules
Format:

OverDrive MP3 Audiobook

2015

OverDrive Listen

Availability:

Available from OverDrive

1 of 1 copy
Summary
"The Rules is a must-read for fans of thrillers with truly frightening twists."—School Library Journal Narrated by an alternating unreliable group of teens, this dark thriller will have readers on the edge of their seats. No one is safe and everyone is a suspect. It's Saw meets I Know What You Did Last Summer.Junior Robin Brisset has no idea what she's in for when she accepts an invitation to one of Callabrese High's most exclusive parties. And when the trademark scavenger hunt begins, Robin must go against every rule she's lived by to survive. "Holder and Viguié keep the action churning along as they bounce from teen to teen for different perspectives on the action, sometimes recording a murder with appropriate gore, sometimes an escape."—Kirkus "Fans of the genre will be horrified, just the way they like it."—Booklist"A good mystery, THE RULES is a blockbuster horror film waiting to be made. This graphic story will find fans among horror aficionados, mystery fans, and those who enjoyed Heathers and other high school revenge tales."—VOYA From the Hardcover edition.

Published Reviews
Booklist Review:
"Everyone has their own rules. From the good-natured jock to the devious gossip, they all have things they will never do, or things they will always do, and none more so than August DeYoung, a rich high-school senior. August and several of his classmates have all been betrayed or been betrayers, and now, at the end-of-the-year scavenger hunt bash, they are bent on dark, sadistic revenge. Even the most innocent Robin, the trusting good girl who, at the start of the novel, is running away from the horror might have something to hide. As dead bodies and severed parts start showing up, the partiers suspect there's more to this than just a hunt for clues during a night of fun. There are a lot of characters, all interconnected in various ways, which are sometimes hard to keep straight. While the plot twists wildly from person to person, making the reader unsure of who is important or who is going to die next, that's in keeping with the horror-movie-style action. Fans of the genre will be horrified, just the way they like it.--Comfort, Stacey Copyright 2010 Booklist"
From Booklist, Copyright (c) American Library Association. Used with permission.
Additional Information