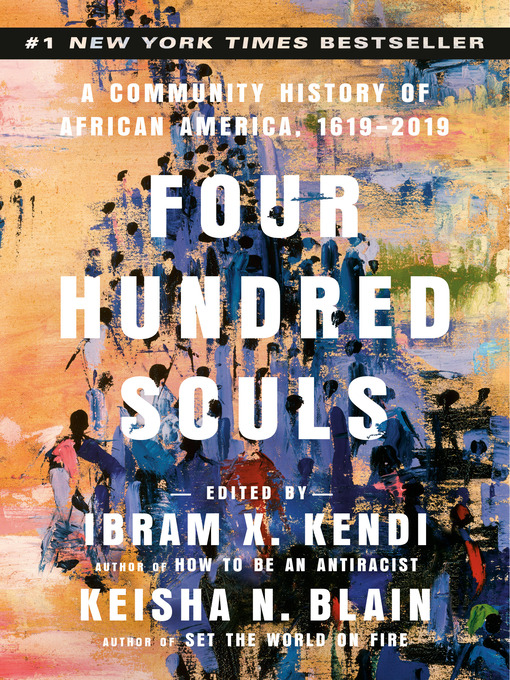 Four Hundred Souls
Format:

Kindle Book

2021

Adobe EPUB ebook

OverDrive Read

Availability:

Unavailable

0 of 10 copies
48 people on waitlist
Summary
#1 NEW YORK TIMES BESTSELLER • A chorus of extraordinary voices tells the epic story of the four-hundred-year journey of African Americans from 1619 to the present—edited by Ibram X. Kendi, author of How to Be an Antiracist, and Keisha N. Blain, author of Set the World on Fire."A vital addition to [the] curriculum on race in America . . . a gateway to the solo works of all the voices in Kendi and Blain's impressive choir."—The Washington Post "From journalist Hannah P. Jones on Jamestown's first slaves to historian Annette Gordon-Reed's portrait of Sally Hemings to the seductive cadences of poets Jericho Brown and Patricia Smith, Four Hundred Souls weaves a tapestry of unspeakable suffering and unexpected transcendence."—O: The Oprah MagazineThe story begins in 1619—a year before the Mayflower—when the White Lion disgorges "some 20-and-odd Negroes" onto the shores of Virginia, inaugurating the African presence in what would become the United States. It takes us to the present, when African Americans, descendants of those on the White Lion and a thousand other routes to this country, continue a journey defined by inhuman oppression, visionary struggles, stunning achievements, and millions of ordinary lives passing through extraordinary history. Four Hundred Souls is a unique one-volume "community" history of African Americans. The editors, Ibram X. Kendi and Keisha N. Blain, have assembled ninety brilliant writers, each of whom takes on a five-year period of that four-hundred-year span. The writers explore their periods through a variety of techniques: historical essays, short stories, personal vignettes, and fiery polemics. They approach history from various perspectives: through the eyes of towering historical icons or the untold stories of ordinary people; through places, laws, and objects. While themes of resistance and struggle, of hope and reinvention, course through the book, this collection of diverse pieces from ninety different minds, reflecting ninety different perspectives, fundamentally deconstructs the idea that Africans in America are a monolith—instead it unlocks the startling range of experiences and ideas that have always existed within the community of Blackness. This is a history that illuminates our past and gives us new ways of thinking about our future, written by the most vital and essential voices of our present.

Published Reviews
Booklist Review:
"African American history is a communal quilt, crisscrossed with the stitches of elders, youth, LGBTQ folk, mothers, fathers, revolutionaries, and poets. Editors National Book Award winner Kendi (Stamped, 2016; How to Be an Antiracist, 2019) and historian and writer Blain honor this multilayered heritage in a monumental work of collaborative history. Ninety Black writers each take on a five-year period from 1619--2019, and each 40-year section concludes with a poem. Thus we get Peniel Joseph on the Black Power movement, Angela Davis on the multigenerational disaster of mass incarceration, Alicia Garza on Black Lives Matter, and Isabelle Wilkerson on the Great Migration. Some essays address events and legislation, others cover cultural elements as diverse as spirituals and queer sexuality, and such icons as Sally Hemings, Jack Johnson, and Anita Hill. The poems enhance and elaborate on the historical narratives: for example, Ishmael Reed's searing "For the Albany 3" mocks Thomas Jefferson's egalitarian ideals by reminding us how he "worked them 24/7 without a fee / While he studied Plato's philosophy." Within a few short stanzas, Reed demonstrates how Caribbean slave uprisings exposed the hypocrisy of the American Revolution as he references the Central Park 5, police torture, and the Native American genocide. Like the poem, this seamless collection crackles with rage, beauty, bitter humor, and the indomitable will to survive."
From Booklist, Copyright (c) American Library Association. Used with permission.
Publisher's Weekly Review:
"Bestseller Kendi (How to Be an Antiracist) and historian Blain (Set the World on Fire) present an engrossing anthology of essays, biographical sketches, and poems by Black writers tracing the history of the African American experience from the arrival of the first slaves in 1619 to the rise of the Black Lives Matter movement. Highlights include journalist Nikole Hannah-Jones, creator of the New York Times's 1619 Project, on the erasure from American history of the first slave ship to arrive on U.S. soil; University of Kentucky English professor DaMaris B. Hill's lyrical reimagining of how tobacco was cultivated in Jamestown, Va.; and political commentator Heather C. McGhee on the desire to believe that Bacon's Rebellion in 1676 was a "class-based, multiracial uprising against slavery, landlessness, and servitude," despite evidence of the plotters' "anti-Native fervor," Stanford University history professor Allyson Hobbs explores racial passing by fugitive slaves in antebellum America, while historian Peniel Joseph looks at the rise of the Black Power movement in the 1960s. With a diverse range of up-and-coming scholars, activists, and writers exploring topics both familiar and obscure, this energetic collection stands apart from standard anthologies of African American history. (Feb.)"
(c) Copyright PWxyz, LLC. All rights reserved
Additional Information