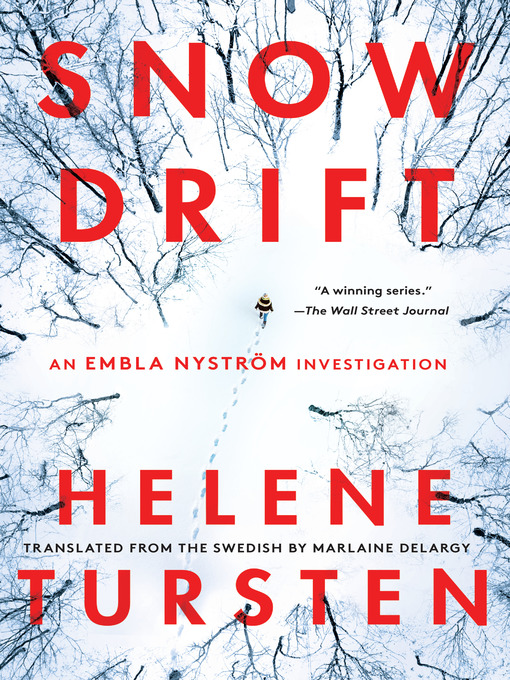 Snowdrift
Format:

Kindle Book

2020

Adobe EPUB ebook

OverDrive Read

Availability:

Unavailable

0 of 14 copies
30 people on waitlist
Summary
When a new lead breaks in the cold case that has long haunted Swedish Detective Inspector Embla Nyström, the truth she's been seeking about her best friend's disappearance may finally be revealed—if it doesn't kill her first.One winter night, 28-year-old Detective Inspector Embla Nyström receives a phone call that sends her reeling. It's been fourteen years since her best friend disappeared from a nightclub in Gothenburg, but Embla recognizes her voice before the call abruptly disconnects. Embla is thrilled to learn Lollo is still alive, but before she can dive into the case, she gets another phone call—this time from her cousin. A man has been found shot to death in one of the guest houses he and his wife manage in rural Sweden. Could she come take a look?When Embla arrives on the scene, she receives another shock. The dead man is Milo Stavic, a well-known gang member and one of the last people seen with Lollo. And, as Embla soon learns, the same night that Milo was shot in the guest house, his brother Luca was also killed. Why, after all these years, is someone targeting the Stavic brothers, and where is the third brother? With help from a handsome local detective and his police dog in training, Embla launches an investigation into the three Stavic brothers, hoping it will bring her closer to finally finding Lollo and putting an end to her terrible nightmares.

Published Reviews
Booklist Review:
"Two murders overwhelm the rural force in Herremark, Sweden, and Gothenburg Violent Crimes Unit detective Embla Nyström agrees to secure the death scene at her distant cousins' guesthouse. Professional courtesy quickly becomes personal, though: the victim is Milo Stavic, the ganglord who'd been headlining her nightmares since she saw him and his brothers crouched over her teenage best friend the night she disappeared. Despite careful staging, the crime scene screams assassination. Goran Krantz, Embla's trusted former boss, manages to secure their assignment to Stavic's case, and Embla teams up with a local officer investigating the murder of a teenager, while mining witness recollections for possible sightings of Stavic's assassin. When Milo's brother Luca is murdered. and Kador, the third Stavic brother, disappears with his family, a host of motives, from family treachery to gang wars, form a complex web. This twist-laden third episode offers further evidence of Embla's resilience and investigative tenacity as she confronts her burdens of guilt and fear, opens herself to romantic possibilities, and methodically plows through multiple levels of deceit."
From Booklist, Copyright (c) American Library Association. Used with permission.
Publisher's Weekly Review:
"Tursten's spellbinding third crime novel featuring Det. Insp. Embla Nyström picks up eight days after the end of 2019's Winter Grave, which closed with Embla receiving a late-night phone call from her childhood best friend, Lollo, who disappeared 14 years earlier. Suspected abductors were Gothenburg gangsters, the Stavic brothers--Milo, Luca, and Kador. When a cousin of Embla's calls for help to solve a murder in one of his rented guesthouses, she's shocked to find the victim is Milo. A second jolt comes when she learns that Luca was killed nearby on the same night. Challenged to solve the murders, Embla anxiously seeks the whereabouts of Kador, who has vanished in Croatia. The stabbing of a teenager at a nightclub thickens the plot. Aided by various police officials, including Irene Huss, Tursten's other series lead, Embla seeks to uncover the truth about what happened to Lollo. The action includes a spectacular chase sequence, a bombshell twist that turns the cases around, and an explosive firestorm. This stunning page-turner is unarguably the best in the series. Agent: Anneli Høier, Leonhardt & Høier Literary (Sweden). (Dec.)"
(c) Copyright PWxyz, LLC. All rights reserved
Additional Information
Subjects
Mystery
Fiction

Publisher

Soho Press2020



Language

English



ISBN
9781641291613