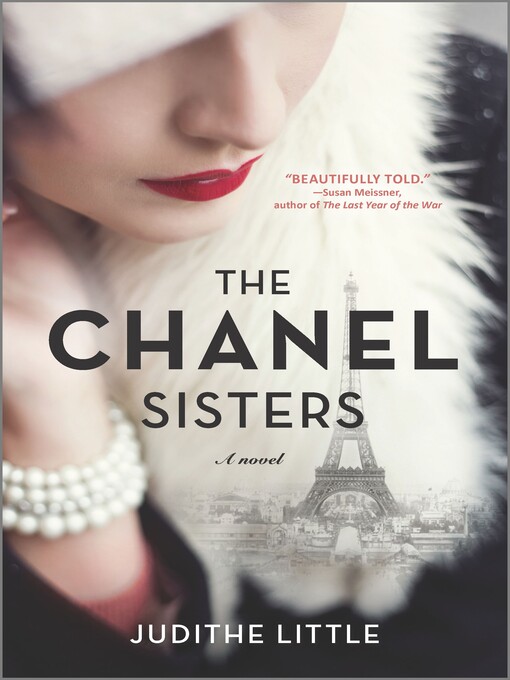 The Chanel Sisters
Format:

Kindle Book

2020

Adobe EPUB ebook

OverDrive Read

Availability:

Unavailable

0 of 6 copies
33 people on waitlist
Summary
A novel of survival, love, loss, triumph—and the sisters who changed fashion foreverAntoinette and Gabrielle "Coco" Chanel know they're destined for something better. Abandoned by their family at a young age, they've grown up under the guidance of nuns preparing them for simple lives as the wives of tradesmen or shopkeepers. At night, their secret stash of romantic novels and magazine cutouts beneath the floorboards are all they have to keep their dreams of the future alive.The walls of the convent can't shield them forever, and when they're finally of age, the Chanel sisters set out together with a fierce determination to prove themselves worthy to a society that has never accepted them. Their journey propels them out of poverty and to the stylish cafés of Moulins, the dazzling performance halls of Vichy—and to a small hat shop on the rue Cambon in Paris, where a boutique business takes hold and expands to the glamorous French resort towns. But the sisters' lives are again thrown into turmoil when World War I breaks out, forcing them to make irrevocable choices, and they'll have to gather the courage to fashion their own places in the world, even if apart from each other."The Chanel Sisters explores with care the timeless need for belonging, purpose, and love, and the heart's relentless pursuit of these despite daunting odds. Beautifully told to the last page." —Susan Meissner, bestselling author of The Last Year of the War

Published Reviews
Booklist Review:
"Coco Chanel's little-known younger sister Antoinette is the focus of this account of the Chanels' rise from poverty to the height of Parisian couture. Coco and Antoinette (Ninette) are raised in a rural convent but waste little time in making their escape, first to Vichy and then Paris, where Coco starts a small hat shop and takes a succession of lovers, while Ninette dreams of marriage and respectability. The sisters work together to turn Coco's shop into the beginnings of a business empire that will take all of France by storm. Little mixes fact with ample speculation--most notably in a fictitious romance between Ninette and a married Argentinian, inspired by Ninette's actual, abrupt move to Buenos Aires toward the end of her life--to great effect, and while the author's note's failure to mention Coco's later role as a Nazi collaborator is notable, and disappointing, this portrayal of the short life of a woman destined to be overshadowed by her more successful sister makes for intriguing reading for historical fiction fans."
From Booklist, Copyright (c) American Library Association. Used with permission.
Publisher's Weekly Review:
"Little (Wickwythe Hall) imagines the relationship between Coco Chanel and her younger sister, Antoinette, in this admirable fictional biography. The story of the sisters' onerous childhood begins in 1897 after their mother dies when they are 11 and eight, and their father, a wandering peddler, abandons the family and gives the girls to a convent orphanage. The author mines the girls' austere upbringing by the nuns to show how they would later develop their fashion sensibility ("An insistence on craftsmanship, of stitches perfectly made. The calming contrast of black and white," Antoinette observes), which is further stoked after their aunt shows them fashion magazines. Later chapters follow Coco's trajectory from Paris hatmaker to fashion force of nature, as well as both sisters' shifting fortunes in romance. Antoinette improves on the construction of Coco's signature hats, while accepting Coco's personal life as a well-kept mistress. Though aspects of each sister's love lives occasionally come off as tiresome, the descriptions of the millinery trade are consistently fascinating. Little's story of two indomitable women offers an eye-opening account of the unsung Antoinette and her pivotal role in her famed sister's success. Fashion aficionados in particular will appreciate this take on the life of a legend. (Dec.)"
(c) Copyright PWxyz, LLC. All rights reserved
Additional Information